According to the most recent statistics from the U.S. Bureau of Labor Statistics (BLS), as of November 2014 insurance industry employment was up year over year—good news for the industry overall.
Dr. Robert P. Hartwig, CPCU, of the Insurance Information Institute (I.I.I.) noted that even life carrier employment, which has generally trended downward, rose in the last year. The largest gain—5.6%—was in the health carrier segment, adding 26,700 jobs for the 12 months ended November 2014.
Property and Casualty (P&C) carriers added 2,900 new hires in November 2014, a gain of 0.5% over October 2014. Hartwig noted that this is "a very strong result," particularly because P&C carriers normally don't add headcount to this extent in November. I.I.I.'s data on employment trends from 1990 to 2013 shows that employment among P&C carriers in November versus October rose 14 times, fell nine times and was flat once. Of the 14 increases, only November 1997's increase of 0.7% was higher, and November 2013's increase of 0.5% tied the most recent figures.
P&C insurers added a total of 12,400 jobs over the 12 months ending in November 2014. This was an increase of 2.4%, for a total of 537,700 people working for P&C carriers. According to Hartwig, P&C carrier employment generally has been rising for the last 12 months and is now back to where it was in August 2011.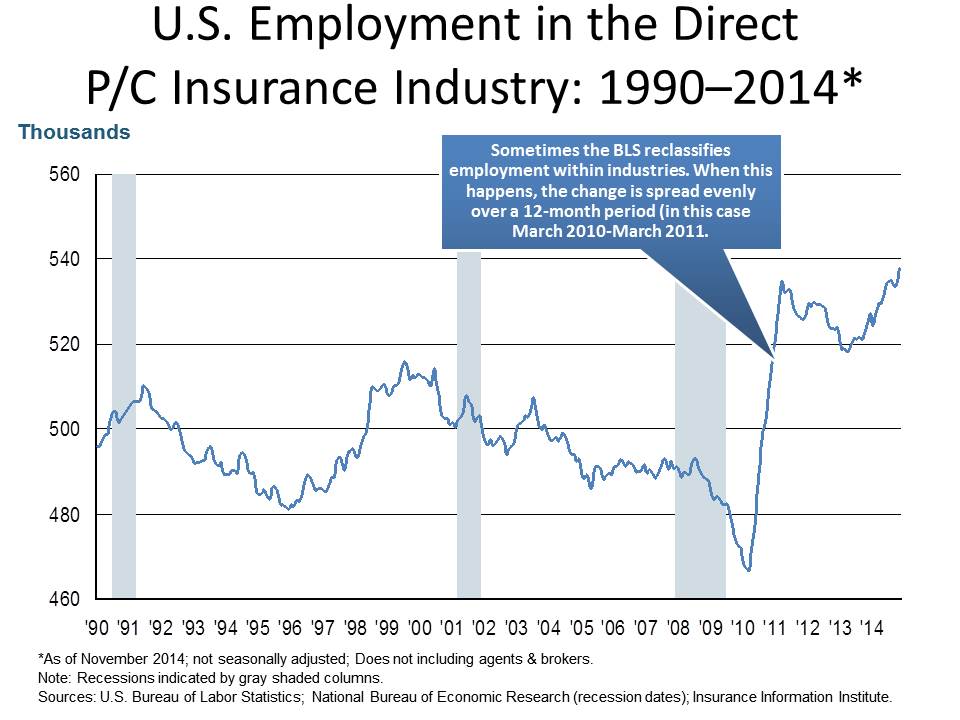 Agents and brokers gain too
The BLS statistics show that insurance agents and brokers gained 2,500 jobs in November 2014 versus October 2014, which is an increase of 0.4%. BLS doesn't distinguish P&C agents from life agents, Hartwig explained, so it's difficult to say that one group grew more than the other. Overall, this industry segment added 23,900 jobs from November 2013 to November 2014, a gain of 3.5%. According to the data, there are now 697,800 agents and brokers in the U.S., which is greater than the pre-recession peak of 684,500 reached in July 2007.
Reinsurance carrier employment in the United States remained at 27,600, the same in November 2014 as in November 2013. Claims adjusting employment fell by 900 to an even 50,000. In the category of third-party administration (TPAs), the number rose by 3.7% to add 6,000 jobs for a total of 168,500.
Life/annuity carriers rose by 1,200 (0.3%) in November 2014 versus October 2014, with year-over-year numbers up by 7,300 (2.2%).