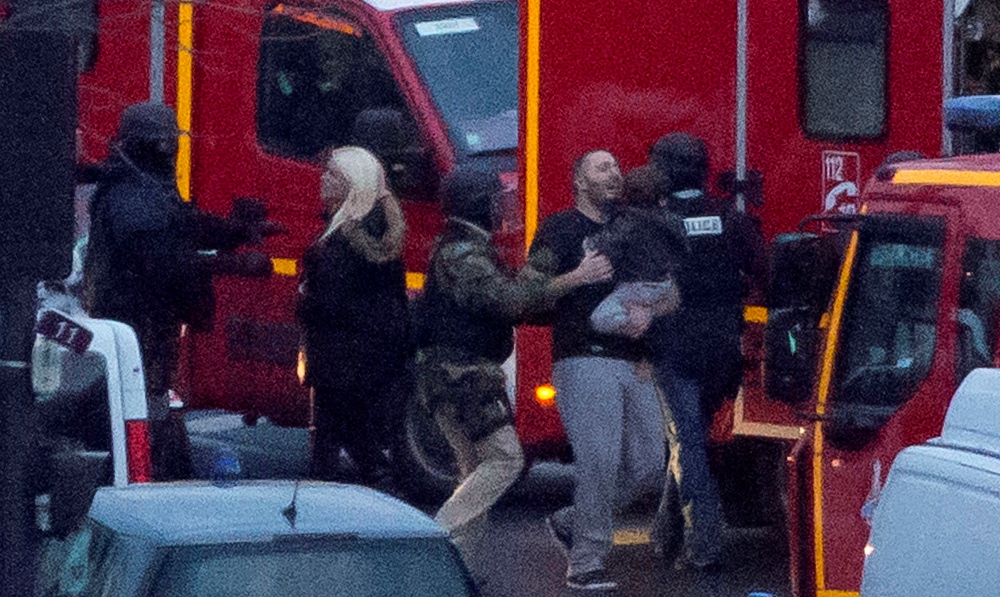 (Bloomberg) — Suspects of the two terror attacks in Paris were killed in twin police raids today, ending three days of intense drama in what was the deadliest such assault in the country in half a century.
The two Islamist suspects in the massacre at Charlie Hebdo magazine were killed as police stormed the building where they'd holed up near Charles de Gaulle airport, police said. Almost simultaneously, police killed two hostage-takers at a kosher grocery near the Porte de Vincennes in eastern Paris. Three hostages were also killed there and four were injured, an official at the Elysee Palace said.
"Until now we had only threats; now we've realized that these are real and present on our soil," Jean-Louis Fiamenghi, former head of France's elite police assault force, said in an interview on i-Tele.
The worst terrorist attack in France in 50 years began on Jan. 7 when masked men armed with Kalashnikov rifles entered the offices of Charlie Hebdo, a satirical magazine, in central Paris. The following day, a policewoman was killed in Montrouge, a Paris suburb, in an incident police say was connected to the earlier attack.
The violence created an environment of fear and sparked debates in France and Europe on security, identity and cultural values. The country has Europe's largest proportion of Muslim citizens, and the anti-immigration National Front party has gained in recent opinion polls.
Special Forces
At around 5 p.m. today in Dammartin-en-Goele, 26 miles northeast of central Paris, smoke rose from buildings and explosions could be heard as special forces battled the brothers Cherif and Said Kouachi, suspected of having killed 12 people at the Paris offices of Charlie Hebdo.
The police had earlier sealed off the town and encircled the building where authorities believed they had fled. A hostage taken by the brothers was freed, AFP said
"France is in a state of shock," President Francois Hollande said today. "This is the worst attack in France in 50 years. We will do everything to ensure this doesn't happen again."
One of the suspects killed in Dammartin today, Cherif Kouachi, was known to police and intelligence services after spending time in prison for participating in a jihadist group. While his brother Said did not have a criminal record, officials have intelligence that he may have attended a militant training camp in Yemen. Both men are French citizens of Algerian descent.
–With assistance from Angeline Benoit, Marie Mawad, Phil Serafino, Tara Patel, Andrew Roberts and Rudy Ruitenberg in Paris and Andrea Rothman in Toulouse.