Effective January 1, Rick Roberts, Ensign-Brickford Industries' director of risk management, took over the presidency of the RIMS Board of Directors for 2015.
Roberts has been a member of RIMS for 25 years, and has participated as part of its Board of Directors for seven years. Previously, Roberts served as vice president of the Society and as the Board liason to the RIMS External Affairs Committee. He is also a member of RIMS Connecticut Valley Chapter, where he served as president from 1997 to 1998.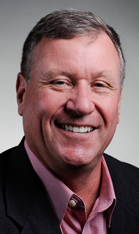 "No two days as a risk professional are ever the same," he said in a statement Monday. "Current events, new technologies and global initiatives continue to keep risk professionals searching for the latest industry information and best practices."
Roberts joints vice president Julie C. Pemberton, treasurer Robert Cartwright Jr., and corporate secretary Jennifer Santiago as the officers on RIMS 2015 Board of Directors.
New board member Robert Zhang, China risk and compliance manager for IKEA (China) Investment Co. Ltd., joins the incumbents on the RIMS Board.