Risk managers for large commercial businesses are "significantly more satisfied" when 11 key performance indicators (KPIs) are met by brokers and insurers, according to the inaugural 2014 Large Commercial Insurers Report from J.D. Power and RIMS, released Dec. 10.
The 11 KPIs—best practices that have the most influence on customer satisfaction—focus on three core areas: limiting customer-reported billing errors and renewal issues; understanding the customer's business; and effective communication.
The survey was initiated because property & casualty insurers who work with large businesses wanted to gain a deeper understanding of what their clients mean by "customer service," says Timothy Bebout, commercial insurance practice leader at J.D. Power.
He sees this survey as a first step toward figuring out what kind of relationship risk managers want to have with their brokers and insurers, and how to improve that relationship.
If there isn't a plan for this interaction, "there's a deficit in how risk managers perceive the experience." Bebout says. "This is not a group that's interested in self-service." Nearly 1,000 risk professionals or employees of an organization that provides oversight, or those who are members of their organization's risk management team, responded to the survey. Organizations included in the report have at least $100 million in annual revenue or operating budget, and have purchased a Commercial Property, Workers' Compensation or Auto policy with a profiled insurer or broker.
Meaningful Interactions Drive Customer Satisfaction
According to the report, enterprise risk management (ERM) is becoming a more prevalent function at many organizations, with nearly 40% of risk professionals indicating that ERM falls within their area of responsibility.
With increased responsibility across their organizations, many risk managers now find themselves responsible for areas beyond their realm of expertise. For example, a finance officer may be responsible for safety as well as minimizing financial risk.
Risk-mitigation professionals want brokers and insurance companies to understand his or her company's issues fully, and to propose appropriate solutions. The report found that interaction is the second-most impactful factor driving overall customer satisfaction with insurers across product lines, accounting for nearly one-fourth of the overall model used in each of the product line indices.
If the broker doesn't meet expectations for regular, meaningful interaction, satisfaction levels drop, and there's a significant impact on retention, renewals and new business.
Risk managers are dynamic in assessing risk, and brokers who want their business must show the same versatility.
Developing the best solution for the client's business is key, Bebout says. Brokers should maintain good relationships with several carriers, as one insurer may not have all the coverage solutions that a business needs. But brokers shouldn't talk about coverage in a vacuum; they must anticipate the client's needs so coverage isn't overlooked, and new coverage for new risks is provided as it becomes available.
Using Technology to Manage Risk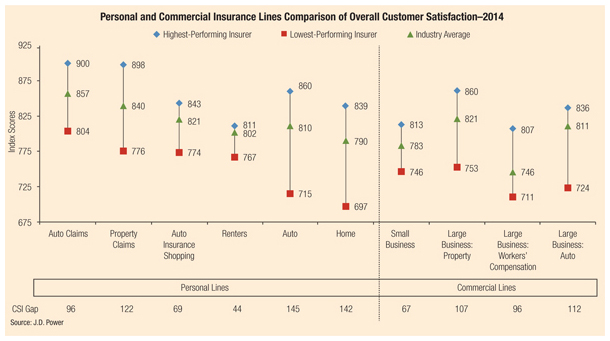 One way brokers can differentiate themselves—and provide better customer service—is to help their clients use technology effectively to manage premiums and allow underwriters to better evaluate risk.
For example, Commercial Auto is among the most competitive markets in the insurance business. The risk manager for a company with a fleet of vehicles may consider investing in telematics— equipping company vehicles with devices that measure hours, miles, location and fuel consumption. Bebout says the broker and carrier should be able to advise the risk manager about the effect the investment could have on premiums and risk underwriting.
Price Still Matters
"I was pleasantly surprised that risk managers were so candid about what's important to them," says Bebout, who adds he was surprised that price came in second or third on risk professionals' list of top concerns—except when discussing auto policies.
Billing and payment is the lowest-scoring factor in the Auto and Workers' Compensation indices, and is among the lowest-scoring in the property index. Billing and payment satisfaction ranked significantly lower among clients with Workers' Compensation policies (725 respondents) than among customers with Property (808 respondents) and Auto (793) policies.
Key Findings
Price is the leading factor driving satisfaction among auto customers. As one might expect, claims frequency influences overall customer satisfaction levels: As the frequency of claims increases, customer satisfaction decreases. Perhaps not surprisingly, claims satisfaction is lowest among Workers' Compensation customers, 94% of whom have filed at least one claim with their current primary commercial insurer in the past 12 months.
Flexibility in designing and implementing insurance programs is a KPI for which there is relatively low compliance, at 56% for Property and 50% for Workers' Compensation. Overall satisfaction erodes by 138 points and 316 points, respectively, when this KPI is not met. ("Compliance" refers to the share of customers who say their insurers or brokers delivered on each key performance indicator. The lower the compliance percentage, the more dramatic the impact on the overall customer satisfaction score.)
Ensuring that an insurance representative, such as an engineer or underwriter, is involved during both the service interaction and claims processes are two KPIs that drive satisfaction among property customers. Overall satisfaction erodes by 100 points when an insurer is not involved during a service interaction.
Providing at least two in-person interactions is another critical performance metric for brokers, the study reports. Eighty-one percent of customers indicate they have had at least two in-person interactions with their broker. Overall satisfaction declines by 73 points among customers who didn't have at least two in-person interactions.