It's been more than a week since the St. Louis County prosecutor released the decision by a grand jury not to indict police officer Darren Wilson for shooting Michael Brown. The verdict prompted riots throughout Ferguson, Mo., and protests across the country.
Residents and other individuals expressed their displeasure with the decision by burning and looting local businesses, many of which are minority-owned. The owners had no role in the decision process and yet they have paid a very high price – losing their businesses, livelihoods and years of hard work. A final price on the damage has yet to be determined, but most are beginning the restoration process, anxious to reopen their doors.
Some owners tried to take precautions by boarding up their establishments before the announcement. Michael Hosto, director of culture and leadership for 1-800-BOARDUP, Inc. said before the decision was announced they saw a spike in board up service requests from their St. Louis area customers. "Our team was hoping for the best, but we were planning for the worst," says Hosto, who has been a disaster recovery professional for more than 25 years. "However this is not just 'business as usual' for us. This hits us in the heart. My daughters are fifth generation St. Louis natives. All of our hearts ache for this community."
"There was damage to some larger businesses (and a strip mall) and some of the damage is extensive," explained Robert Hartwig of the Insurance Information Institute (I.I.I.).
According to the Small Business Administration, many small businesses are frequently underinsured and may not carry business interruption coverage or other types of insurance that would enable them to recover more quickly. Roughly 40-60% of small businesses never reopen their doors following a disaster. The I.I.I.'s Michael Barry said that much of the damage business owners experienced were covered perils since most commercial policies cover damage caused by riots, civil commotions and fires.
Mike Sellenschuetter, president of CSM, the parent company of a 1-800-BOARDUP franchise, said now their efforts have turned to restoration. While working at the Walgreens, which was impacted by a fire during the riots, he said there were still about 200 people protesting near the store. Safety is still a concern for those working in the area because they have seen how quickly a peaceful demonstration can change to something far more aggressive.
He recounted how distressed the elderly customers were when they came to the store and couldn't have their prescriptions refilled. Sellenschuetter described their looks of confusion and frustration as they tried to figure out how they could get the medicine they needed. The loss of business impacts far more than just the owners, it affects all of the residents who rely on these stores for groceries, medications, food and other services.
More than two dozen businesses ranging from restaurants and drug stores to gas stations and large chains were damaged by fires and looters.
Natalie DuBose owns Cakes and More, and her shop was vandalized. The bakery's main window was destroyed and the inside of the store was damaged. The single mother of two says she has invested everything she has in the enterprise. She set up a crowdfunding account to solicit funds to help get her bakery business running again and raised more than $200,000, well over her goal of $20,000.
The owners of the Dellwood Market weren't quite as lucky. The store was broken into twice this summer and was looted in August after Michael Brown was shot. In early November, there was a triple shooting outside of the store and it was damaged again in last week's riots. A notice on the store's Facebook page says the business may be permanently closed.
The question many are asking is, what's the benefit of burning down a building that you don't own? "People realize there is an issue but this isn't the way to address it," said Sellenschuetter. "It's really a waste and a real shame, especially for the residents in the area." He said that restoration companies are able to salvage and mitigate the loss to people's properties and are trained to respond quickly and politely in difficult circumstances, but he also realizes the damage goes beyond what can be physically seen.
Some business owners are concerned that if they file a claim they will be charged higher rates at renewal time or worse yet, lose the coverage they do have. The long-term impact, though, may not be measured in physical damage, but in the economic impact to the area itself as businesses close or relocate to other areas.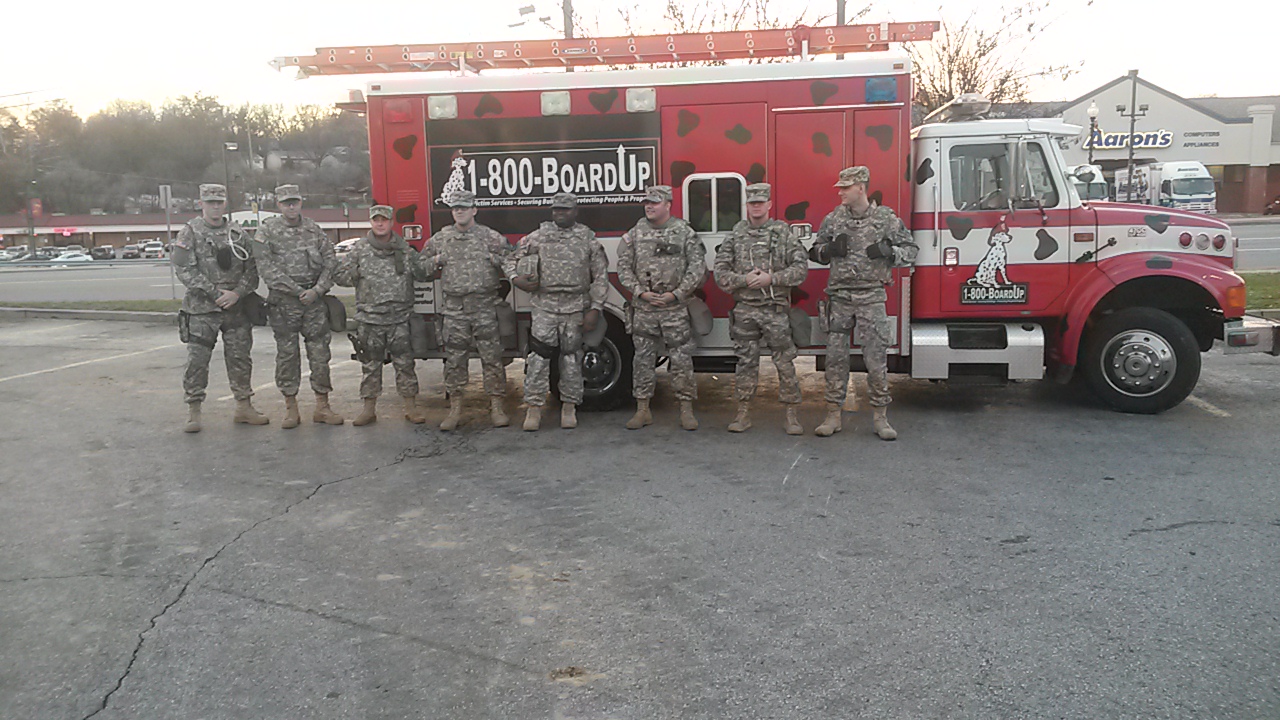 The National Guard was brought in to help the local police maintain order in the wake of the riots.