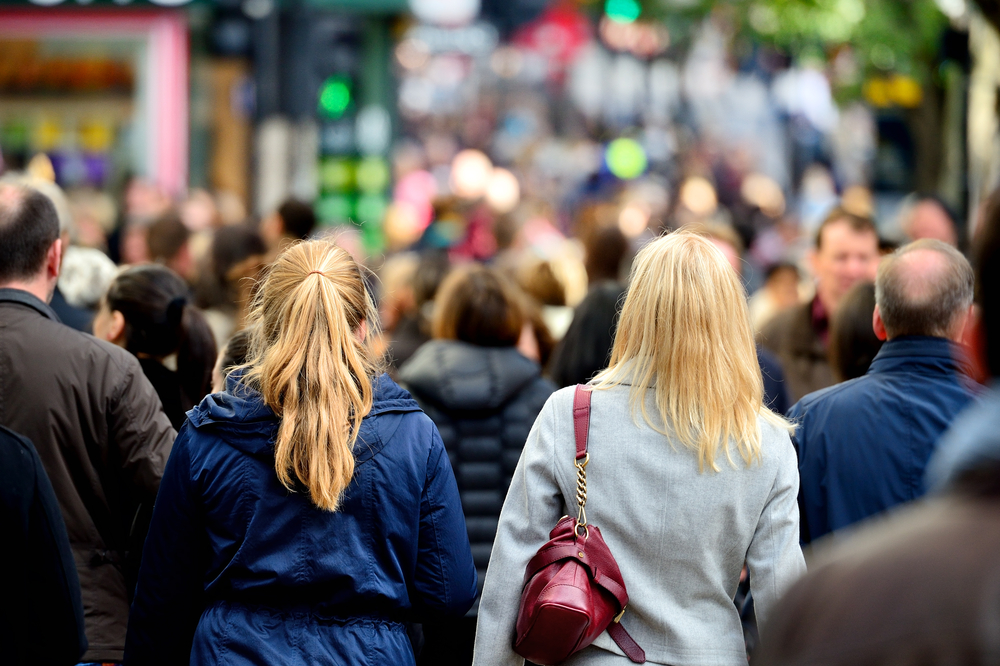 (Bloomberg) — The economy in the U.S. expanded more than previously forecast in the third quarter, reflecting bigger gains in consumer spending and business investment and capping the strongest six months of growth in a decade.
Gross domestic product, the value of all goods and services produced, rose at a 3.9 percent annualized rate, up from an initial estimate of 3.5 percent, Commerce Department figures showed today in Washington. The median forecast of 81 economists surveyed by Bloomberg called for a 3.3 percent gain. After the 4.6 percent increase in the second quarter, it marked the biggest back-to-back advance since late 2003.
Companies such as Wal-Mart Stores Inc. are seeing the benefits of the steadily improving economy as a strengthening labor market and gains in sentiment underpin consumer spending. The outlook for growth supports the Fed's recent decision to complete its bond-buying program, and central bankers continue to monitor economic progress while deciding when to raise interest rates for the first time in the recovery.
"We probably have more momentum heading into the final quarter of the year," said Brian Jones, a senior U.S. economist at Societe Generale in New York, whose estimate of 3.8 percent growth was closest in the Bloomberg survey. "We're probably on pace for another 3 percent to 3.5 percent growth in the final three months."
Stock Futures
Stock-index futures held earlier gains after the report. The contract on the Standard & Poor's 500 Index maturing in December climbed 0.2 percent to 2,071.9 at 8:41 a.m. in New York, indicating the benchmark gauge will extend all-time highs.
Economists' estimates in the Bloomberg survey ranged from 2.8 percent to 3.8 percent.
The report wasn't universally positive. Revised data for the second quarter showed the previously estimated increase in wages and salaries was cut almost in half and corporate profits last quarter rose less than in the prior three months.
Consumer spending, which accounts for about 70 percent of the economy, grew at a 2.2 percent annualized rate in the third quarter compared with the previously estimated 1.8 percent. The improvement was spread across durable and non-durable goods, including recreational vehicles and restaurant meals.
As consumers boost spending on the back of the strongest jobs growth since 1999, companies such as Wal-Mart may benefit. The world's largest retailer posted third quarter earnings that beat analysts' estimates this month as same-store sales grew for the first time in seven quarters.
Consumer Spending
Consumers bought more clothing and home goods, and the company is "excited" about prospects for the holiday season, said Greg Foran, chief executive officer of the company's U.S. division, said on a Nov. 13 conference call.
The drop in fuel prices "may give customers a little more discretionary spending power in the coming months," Foran said. The average cost of a gallon of regular gasoline was $2.81 on Nov. 23, the lowest level in four years, according to automobile group AAA.
Cheap gas has emboldened many consumers to step up auto purchases, with the industry poised for an unprecedented sixth straight annual sales increase next year. Deliveries of new cars and light trucks in 2015 will probably total 16.7 million, the average estimate of 12 analysts surveyed by Bloomberg News and the most in a decade. That bodes well for factory production.
Wage Revision
Today's report also included revisions to second-quarter personal income. Wages and salaries rose by $51.9 billion, revised down from an initially reported $102.5 billion gain. Preliminary data showed they climbed by $66 billion in the third quarter.
Gross domestic income, which reflects all the money earned by consumers, businesses and government agencies climbed at a 4.5 percent annualized rate in the third quarter after rising 4 percent in the prior period. That was revised down from a previous estimate of 5.2 percent for the second quarter.
Today's report also offered a first look at corporate profits. Pretax earnings climbed 2.1 percent last quarter after an 8.4 percent gain in the previous period. They were up 0.4 percent from the same time last year.
Business investment increased at a 6.2 percent annualized rate, revised up from a previously estimated 4.7 percent gain. The improvement reflected more spending on new equipment.
Inventories Climb
Inventories were also less of a drag on growth last quarter. Stockpiles grew at a $79.1 billion annualized rate from July through September, more than previously estimated. The gain was still smaller than in the second quarter, cutting growth by 0.1 percentage point. The reduction was previously estimated at almost 0.6 percentage point.
Offsetting some of that improvement was a smaller narrowing of the trade gap than previously calculated. The difference between exports and imports added 0.8 percentage point to growth, down from a prior estimate of 1.3 points.
Similar contributions will be difficult to match in coming quarters as faster growth in the U.S. and slower growth among the country's trading partners boosts imports and slows exports.
Government spending showed little revision, climbing at a 4.2 percent pace, compared with the previously reported 4.6 percent rate, today's report showed. It was the biggest gain since the second quarter of 2009.
–With assistance from Alex Tanzi in Washington.