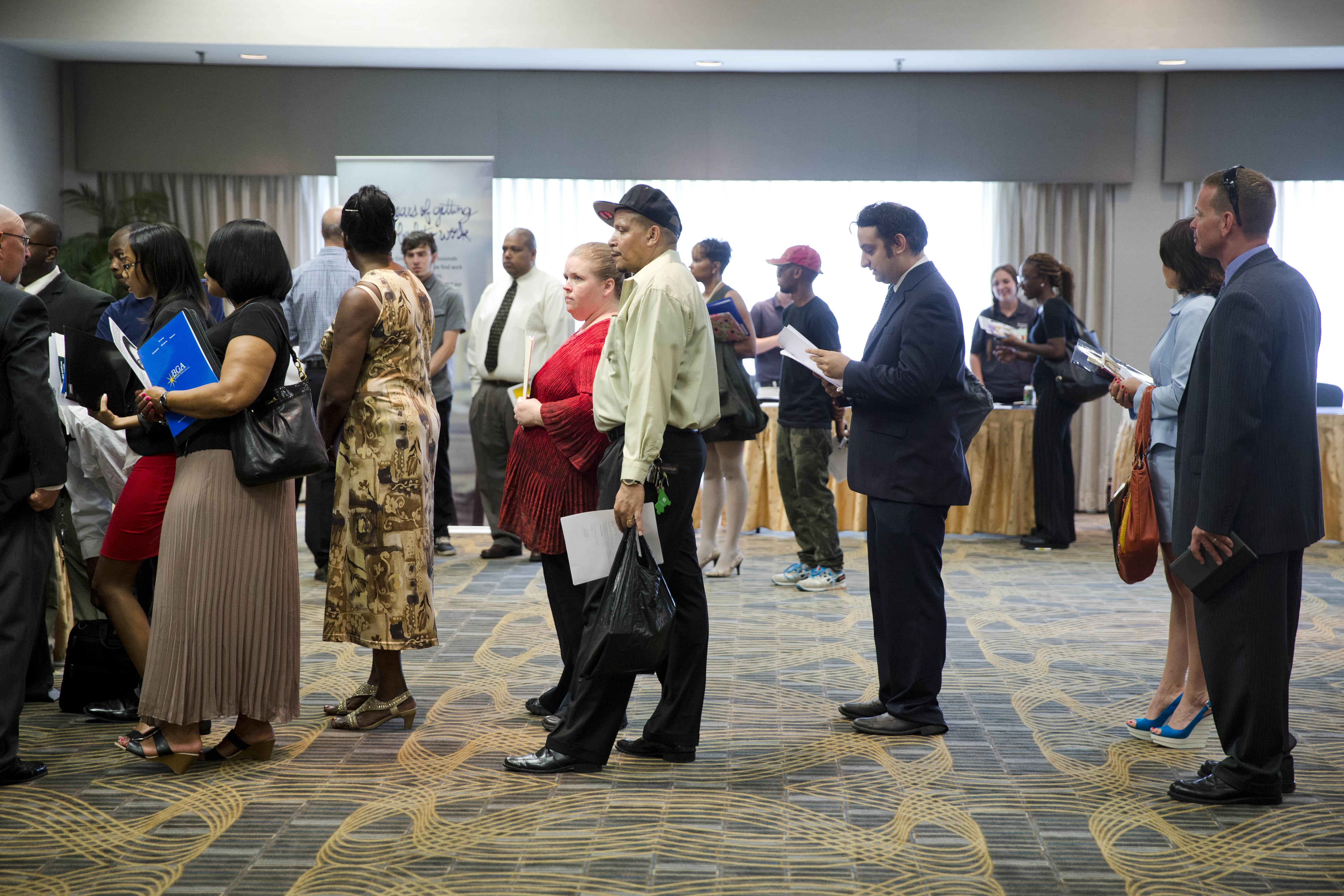 (Bloomberg) — Job openings in the U.S. climbed to a 13-year high in August as employers gained confidence about the outlook for demand in the world's biggest economy.
The number of positions waiting to be filled rose to 4.84 million in August, the most since January 2001, from a revised 4.61 million the prior month, the Labor Department reported today in Washington. Hiring and firings cooled, while fewer people quit their jobs.
The upswing in openings adds to signs of sustained progress in the labor market. The figures form part of a package of data Federal Reserve Chair Janet Yellen and her colleagues use to measure the labor market's health, which will help determine when the central bank will to begin to raise its benchmark interest rate in 2015.
"It reinforces the view that the labor market is improving," Sal Guatieri, senior economist at BMO Capital Markets in Toronto, said before the report. "It's making progress, reflecting an economy that seems to have pretty good momentum."
The median forecast in a Bloomberg survey of economists called for 4.7 million openings after a previously reported 4.67 million in July.
Today's Job Openings and Labor Turnover Survey, known as JOLTS, showed employers hired 4.64 million people in August, down from 4.93 million the month before.
Hiring Rate
The hiring rate dropped to 3.3 percent from 3.6 percent in July. The rate calculates the number of hires divided by the number of employees who worked or received pay during the month.
Job openings increased most among health-care providers, retailers and hotels and restaurants. They declined among construction firms and state and local government agencies.
The number of total dismissals, which excludes retirements and those who left their job voluntarily, fell to 4.44 million from 4.63 million in July.
Some 2.47 million people quit their jobs in August, the fewest since April and down from 2.55 million. The quits rate, which shows the willingness of workers to leave their jobs, held at 1.8 percent. It was at 2 percent when the last recession started in December 2007.
The JOLTS report is one of nine measures on Yellen's labor- market dashboard, which she uses to help guide monetary policy. Just three gauges — the job openings rate, payrolls and the pace of dismissals — have returned to where they were before the last recession, indicating there's still room for improvement in the job market.
Fed Policy
The Fed last month tapered monthly bond buying to $15 billion in their seventh consecutive $10 billion cut, staying on course to end the purchase program this month. Policy makers also stuck to their pledge to keep interest rates near zero for a "considerable time" after the Fed stops buying assets.
"There are still too many people who want jobs but cannot find them, too many who are working part time but would prefer full-time work," Yellen said during a Sept. 17 press conference after the central bank's last policy meeting. That "significant underutilization of labor resources" is keeping lid on wages, she said.
Fed officials are watching the labor market as they start considering their first interest-rate increase since 2006.
Considering the 9.59 million Americans who were employed in August, today's figures indicate there are about 2 people vying for every opening, up from about 1.8 when the last recession began in December 2007.
A surge in hiring pushed unemployment to a six-year low of 5.9 percent in September as the labor market showed renewed vigor, a Labor Department report last week showed. Employers added 248,000 jobs in September, and the unemployment rate dropped to 5.9 percent, its lowest since July 2008.
–With assistance from Chris Middleton in Washington.