Fantasy football may cost employers more than $13 billion in lost productivity, according to the Chicago-based consultancy group Challenger, Gray & Christmas, as millions of Americans use company time to review player stats and manage rosters. But what if there was a way to harness fantasy football enthusiasm and know-how into more insurance sales?
Enter Adam Hollander, founder and CEO of FantasySalesTeam, an Austin, Texas-based software startup. A couple of years ago, when working in sales management in the marketing and advertising industry, Hollander noticed that typical sales contests were failing to motivate his reps. "I was starting to question the validity of these contests," he says.
And he is right to do so. Technology research firm Gartner predicts that 70% of the world's largest 2000 companies will have gamified applications in place by the end of this year—however, 80% of those games will fail to meet business objectives.
Hollander uncovered two flaws in his analysis. First, his superstar performers generally won most of the contests, "but I wasn't looking to motivate those folks," he says. Second, the enthusiasm faded quickly. "When I rolled out a contest, everyone would cheer and talk about the prizes. But after a couple of days, some reps would fall behind a leader or a goal, and then they fell out of contention [for prizes] and would disengage," he says.
To make a sales contest successful, Hollander would have to change the model. "I have to motivate a larger portion of the team for as long as possible," he says.
Noticing that many of his reps play fantasy football, Hollander wondered if he could bring that type of culture into the work environment. For instance, create a game that rewards employees for every phone call, every closed deal and every policy add-on.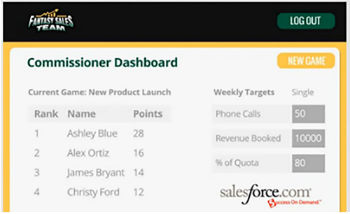 After spending nights and weekends creating the FantasySalesTeam software in 2013, Hollander launched the beta version with three medium-sized companies. And now, more than 75 companies play this game, including Allstate, Esurance and brokerages GuideOne Insurance and Primera Insurance, and FantasySalesTeam has grown to 20 employees.
The game exists in five formats, for baseball, basketball, football, racing and soccer. It is offered as an individual-based game, a fixed-team mode where sales managers build teams, and an option where sales reps can draft themselves.
This works because peer pressure is a powerful motivator. "This creates an environment where reps will push on the people they drafted and pay attention to how everyone else is doing," Hollander stresses.
The tech company closed on $640,000 in seed financing earlier this year to upgrade its game and expand offerings. Agencies and brokerages can customize the game to work toward certain goals, for instance, if the company wants to build auto premium numbers in a specific month.