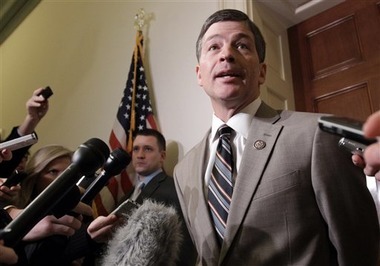 In the parlance that weather-guessers would use in describing the situation, the outlook for long-term reauthorization of a federal backstop for terrorism risk insurance in its present form is cloudy, and that is being optimistic.
The stakes are high for U.S. property and casualty insurers.
In a "special comment" in June dealing with the now two-year effort to get the Terrorism Risk Insurance Act (TRIA) reauthorized, Moody's Investors Service said, "Non-renewal of the program could result in significant insurance market dislocations, with coverage less widely available, more costly and perhaps unavailable in large urban markets."
Jimi Grande, senior vice president of federal and political affairs for the National Association of Mutual Insurance Companies says, "When Congress takes a break from the campaign trail next month, the property and casualty insurance industry will be focused on bringing one item to the agenda: reauthorization of TRIA."
He adds, "TRIA shouldn't be a partisan issue. In the Senate, we had 93 votes to reauthorize it."
Insurance-industry officials are being adroit in discussing the present situation, but the fact is Congress will likely only be in session for two weeks starting Sept. 8 before the November mid-terms, and the odds for reauthorization in its acceptable form will drop precipitously if action is delayed until the lame duck session.
"We are telling members of the House that is critical that a bill be passed this month so that we can get a long-term bill this year," as stated by one industry lobbyist who asked not to be named. The reason, he says, is that lame duck sessions of Congress are "notoriously unpredictable, and we are trying to take the unpredictability out of the equation."
Hensarling's bet
One source of unpredictability: the midterm elections. The consensus among electoral pundits is that Republicans will take control of the Senate, which would strengthen the hand of Rep. Jeb Hensarling, R-Texas, chairman of the House Financial Services Committee, and fellow conservatives who are aiming to enact legislation that phases out the current system over five years and replaces it with one that will provide a federal backstop after that period only for nuclear, biological, radiological, and/or chemical (NBCR) events.
Hensarling previously proposed a clean TRIA extension through August, which an industry official said at the time amounts to a bet that a more conservative Congress would be in place by then that would be willing to pass a severely slimmed down TRIA.
Hensarling would like to pass H.R. 4871, the TRIA Reform Act of 2014. That bill calls for gradually increasing the program trigger for all non-nuclear, biological, radiological, and/or chemical (NBCR) events, from $100 million to $500 million by 2019, which industry officials say effectively phases out the program for non-NBCR events.
The Senate bill, meanwhile, is S. 2244, the Terrorism Risk Insurance Program Reauthorization Act of 2014. The Senate raised the insurer co-pay from the current 15% to 20%, and the mandatory recoupment from $27.5 billion to $37.5 billion over five years.
In discussing the Senate bill, Sen. Tim Johnson, D-S.D., chairman of the Senate Banking Committee said, "We were careful" in reaching this compromise that the Senate did not raise the trigger, which would drive smaller insurers out of the market and reduce affordability of coverage for business nationwide. He said "this bipartisan bill does not pick what modes of terrorism attacks would get preferential treatment over the other forms of attacks."
All about TRIA
"I'd be stunned if anyone in the property and casualty insurance industry mentions anything else as a priority for September," Grande says.
"The fact is, Congress is only going to be in town for two weeks, and given its record on last-minute must-do legislation, I wouldn't bet the farm on that being a productive time," he says.
"This is the last few weeks before they go home to face re-election; this will be about messaging for the campaign trail," Grande says. "The substantive work, like keeping the government funded, will be out of political necessity.
"It's unfortunate that they have not been able to reauthorize TRIA yet," he adds. "We had a strongly supported bipartisan bill pass the Senate in July, so they really should be out of excuses by now."
In a policy paper, the Property Casualty Insurers Association (PCI) says the current version of TRIA is important because it addresses the fact that "there is virtually no way to adequately insure against terrorism.
"Without data on the likelihood, frequency, and severity of terrorist attacks, it is difficult and almost impossible for insurers to adequately price and provide terrorism insurance. And without terrorism insurance, commercial lending and financing for many construction projects that are critical to the economy could dry up, putting countless parts of our nation's economic infrastructure at risk."
The PCI paper says, "With TRIA currently on hold, some insurers have already advised their policyholders that terrorism coverage could be excluded.
"Delaying action into late fall is expected to create needless uncertainty, added costs, and more disruptions in the insurance marketplace. If businesses aren't able to secure terrorism insurance, future public events or future construction projects may be limited, delayed or abandoned and the added uncertainty and risk could stifle business activity."
Nat Wienecke, senior vice president, government relations at PCI, says,
"We are working aggressively to get House members to come together to strike a deal and get this off the floor in September. It is unclear if that is possible, but members are making good-faith efforts to have these conversations. But, I can't predict how this will turn out."
Will Rijksen, a spokesman for the American Insurance Association, notes, "Given the fact that House members on both sides of the aisle support TRIA, there's no reason we can't get this done—the sooner the better.
"AIA continues to meet with members of Congress to ensure the program receives a long-term renewal before its year-end expiration."
Charles Symington, senior vice president for external and government affairs for the Independent Insurance Agents and Brokers of America, says, "We're working hard to encourage the two camps in the House to work out their differences over Hensarling's TRIA legislation, and move the ball forward in that chamber as soon as possible."
Joel Kopperud, a director of government affairs for the Council of Insurance Agents and Brokers, adds, "The fact of the matter is, the clock is ticking and markets are moving. The House is only in session for 10 days in September and there are some major differences that need to be worked out to move Hensarling's bill forward.
"The Senate did its job and moved on its bill, and now it's time for the House to act. We understand that holding out until the last minute is a common negotiating tactic, no matter which side you're on, but markets don't respond well to uncertainty."