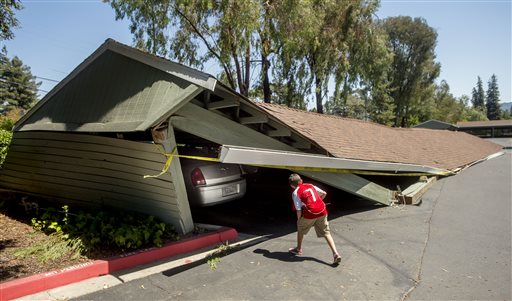 Only 10% of homeowners in California have earthquake insurance, even though the state is most at risk for damaging earthquakes, says CNN Money. According to the article, here are three reasons why the majority of Californians don't have earthquake insurance:
1. The deductible isn't worth the money. Earthquake insurance generally comes with a deductible of 15% of the home's value, John Rundle, a professor of physics at the University of California, Davis, tells CNN Money. According to Rundle, most homeowners will never exceed the deductible, even if they do get earthquake damage.
After the Northridge earthquake, the California Earthquake Authority was created by state legislature and today sells the most policies. Glenn Pomeroy, CEO of the authority, tells CNN Money the high deductibles are necessary to keep premiums affordable.
Rundle says the money homeowners would pay for insurance premiums is better spent reinforcing or retrofitting homes to be earthquake-resistant.
2. Californians took a big hit in the housing bust. Many Californian homeowners have little to no home equity, or ar underwater on their mortages, following the real estate crisis. Without equity, many homeowners simply can't afford to pay for earthquake insurance. If a big earthquake does strike, many struggling homeowners can simply walk away from their mortgages.
3. Homeowners are not confident in CEA's support. Like any insurer, the CEA would stop paying claims if catastrophic earthquake losses exceed the Authority's reserves. This discourages many homeowners from buying coverage.
However, Pomeroy tells CNN Money that homeowners shouldn't worry–it won't happen because CEA is very well capitalized.
"We could handle two Northridges," says Pomeroy. "I worry because so many people don't have coverage."