The Workers' Compensation Institute's 69th annual Workers' Compensation Educational Conference (WCEC) kicked off the morning of Aug. 18 with the general session at the Orlando World Center Marriott in Orlando, Fla.
WCI General Chair James N. McConnaughhay welcomed the crowd and introduced Steven A. Rissman, WCI program chair. After a few opening remarks, scholarships were awarded to students whose family members were involved in the workers' comp industry or were injured on the job. Gerald A. Rosenthal, a member of the WCI board of directors, presented awards on behalf of FWCI, and Honorable W. James Condry presented the awards on behalf of the Friends of 440.
Michael A. Wasylik, M.D., president of the Florida Orthopaedic Society, presented the society's 4th Annual Injured Workers Inspiration (IWI) Awards to injured workers and their doctors who were a reminder of why workers' comp professionals do what they do.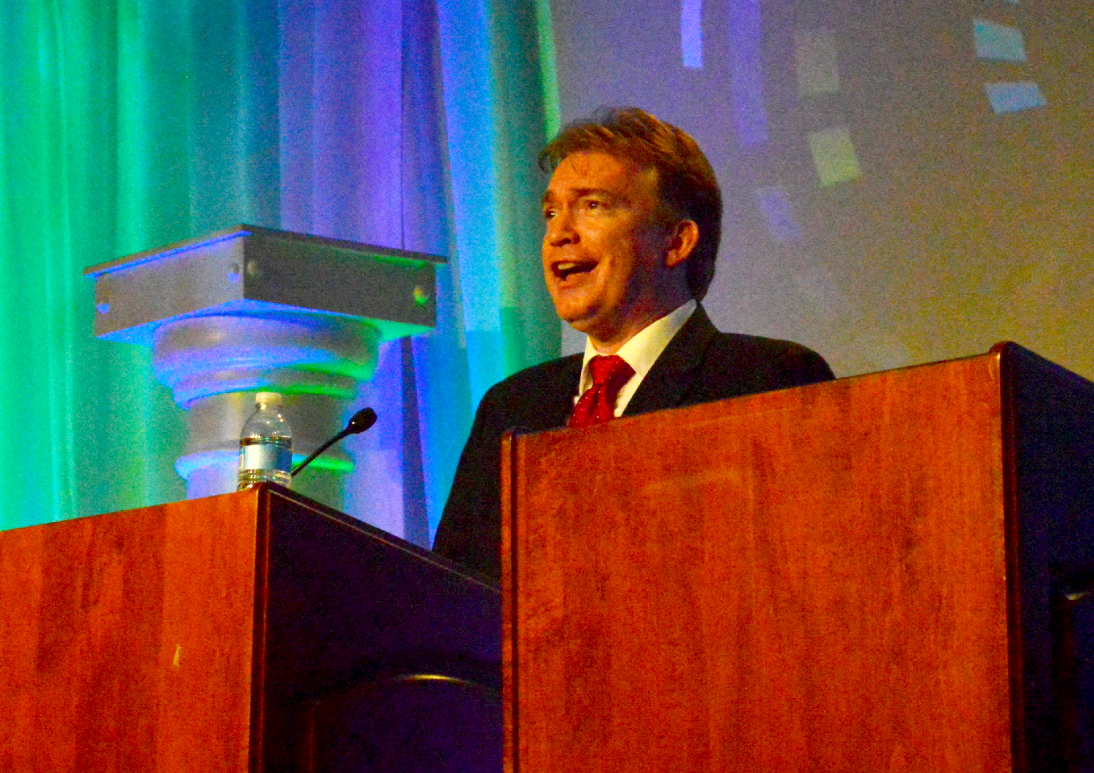 NU-PC Editor-in-Chief Shawn Moynihan (right) presented the National Underwriter Award for Excellence in Workers' Compensation Risk Management to this year's three winners: Jeffrey C. Hammons, vice president of risk management for Philadelphia-based crane rental provider AmQuip; Tommy Mayet, risk manager for Louisiana-based Danos & Curole Marine Contractors LLC (Danos); and Geoffrey Smith, vice president of risk management for Boston-based records management company Iron Mountain.
Debbie Michel, president of Helmsman Management Services, which sponsored the award, was on hand to present the winners with their awards.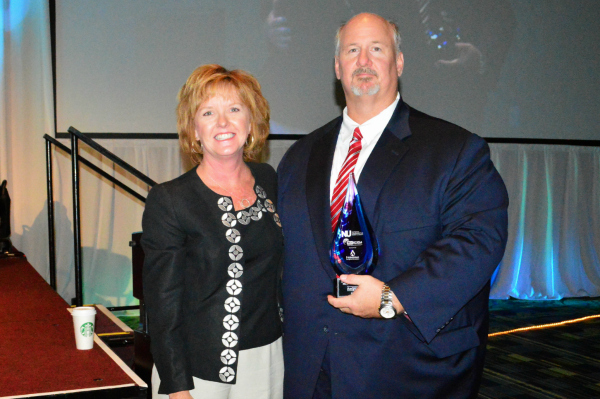 Jeffrey Hammons of AmQuip receiving his Excellence in Workers' Compensation Risk Management award from Debbie Michel.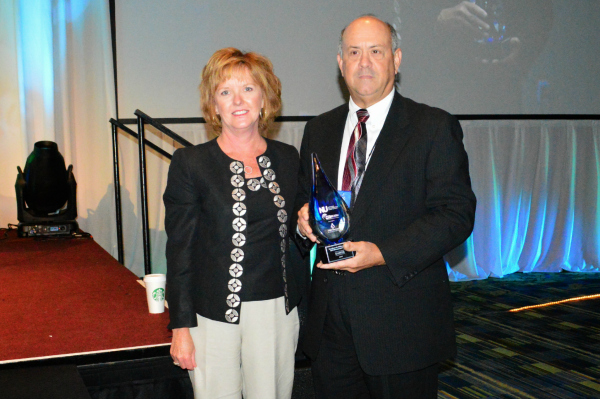 Tommy Mayet of Danos receiving his award from Debbie Michel.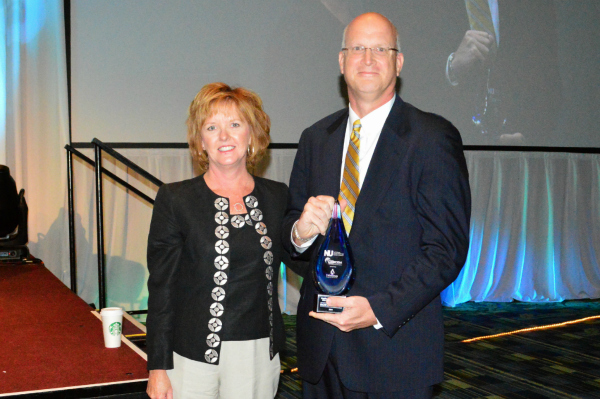 Geoffrey Smith of Iron Mountain receives his award from Debbie Michel.
Click next to read about the keynotes from Gallagher Bassett's Scott Hudson and NFL Hall of Fame quarterback Jim Kelly.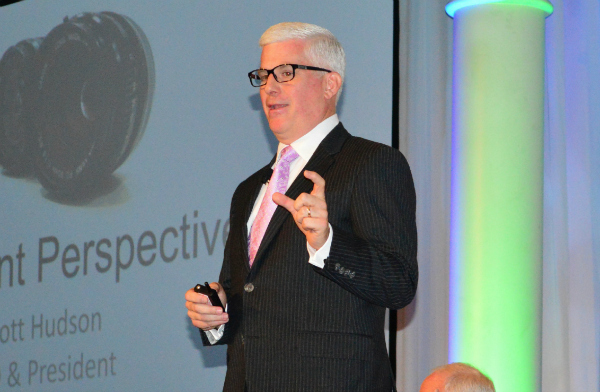 Scott Hudson, president and CEO of Gallagher Bassett Services, presented the first keynote at Monday's WCEC general session. Hudson spoke about how the workers' comp industry could use some rebranding from the negative workers' comp headlines in the news today to his preferred headline: "'Next Generation' Top Talent Opting for Work Comp Industry Over Technology, Consulting and Banking."
To achieve that goal, Hudson said the focus on workers' comp should shift from talking about the mechanics of the industry, such as handling claims, to the care that workers' comp provides to injured workers.
The morning's inspirational second keynote came from former NFL quarterback Jim Kelly.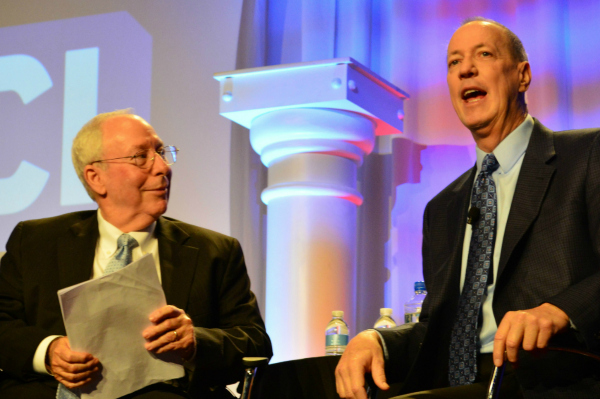 Steven A. Rissman interviews Keynote Speaker Jim Kelly.
Kelly discussed growing up "Kelly tough" with his five brothers, having his dreams of playing for Joe Paterno at Penn State squashed, and how he went from being a fifth-string backup to starting quarterback at the University of Miami. Kelly also confessed how he did not want to be drafted by the Buffalo Bills, but said his successful 11-year career with the team ended up being one of the best things that ever happened in his life. Leading his team to four back-to-back Super Bowl appearances may have had something to do with that, despite the devastation of never being able to bring the Lombardi trophy back to Buffalo.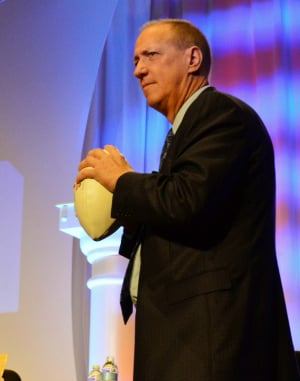 Kelly also touched upon the hardships in his life, including his only son Hunter's diagnosis with globoid-cell leukodystrophy, a form of muscular dystrophy, and his death from the disease at the age of eight. Kelly said his son changed his life, and spoke of the Hunter's Hope Foundation that he and his wife founded in Hunter's honor.
A topic on most attendees' minds was Kelly's own health after having been diagnosed with squamous cell carcinoma in his upper jaw for a second time this past spring. While Kelly admitted that going through the diagnosis, surgeries, and chemotherapy treatments were a struggle, he always remembered to stay "Kelly tough" and to use these hardships to help others who are suffering.
At the end of his keynote, Kelly tossed autographed footballs to a few lucky members of the audience–depending on whether or not they correctly answered some trivia questions. Those who answered incorrectly had to donate $100 to Hunter's Hope. Call it the "Jim Kelly Challenge."
Click next for more highlights from the WCEC 2014 general session.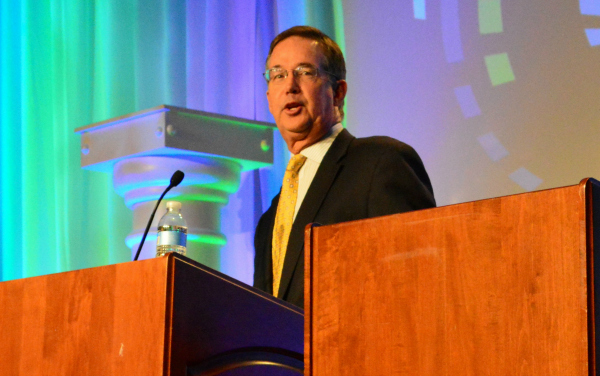 Jeff Atwater, CFO of the Florida Department of Financial Services, addressed attendees at the general session. He spoke about how his office plans to continue rooting out complaints of false or misleading claims.
Honorable W. James Condry helps present the Friends of 440 Scholarship awards to this year's two winners.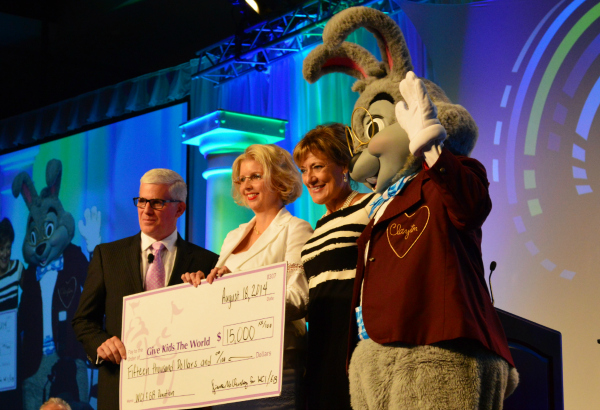 Scott Hudson and Diana J. McCluskey, chair of WCI Volunteer Activities and Service Day, present a donation to Pamela Landwirth and Mayor Clayton of Give Kids the World, a "storybook" resort in central Florida where children with life-threatening illnesses and their families can have a weeklong, cost-free vacation.