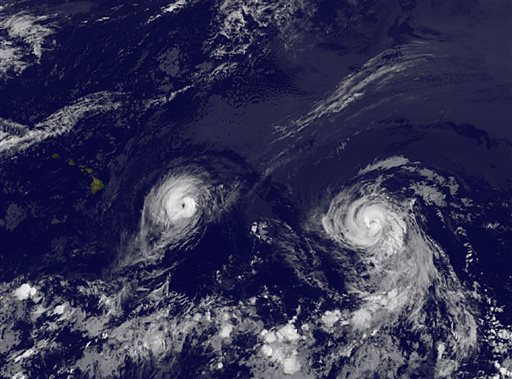 More than 1 million residents of the Hawaiian Islands are bracing for the impact of the first hurricanes to make landfall since deadly Hurricane Iniki hit in 1992.
At of the National Weather Service's 2:00 update, Iselle's forecast track brings the center of the storm over the Big Island of Hawaii tonight; then passing just south of the smaller islands Friday.
Maximum sustained winds are near 80 mph, but some weakening is forecast during the next 48 hours. However, the NWS says Iselle is expected to still be near hurricane strength as it makes landfall on the Big Island tonight. Up to one foot of rain could fall and 12-16 foot waves could cause a storm surge of 1-3 feet to hit the island.
A second storm, Julio, is 1,650 miles east of Hilo and is expected to make landfall on Sunday, but Lixion Avila, senior hurricane forecaster with the National Hurricane Center in Miami, says it is still too early to determine the storm's path. He advised residents to prepare for Iselle first since the hurricane is much closer to the islands.
Many tourists chose to leave the islands rather than ride out the storm and Hawaiian Airlines waived change fees and fare differences for those who decided to alter their plans ahead of the storm.
Surfers had a slightly different approach to the storm since they are looking forward to the huge waves generated by the high winds.