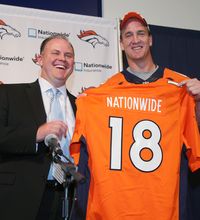 Are you ready for some football?
Believe it or not, it's almost that time of year again — my hometown Denver Broncos are set to play their first preseason game this Thursday — and as the league's PR machine ramps up for yet another season, some insurance-related news entered the mix this week: Nationwide has signed on as an official NFL sponsor. The insurance firm was named a "founding sponsor" of the new NFL Now digital video service and a "presenting sponsor" of the Walter Payton NFL Man of the Year Award.
The sponsorship is set to run through the 2016 season.
"We've made significant media and partnership moves in the NFL space over the past two years to help strengthen our connection with the more than 185 million NFL fans," said Matt Jauchius, Nationwide's chief marketing officer, in a statement Monday annoucing the deal. "Adding a league relationship is a natural evolution for Nationwide and will afford us the ability to maximize assets nationally, provide more impactful content and better engage fans across screens."
Translation: Get ready for more and more Nationwide ads featuring Denver Broncos quarterback, Peyton Manning, who signed on as a Nationwide spokesperson in May 2014.