The southern part of the great state of Louisiana boasts some of the lowest unemployment rates in the U.S.; however, it pales in comparison to the rest of the country in statistics related to workers' compensation and work-related injuries.
Louisiana costs per claim for workers' comp were higher than most other states and growing faster for all cost components including indemnity, medical and related expenses. The duration of temporary disability is anywhere from 8 to 16 weeks longer than in other states with a wage loss benefit system. Indemnity benefits per claim are 40% higher than the median of all other states and, at 9% per year, are growing faster than any other state.
All of which makes it all the more impressive when a company sets its sights on not only improving its own workers' comp loss ratios, reducing the number of injuries and workers' comp claims, but far outpacing its fellow businesses in the Pelican State and emerging as a serious competitor within its field. But that's precisely what Danos & Curole Marine Contractors LLC (Danos) has accomplished.
"We have accepted the fact that we are employers in a state wrought with abuse, fraud and in need of policy reform," says Tommy Mayet, Danos' risk manager. "We chose to be leaders. We have succeeded because we attract the right people, provide them opportunities to develop, and create an environment where employees are motivated to excel. We strive to become the organization that others in our industry are measured by."
Headquartered in Larose, La., Danos provides contract labor services, construction and fabrication, sandblasting and painting services and consultants to the oil and gas industry worldwide. Founded in 1947 and currently boasting a workforce of more than 1,600 employees, Danos operates in the U.S. Gulf of Mexico and gulf coast region, Texas, Wyoming, Pennsylvania, Ohio and in several foreign countries, supplying personnel for various on-site oil and gas industry projects and work sites, including pipelines. "We provide people," says Mayet. "They are our product."
The work, as one would surmise, is inherently dangerous—particularly on work sites set over water, such as oil rigs. Even traveling to the work sites can be treacherous: Boats and helicopters are used for transportation of personnel and supplies. Swing ropes and cranes are used to transfer personnel and supplies from vessels to platform. Platforms include machinery, high-pressure wells, boat landings, steel decks, stairways and handrails, all of which need continuous maintenance and upkeep to control the effects of a salt water environment on steel surfaces and electrical machinery.
Yet through its dedication in recent years to achieving operational excellence, Danos has reached all-time lows in its total recordable incident rates at a time when the company's personnel, man-hours and exposures have increased tremendously. As its time on-site and total number of personnel have grown in recent years, incidents are on an inverse track.
"We committed to world-class operational excellence through the development of a high-performance culture that demands world-class employees and safety programs," says Mayet. "As challenging as things continue to be, we've come a long way."
Safety Measures On-Site
The oil and gas industry is ultimately about people—people working to provide a critical product to society, people working to better themselves, and people working to provide for their families, says Mayet. It is because of those people and families, he adds, that all of Danos' workers deserve to be given the tools, knowledge and support that allow them to return safely home at the end of every work day. It is an ethos that is engrained in the company.
Screening becomes particularly important when recruiting new personnel. "We're aiming for their success, producing contentment—which results in higher production and less incidents and illness," says Mayet. One technique Danos uses, prior to the one-on-one interview, is to have candidates come into the office for an interactive interview/open house-type meeting in a common area—enabling recruiters as well as current employees to engage with the candidate in order to get a better idea of that person's knowledge and passion for the industry and to observe how they interact in groups. If they don't like what they see, that candidate isn't invited back.
Before their first days on the job, all employees undergo orientation and five to 12 days of training, polishing their skills and competencies, familiarizing them with the industry, safety and Danos' high-performance culture and values. The program, called "Daily Safety Management," is designed to simulate a day in the life of a Danos employee with regard to its safety programs, policies and culture.
Slips, trips and falls remain workers' greatest exposure, with slippery decks and oily decks a hazard and a main contributor to accidents. Pinch points, at which a worker can get caught in between loads, is another danger.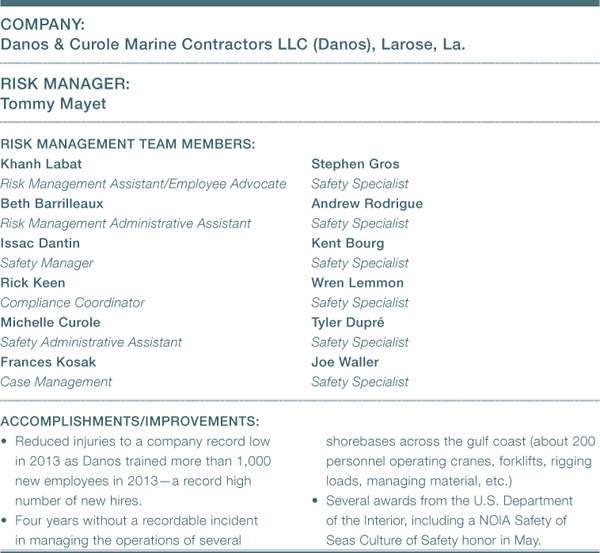 In its effort to "get out in front" of its employees and prevent injuries, says Mayet, monitoring at-risk behaviors and environments through its "W.A.T.C.H." Program (Working Always to Control Hazards), has been essential. The program rewards employees for identifying and reporting hazards. When an employee completes a W.A.T.C.H. card form using Danos' online system, certain observations are sent via e-mail to the safety team and designated members of management based on programmed criteria.
For example, the company is currently highlighting and promoting more reporting of near-misses so that all observations that include a near-miss go directly to management and safety leaders for follow-up.
"We have the capability to do the same thing for interventions, or particular types of at-risk behavior that we are emphasizing, such as hands or eyes, or fall protection," he adds.
Accidents will happen, of course, and when they do, employees coming in from offshore are met at the dock or heliport by a Danos representative and escorted to the nearest facility for medical care.
Culture-Building 101
The "high-performance culture" that Mayet describes has several key components, including communication, teaching by example, rewards for fewer accidents, performance management systems, and, when necessary, eliminating obstacles that can stand in the way of fostering this culture.
Danos hosts an annual Leadership Conference that brings together field leaders from across the company for two days of sit-down meetings with management to discuss working conditions and opportunities for improvement and development.
A weekly safety roundtable conference call is also held, in which employees from various locations call in to discuss lessons learned and safety hazards that might need attention. In 2013, an average of 49 employees called in each week to participate.
Danos, he says, possesses a "bias to action," which includes an understanding that all of its employees are free to exercise their own stop-work authority when necessary. If a worker judges a situation to be risky, the employee is empowered to take a stand with a client and find a safer way to proceed.
"They can stand up for what they think is better and different and help to avoid an incident," says Mayet. "That is absolute gospel, and how it has to be done. We want to empower you and allow them to challenge that customer—not in a combative manner—and they have the confidence in knowing that we will back them up."
The proof is in the results. Danos manages the operations of several shorebases across the gulf coast (about 200 personnel operating cranes, forklifts, rigging loads, managing material, etc.) These are 7-days-a-week, 24-hour operations with high demands for delivering critical equipment and supplies—and the company currently stands at four years without a single recordable incident in this service line.
"The risk profile of the work we perform is very high across the spectrum of work in the industry," Mayet adds. "Our reputation is built on developing relationships with our customers. We don't promote ourselves as a low-cost provider [of labor]. We need to provide the best employees at a level of world-class operational excellence."
Confident Claims Execution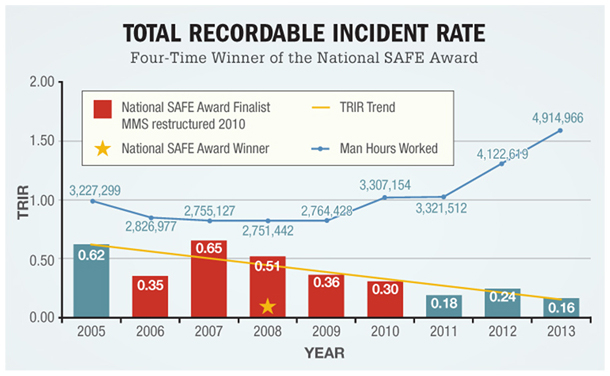 Because of the confidence Mayet and his department have gained in the company's ability to control its workers' compensation claims and losses, Danos in the last three years has increased the SIR deductible with its carrier from $50,000 in 2012 to $75,000 in 2013 to the current $100,000 in our current policy year.
"We crunched the numbers, and we were willing to put more skin in the game," he says. "We have a near 40-year relationship with our workers' compensation, general liability and auto liability insurance carrier (The Gray Insurance Co. in Metairie, La.), which has led to the development of valuable relationships with their in-house claims adjusters."
Managing the cost of claims has become a critical task for all employers, especially in a state where total costs per claim have been increasing at an average of 8% per year. Danos works closely with its carrier in the management of its claims—and established the position of Employee Advocate to work closely with employees who do become injured and are forced to spend time away from active duty.
Khanh Labat, Danos' assistant risk manager, assumed this position in 2011 and she serves as what Mayet describes as "the delicate voice on the phone" who manages the employee through the entire process when they become injured. Mayet knows all too well that the onus is on the employer to manage that relationship from start to finish, especially when any cases of conflict can arise, lest they ponder any kind of legal action.
If that relationship is managed mindfully, he adds, far more often than not things are brought to an agreeable point for all involved. The result for Danos has been a dramatic decrease in claims that have led to litigation.
"Khanh manages the person; the claim is managed by our claims adjusters," says Mayet.
"The difference we have made in the lives of the people in our industry is what we are most proud of as a company," he adds. "We've made great strides and celebrated great successes, but every day we continue to endeavor for that perfectly safe day. We know the striving, learning and improving can never stop."