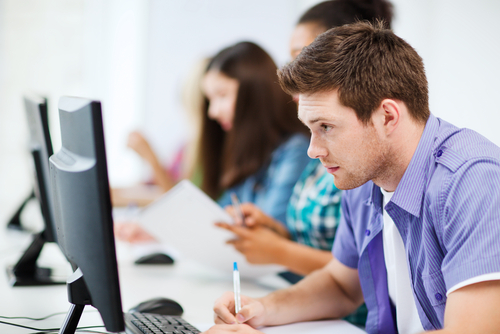 The qualitative merit of education and learning has never been measured more by the quality assurance of its outcomes than it is today – in the age of online learning, testing and certifications. While the phenomenon of examination malpractice is not new, the mass transmission of professional examinations to the online platform has placed a huge challenge in front of educators and administrators of devising new techniques to protect the integrity of exams.
The turn of the decade has seen increased activity in the offering and adoption of Massive Online Open Courses (MOOCs) and online professional certifications. However, where technology works to simplify and automate processes, it also creates new trials. With the increased reliability on technology for test-delivery, there is a high-level of experimentation being conducted to maintain test credibility as well.
Among the many methods, proctoring, where a monitor oversees a candidate appearing for the test, has worked well in containing cheating at test centers. However, for online exams and distance-learning programs where the candidate may physically be in another location, or remote testing where candidates may be allowed to take an exam from home, the challenges are often magnified. How does one identify a cheat when they're not even in the same test room?
The issue of test validity can be understood in the context that one small misstep can potentially damage an entire institution's reputation and halt the expansion of any further online offerings.
For a concern so grave, the solution is refreshingly simple. Remote online proctoring is a technology so forward-looking that one wonders why more academic programs haven't integrated it as a default test-delivery mechanism.
In a typical online test environment, it's sometimes difficult to even be sure that candidates are who they say they are. Remote online proctoring creates a secure testing setting by using a webcam to pick out any dubious motion employed by a candidate taking the test. Mettl.com has created an auto-invigilation algorithm that tracks candidate behavior using a live webcam feed, static images, audio and even eye-movement reading. Even before a candidate gets in to take a test, the software makes it possible to verify candidate credentials by using IP address restrictions. The highlight of the offering is its ability to go beyond tracing an attempt to cheat.
What do you do when you can see a candidate is speaking to someone beside him or referring to a book while taking the test? What a waste if you had to wait until the end of the test to announce that the exam is void. Mettl's software provides browser lockdown, limited copy-paste or printscreen functionality, warning message activation, and more to prevent unfair practices within the scope of the test.
Proof of the convenience is corroborated by the businesses customizing test-delivery options to include remote proctoring, allowing them to expand their reach into previously unserviced areas. Universities are now allowing candidates from foreign countries to take entrance exams. Businesses are hiring the best talent from across the world without the limitation of testing candidates only at their home location. Professional programs are conducting certifications for those who previously lacked the time to make it to test centers.
Another dimension being explored involves interactive questions that make it much harder to "game" the system. For example, on an insurance exam there may be spreadsheets that are difficult to replicate in addition to conventional multiple choice questions. Certain cases might require little or no proctoring to provide the same degree of exam integrity.
As more and more academic, business, and social institutions take to online learning and testing as a way of expanding their offerings, technologies such as remote online proctoring will be further refined to provide cutting-edge solutions for maintaining exam integrity.
Ketan Kapoor is the co-founder & CEO of Mettl.