Much of the campus of the University of California, Los Angeles was under water on Tuesday after a water main ruptured nearby, flooding everything from parking garages to the iconic Pauley Pavilion basketball stadium with an estimated 10 million gallons of water.
The water was shut off at 7pm PT Tuesday and the area has started to dry out as of Wednesday.
But the damage – particularly to Pauley Pavilion, which underwent a $136 million upgrade just two years ago – had already been done and could be extensive. And that's to say nothing of the hundreds of cars that were left submerged overnight in two underground parking garages.
"Pauley Pavilion has taken quite a bit of water," UCLA Chancellor Gene Block told reporters Tuesday night, according to NBC News. "It's painful. It's a beautiful structure. We're of course concerned. We've got to let it dry out and see where we are."
Classes resumed Wednesday.
Click below to see some of the more dramatic photos of the destruction.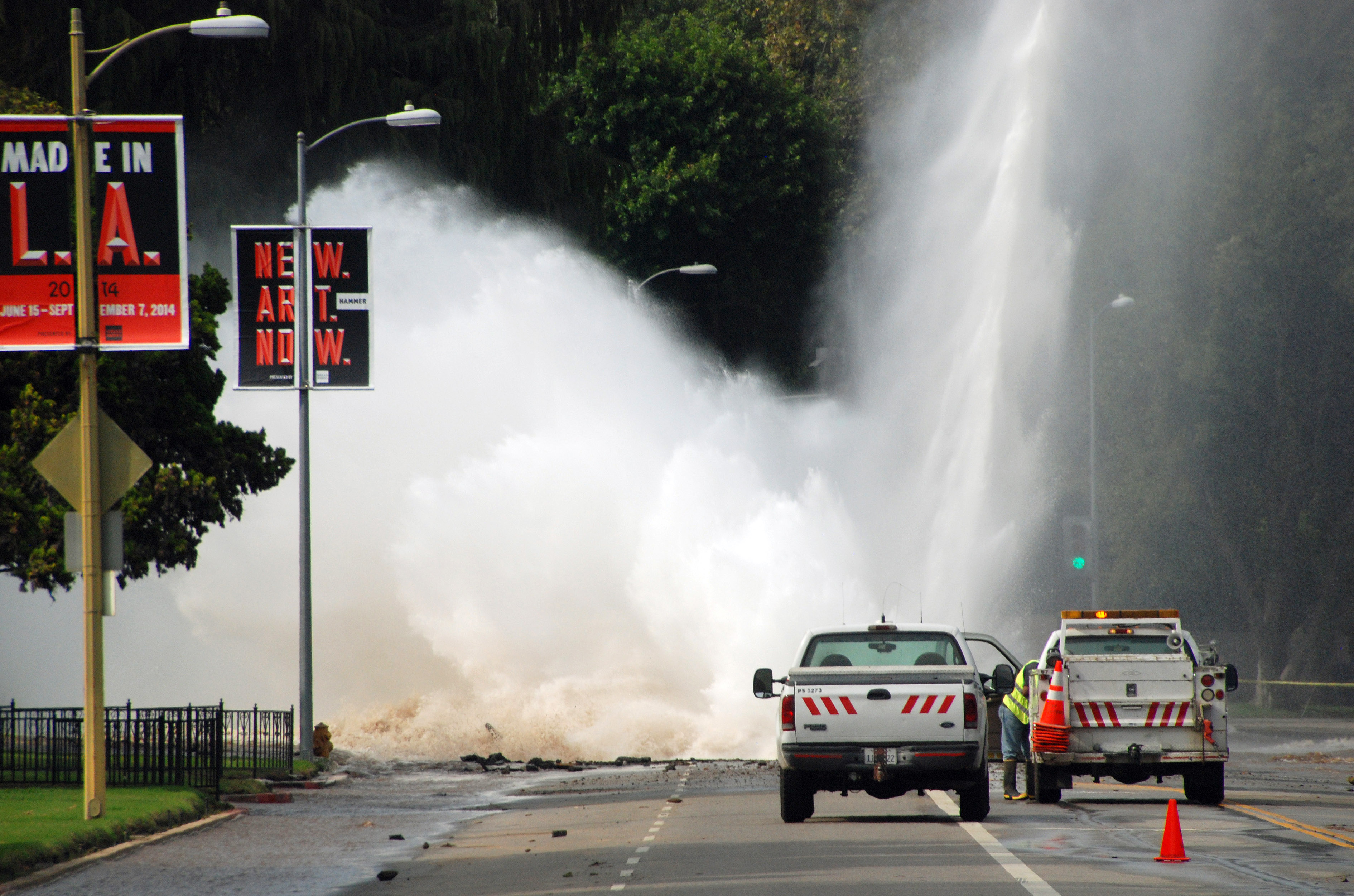 Water shoots in the air from a broken 30-inch water main under Sunset Boulevard, uphill from UCLA in the Westwood section of Los Angeles, Tuesday, July 29, 2014. The resulting flood inundated several areas of UCLA, including Pauley Pavilion, home of UCLA basketball, a parking structure and several other building. (AP Photo/Mike Meadows)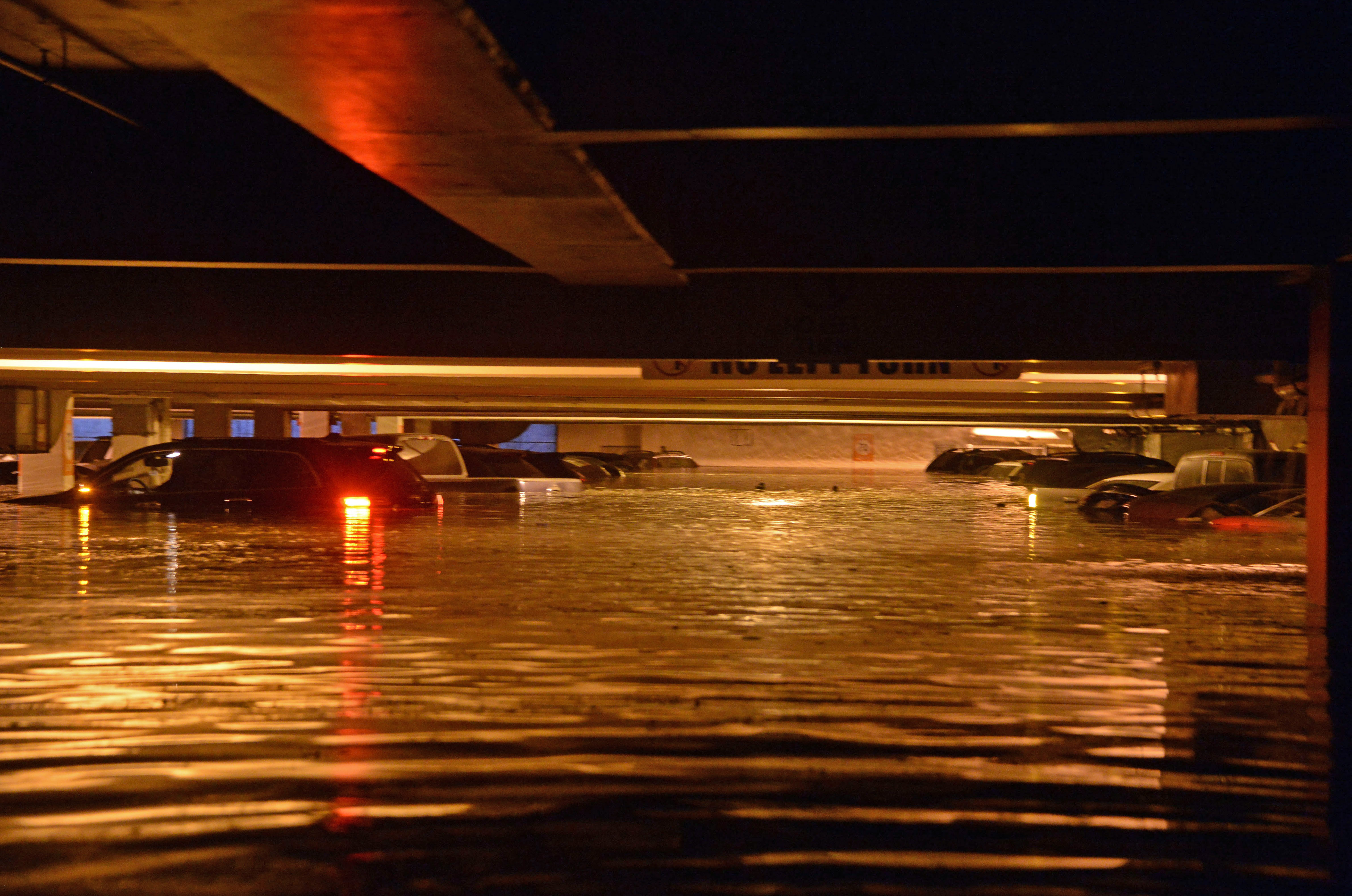 Vehicles are inundated in several feet of water in a parking structure on the UCLA campus. (AP Photo/Mike Meadows)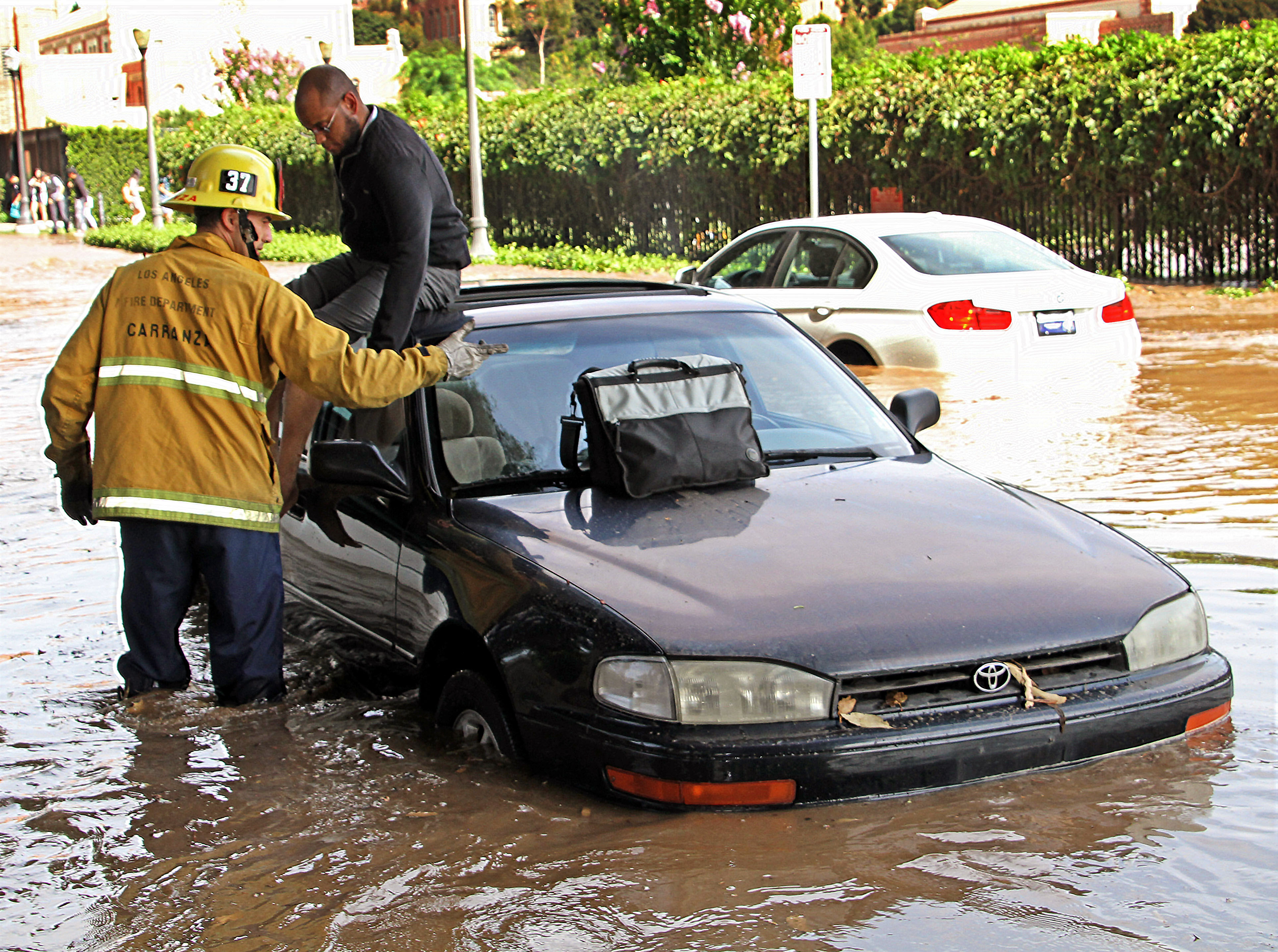 A Los Angeles firefighter helps a driver whose car became stranded on Sunset Boulevard amid flooding on the UCLA campus Tuesday, July 29, 2014. (AP Photo/Steve Gentry)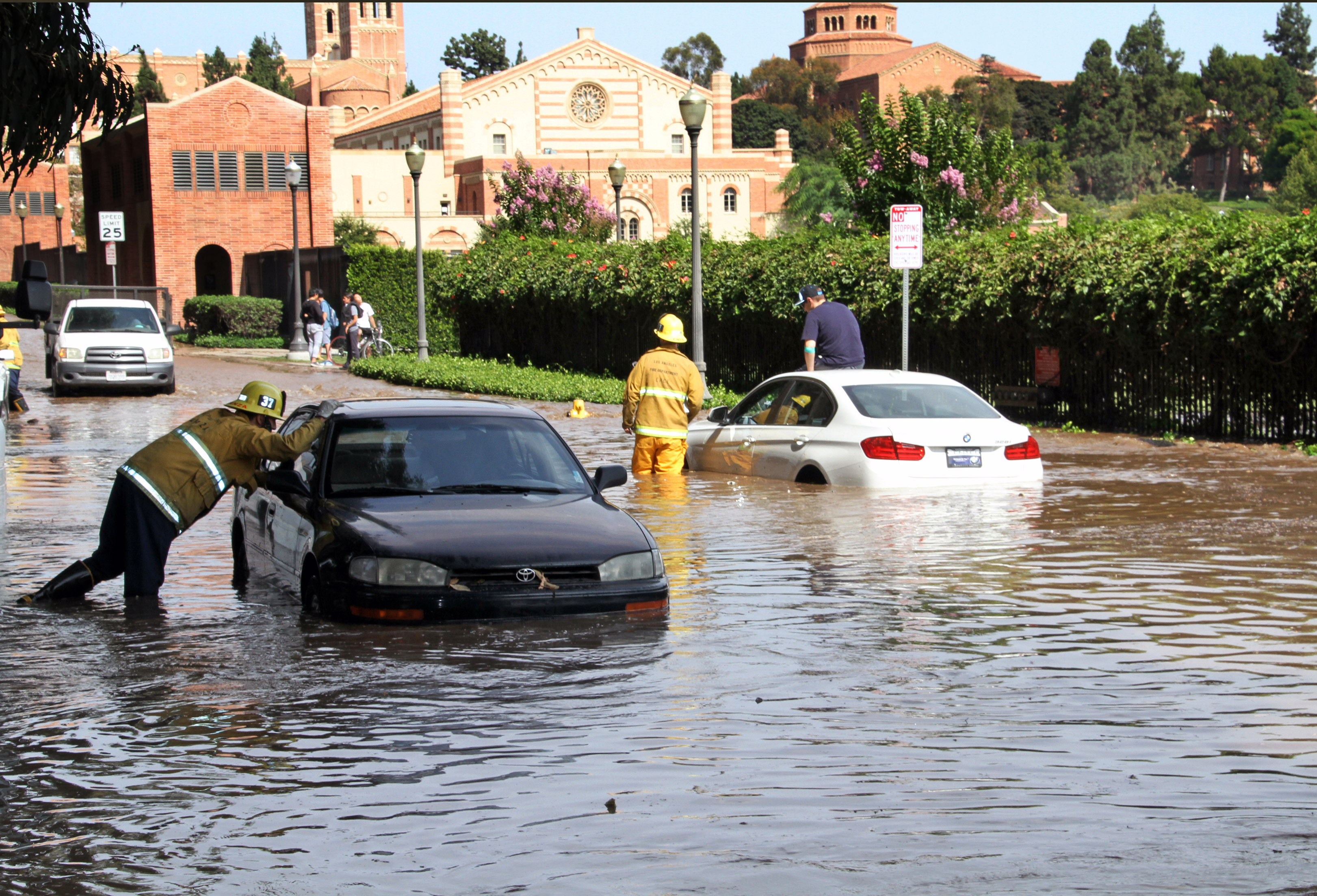 Several drivers became stranded in the fast moving flood waters. (AP Photo/Steve Gentry)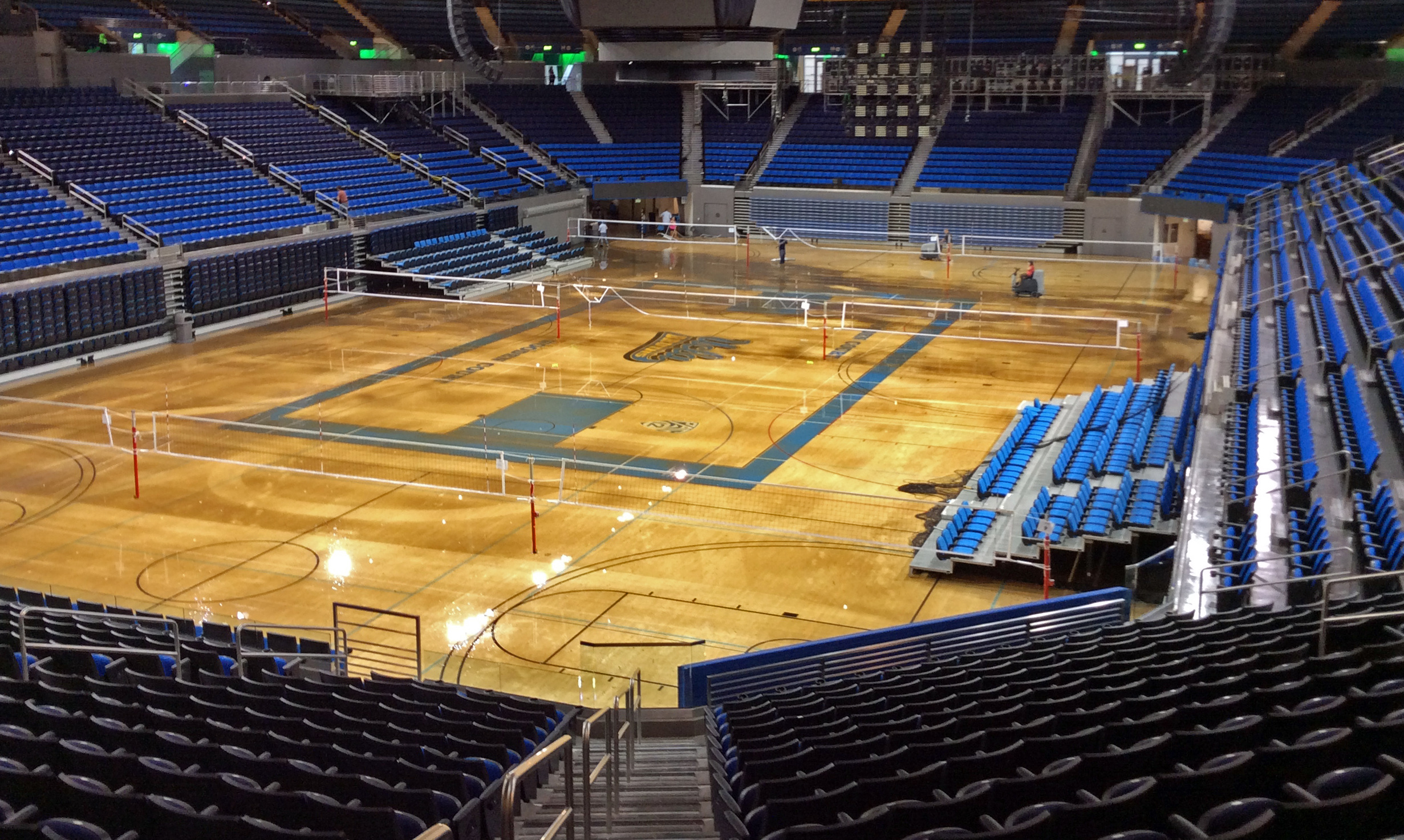 Water covers the playing floor of Pauley Pavilion, home of UCLA basketball. (AP Photo/Matt Hamilton)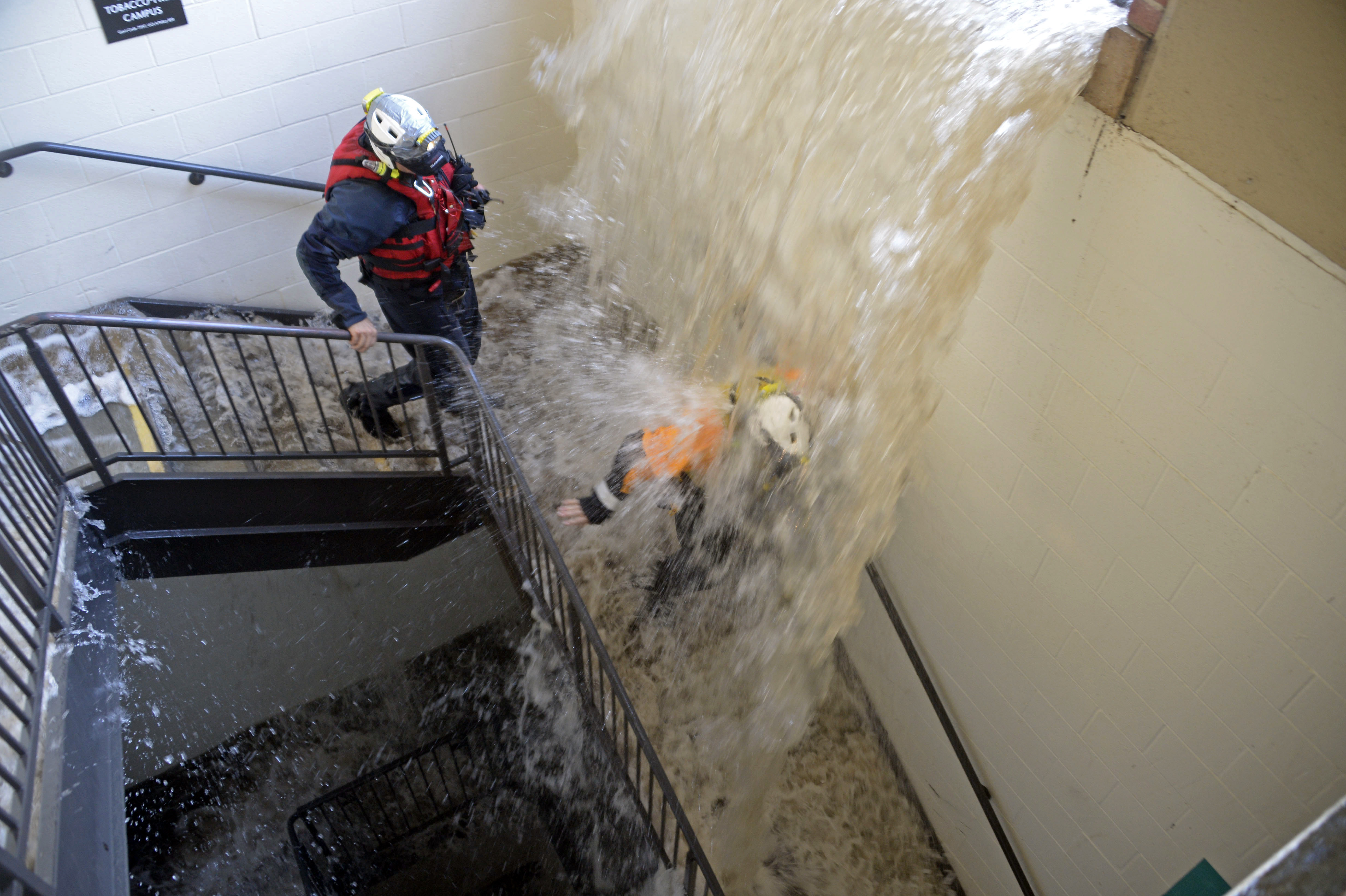 Workers walk down stairs to a parking structure as water cascades down on them on the UCLA campus. (AP Photo/Mike Meadows)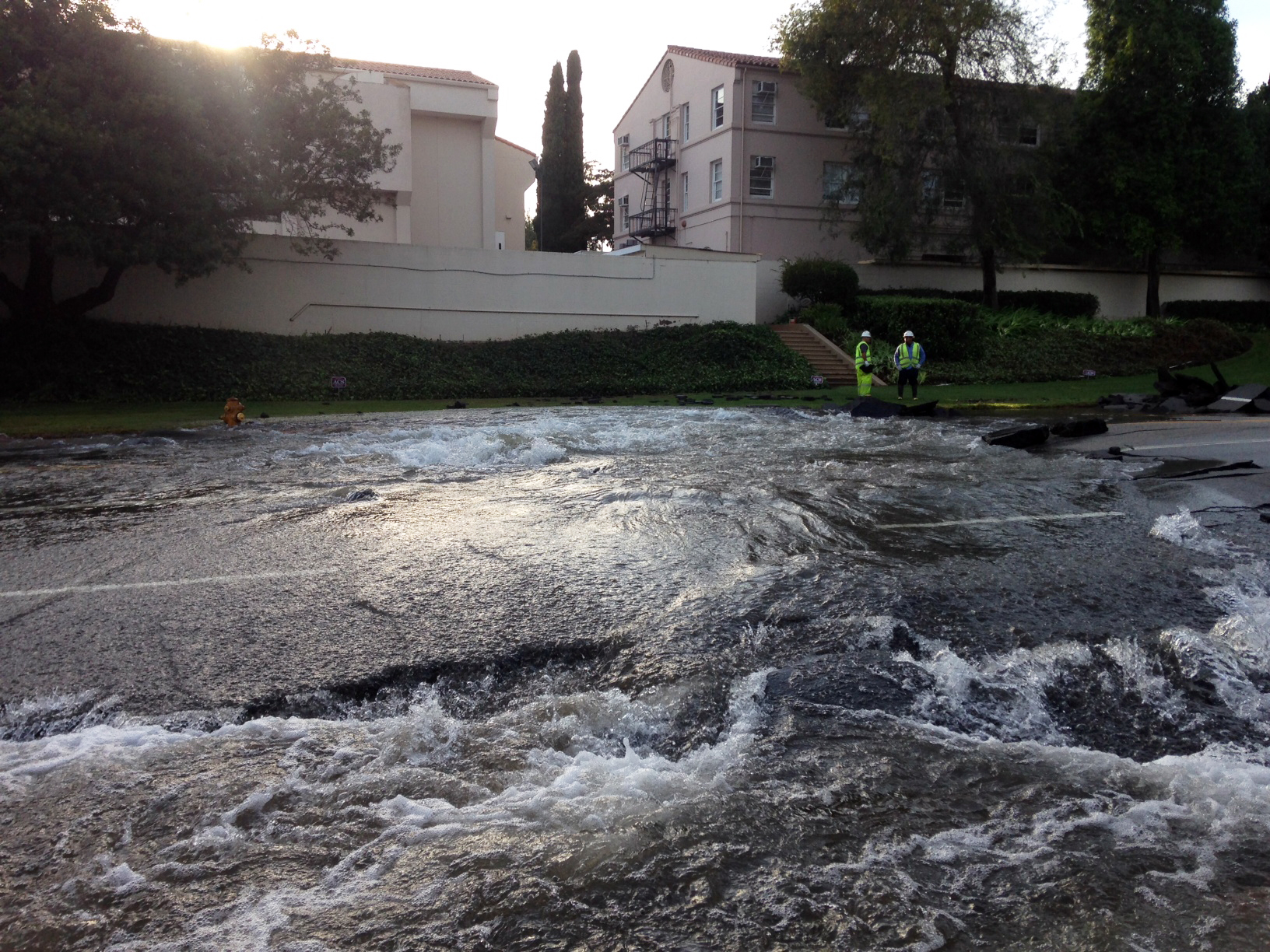 Water rages down the streets surrounding UCLA and near the school's athletic facilities. The famed floor of Pauley Pavilion, the neighboring Wooden Center and the Los Angeles Tennis Center, and a pair of parking structures that took the brunt of the damage. (AP Photo/Krysta Fauria)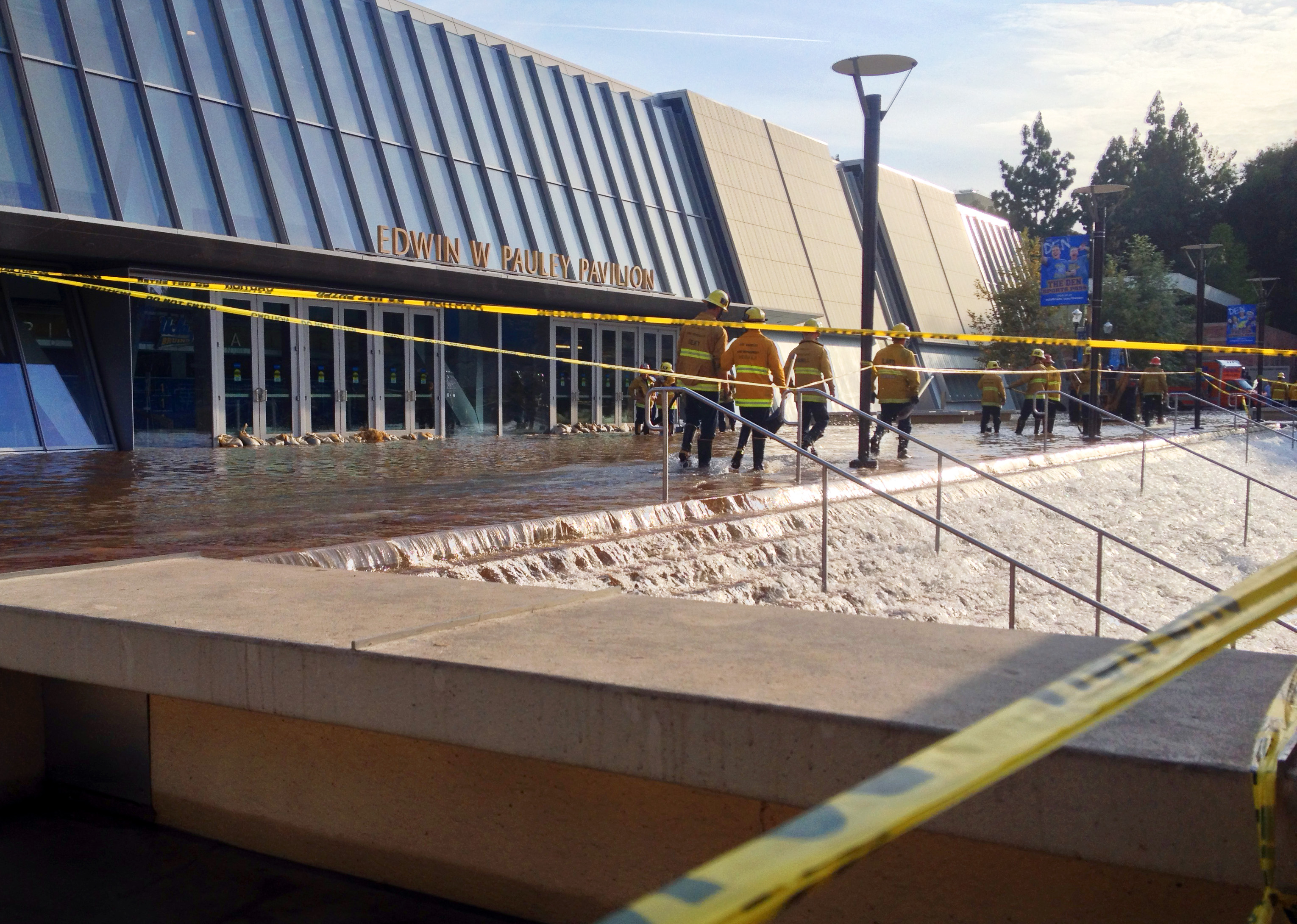 Water cascades down the stairs to a parking structure adjacent to the main entry doors of Pauley Pavilion, home of UCLA basketball. (AP Photo/Matt Hamilton)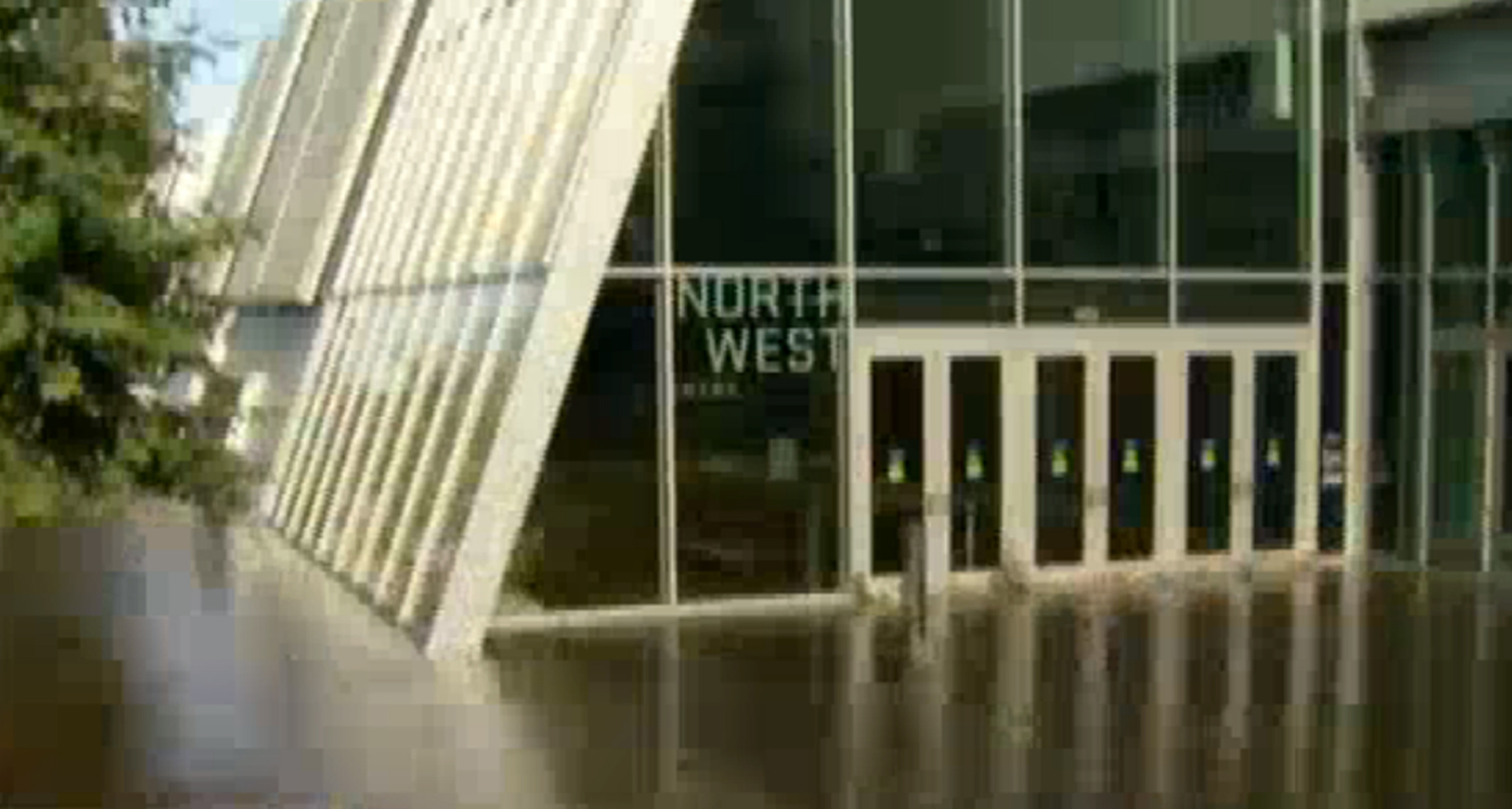 In this photo taken from video provided by nbc4la.com, water reaches the main entry doors to Pauley Pavilion. (AP Photo/nbc4la.com)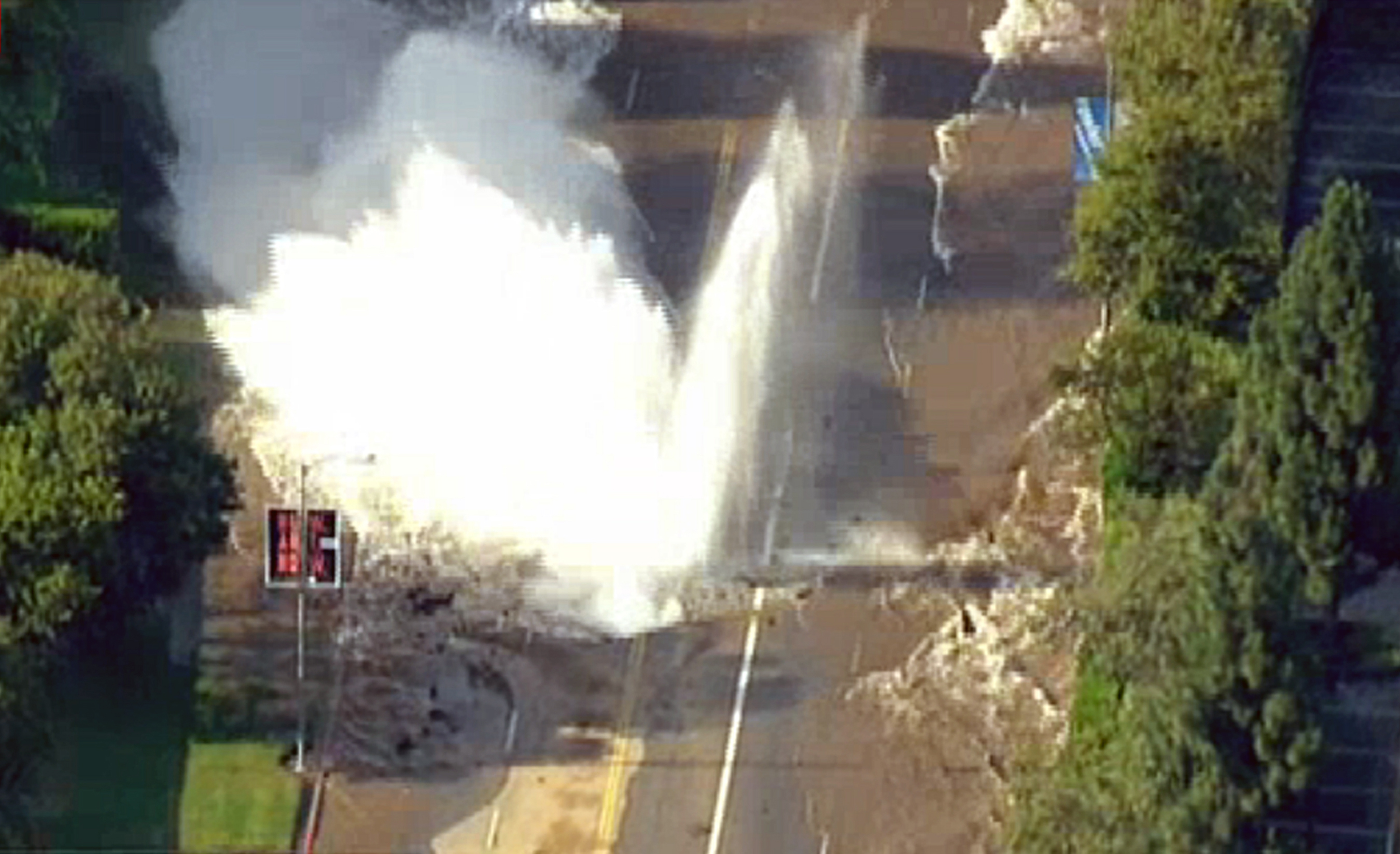 In this photo taken from video provided by nbc4la.com, water reaches into the air after a water main burst on Sunset Boulevard in Los Angeles near UCLA Tuesday, July 29, 2014. (AP Photo/nbc4la.com)