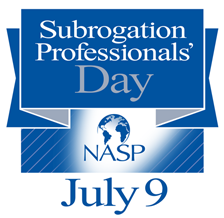 The National Association of Subrogation Professionals (NASP) is celebrating their profession tomorrow – July 9th – as part of Subrogation Professionals' Day. NASP members in good standing will be automatically entered into hourly prize drawings that include free registrations to the 2015 Subrogation Litigation: Skills & Management Conference in Napa, CA; free registrations to the 2014 NASP Conference in Orlando, FL; free chapter meeting registrations and free webinars. All winners will be posted on the NASP Facebook page.
The organization is also offering a number of discounts on conference registrations, courses, webinars, and chapter meetings. You can find a complete listing of their events here.
As part of the celebration, NASP members are encouraged to share the Voice of Subrogation video with their staff members. The video highlights the value of subrogation professionals and their quest to identify who is responsible and who must pay for defective products, the underlying cause of a fire, or an unexpected accident.
Subrogation professionals are an important investigative arm of the insurance industry. Their expertise has helped many insurers recover the costs of a loss. And as NASP Executive Director Leslie Wiernik says, the purpose of the day is "to recognize your many skills and talents for being ambassadors of subrogation."