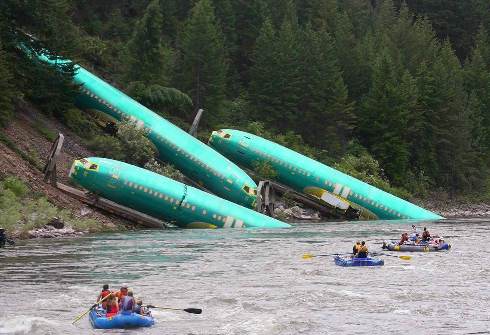 (Bloomberg) — Railroad officials weighed how to recover three Boeing 737 fuselages that were dumped into the Clark Fork River in a Montana train derailment that closed the track for much of the day.
Getting the aircraft hulls, which were bound for a Boeing Co. plant in Renton, Washington, out of the river may take two days, Lynda Frost, a Montana Rail Link Inc. spokeswoman, said today. Three additional fuselages also tumbled out of the train July 3 near Rivulet, Montana, and stayed on land.
"We've never done this before," Frost said in a telephone interview. "We have a lot of heavy-duty equipment on hand to do this. The plan is to drag them up the bank."
BNSF Railway Co., a unit of Berkshire Hathaway Inc., was carrying the fuselages and some assemblies for 777 and 747 aircraft to Boeing's Renton plant from Spirit Aerosystems Holdings Inc. in Wichita, Kansas. Montana Rail Link, a regional railroad company, took control of the train as it crossed Montana, and the accident occurred on MRL's watch, Frost said.
A section of closed track reopened about 8 p.m. New York time yesterday, Frost said. Railroad officials had to close the track again this morning to clean up the wreckage and expected to reopen it later tonight. They expect to close the track again tomorrow for eight hours starting at 10 a.m. New York time.
Boeing, based in Chicago, sent a team of technicians to inspect the fuselages and assemblies for damage. Doug Alder, a company spokesman, said in an e-mail today he had no information on how long the accident might delay production at the Boeing plant. He also declined to say which airline or aircraft leasing company had ordered the jets.
Photo: NBC