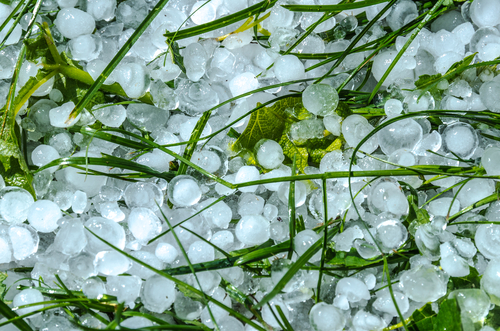 On average, the NOAA's National Weather Service receives approximately 10,000 to 12,000 hail reports a year. In 2010, the service stopped reporting hail smaller than 1 inch in diameter because little damage is usually associated with hail of this size. According to The Hail Reporter, within the contiguous 48 states, most states have an average of 120 reports a year involving hail greater than 1 inch in size.
Where the hail falls matters more than the actual size, since 1-inch hail in a metropolitan area like Chicago or New York will do far more damage than larger sized hail that falls in a more uninhabited area like Montana. The National Insurance Crime Bureau (NICB) found that Texas led the country in hail claims from 2010-2012 with 320,823. Rounding out the top 10 states with hail claims during that period were Missouri, Kansas, Colorado, Oklahoma, Illinois, Tennessee, Indiana, Arizona and Kentucky, with a total of almost 1.3 million claims.
Texas also led the nation in the number of questionable claims for hail from 2010 through 2012 with a total of 1,053 claims or 28% of the U.S. claims. Texas, Illinois, Colorado, Arizona, Oklahoma, Missouri, Georgia, Minnesota, Louisiana and South Carolina, comprised 76% of the questionable claims during this period with 2,915. Referral reasons identified for the questionable claims included hail damage, vendor fraud, catastrophes (hurricane, tornado, wind, fire), prior loss or damage, and inflated damage figures.
The increasing number of fraudulent hail claims creates a number of challenges for adjusters and catastrophe managers as they work to differentiate legitimate claims from fraudulent ones. A number of new technologies allow insurers to track a hail event and analyze its impact on a particular area. Among these are:
DamageRecon from Donan which analyzes hundreds (sometimes thousands) of sampling points collected from various sources on the ground following a hail event and uses a proprietary algorithm to determine what size hail fell in a particular location. The data, which is known as "ground truth," is used to create a critical analysis feature called HailTruthTM, which details the hail sizes and the likelihood of damage for an area being investigated.
Dynamic Weather Solutions, Inc. (DWS) provides a OneSiteTM Report that includes hail size; storm speed, direction, length and intensity; as well as latitude, longitude, elevation and value and other storm details, usually within 30 minutes or less of the storm. DWS captures, stores and analyzes the data every five minutes from NOAA's 150 NEXRAD radars.
CompuWeather HailTrailTM offers three reports: a Site-Specific Hail Analysis Report provides exact locations over a 24-hour period and is used to determine whether or not damaging hail was present. The Vicinity Hail Search Report allows insurers to search for hail reports for any period of time within 25 miles of a requested location and provides details such as date, time, report source, hail size and the like. The Hail and Wind Analysis provides peak daily wind speeds, maximum sustained winds and gusts.
Better technology means that insurers are able to close claims faster and that insureds can have repairs made sooner, which translates to higher satisfaction and retention rates. For insurers, the advantage of forensic information means that fewer questionable claims are paid. "Clients call us because they need an expert to gather data, analyze it and draw conclusions that stand up to scrutiny. That's what forensic investigation is all about and that's what we're bringing to the forensic weather industry with DamageRecon," explains Lyle Donan, president and CEO of Donan.
Today's hail technology provides critical data in a timely manner and reduces the number of fraudulent claims for insurers, resulting in savings for policyholders and insurers alike.