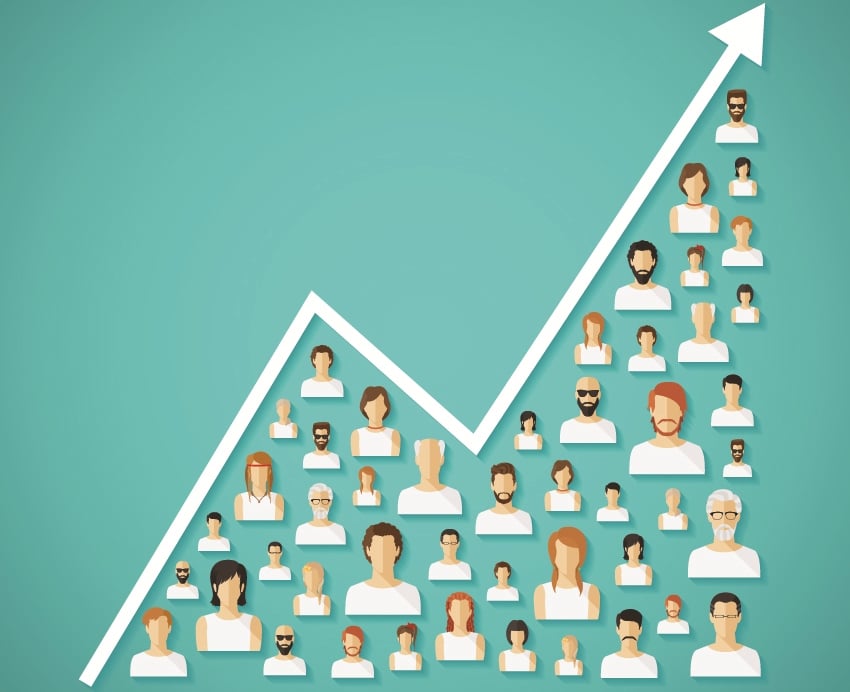 Premium growth is closely linked to demographic changes, and while the U.S. will continue to see population growth, current trends will, over time, lead to significant changes in the personal-lines consumer base relative to what currently exists, a new report says.
In its latest report, "Personal Lines Consumer Markets Annual," Conning notes that the U.S. is projected to add its next 100 million sometime around 2050, a 33% growth from 2006 when the population hit 300 million. This represents the slowest growth at any time in the post World War II era, the firm notes.
Conning says this slowdown in population growth will have a dampening effect on exposure and insured-value growth for personal-lines insurers. "An expanding population has fueled growth in exposure units in both personal auto and homeowners, but longer-term planning will need to reflect slower growth," says Conning. The report adds, "All other things being equal, slower population growth is expected to slow demand, which will, in turn, exert downward pressure on asset values—personal property and vehicle."
The report also contends that competition will heat up as insurers fight for slices of a shrinking pie.
Aside from the overall trend of slower population growth, other demographic shifts will change the way insurers market and sell insurance.
Aging population
The U.S. is experiencing an increasing proportion of elderly relative to younger persons, and as the "Baby Boom population bulge" migrates to their senior years, Conning says demand for both vehicles and housing will be negatively affected.
Still, historical experience of seniors may not be reliable going forward, as better medicine, better nutrition and a lack of retirement savings means seniors will be working longer, and thus driving more. Expectations of reduced mileage among senior drivers, therefore, which has been a characteristic of this segment, may no longer apply.
This new reality will come with risks of its own, as drivers aged 75 years or over pose a higher crash risk than any age group except for the most youthful operators.
Conning estimates the size of the senior market as of 2013 at $43 billion. Moreover, Conning adds, few firms specialize in offering products and services aimed at this group. "The Hartford, with its longstanding AARP endorsement, is the most recognizable brand in the market," says Conning.
Socio-economic/geographic changes
Consumer preferences and consumption patterns are changing, impacting what the traditional household looks like as well as general attitudes toward homeownership. Conning observes, "Because the household has been the cornerstone of personal-insurance marketing and product design for generations, these changes will be of increasing importance for personal-lines insurers."
In the shorter-term, new economic pressures such as declining real income and long-term unemployment are altering consumer expectations. Conning says, "For many, the American Dream of homeownership has slipped away, with clear implications for exposure growth in the homeowners line."
While rentals will pick up as a result, and renters will have insurance needs, Conning notes there is so far much less demand for personal property insurance protections among this group. "Of the estimated 115 million occupied housing units in the U.S., 35% are renter-occupied, but renters policies make up only an estimated 15% of total personal-property policies," says Conning.
In addition to impacting homeowners insurance, personal auto may also feel the strain. As fewer own homes, city populations are expected to grow, which will in turn reduce the need for owning a personal vehicle, Conning says.
Households are seeing other changes that will impact how insurers market products to customers. Conning says there is a re-emergence of the grandparent as primary caregiver, and a decline in the traditional two-parent family as divorce rates, remarriages and single parenthood all increase.
Geographically, Conning says population growth is strongest in the South and West, while the Northeast and Midwest are barely growing. "The differing growth rates and the emergence of high-growth and slow-growth states will present insures with very different marketing opportunities on a state-by-state basis," observes Conning. "Insurers with a regional focus in the Northeast and Midwest states will be particularly challenged."
Racial/ethnic diversity
The U.S. is seeing strong immigration trends and a higher fertility rate for non-white immigrants, creating "an increasingly diverse consumer base, with differences that will be important for marketing and product development," says Conning.
The firm notes that minority groups, including Hispanic white, accounted for 87% of the national population growth from the 2000 census to 2010. Based on current projections, the U.S. will be majority-minority by 2042.
Conning says, "The value of this information lies in understanding how these different groups behave as customs. The increasing diversity will bring with it different financial needs, channel preferences and attitudes toward insurance."
For example, the Hispanic market contains a high proportion of today's youth, making it a segment of increasing importance to insurers. To illustrate the expected growth of the Hispanic personal-insurance market, Conning notes that, currently, the Hispanic personal-auto market size is between $18 billion and $21 billion. The potential Hispanic homeowners-insurance market segment is about $6.4 billion. By 2020, based on growth projections, the Hispanic personal-lines market could grow to nearly $41 billion.
Overall, Conning states that for insurers to meet the needs of the evolving marketplace, they will need to increase points of contact with customers by broadening distribution capabilities. And it is not a matter of personal-lines moving to direct distribution. Conning in fact notes that while many carriers that once exclusively used the agency channel are in fact offering coverage direct now, other insurers that had been direct only, such as Geico, are expanding to storefront and agency outlets.
"As insurers implement new customer touch points, they will notice that different types of transactions will develop preferences for one channel over the other—be it agency, web, mobile application or social media," Conning concludes.