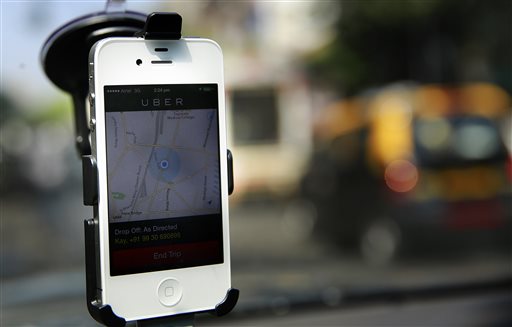 (Bloomberg) — Uber Technologies Inc., the service that lets people order private cars from smartphones, is faulting attorneys and insurers as it seeks to fend off a California proposal that requires more coverage for drivers.
A Senate committee is scheduled today to consider a bill that would force transportation networks to boost protection for drivers cruising for riders in the most populous U.S. state. Uber said it offers adequate coverage and criticized a plan that passed the state Assembly as a "back-room deal" by insurers and trial lawyers seeking to boost profit.
Lawmakers and regulators in states from Illinois to Colorado have been working to define when Uber and competitors such as Lyft Inc. and Side.Cr LLC are liable for accidents. Uber is seeking to attract drivers and win confidence from potential passengers as it expands. The network was valued at $17 billion after it raised $1.2 billion this month in a financing round so it can build operations.
"The reason this new business is able to keep the price down is because their overhead is so much less" than traditional taxi services, Susan Bonilla, the California assemblywoman who wrote the bill, said in a phone interview. "What these drivers don't realize is if there's an inadequate level of insurance, they could suffer the consequence of being personally liable."
Bonilla introduced the bill in February, almost two months after a driver who received requests through Uber crashed into a family on a San Francisco crosswalk, killing a six-year-old girl. Uber said the company shouldn't be held liable for irresponsible driving by a man it described as "independent." The family sued San Francisco-based Uber in January.
'Entrepreneurial Opportunities'
Bonilla's bill would move a network's commercial auto policy to primary position from the time a driver turns on its app. It passed 71-0 in the state Assembly in May. The American Insurance Association applauded the proposal's advance in a statement last week and said personal auto policies held by network drivers shouldn't be subsidizing commercial activities.
Uber said in a March blog post that it would start providing as much as $100,000 of protection if a driver's personal policy is found not to cover an accident that occurs when the motorist has the app on and is waiting for ride requests. Uber has said the "vast majority" of personal insurance policies already cover that period. Drivers "carry best-in-class commercial insurance," Uber said in the post.
The plan that passed the Assembly "allows insurance companies to escape their liability for services they've already charged ratepayers, and helps trial attorneys work the system to ensure they get the largest payouts possible," Uber said in a blog post in June. "The bill does nothing to enhance safety, yet compromises the transportation choices and entrepreneurial opportunities Uber offers Californians."
Potential Fraud
The state Senate's Energy, Utilities and Communications Committee last week amended the bill by specifying how much coverage networks needed in the period when the app is on, and the driver hasn't yet accepted a ride request. The committee's change, which was supported by Uber, includes at least $100,000 of protection for incidents where two or more people are injured or killed in such a period.
That compares with the $1 million commercial liability requirement as proposed by the California Public Utilities Commission. The Senate Insurance Committee, which is scheduled to meet today, would set the minimum at $750,000 under a suggested amendment outlined in a bill analysis. The mandate could also be satisfied if the driver's own policy is written to meet the requirements.
Colorado, Nevada
The potential for fraud has been cited by opponents of Bonilla's proposal who are concerned that drivers could keep the app on just to get coverage through their network's policy, according to the bill analysis. California Governor Jerry Brown hasn't yet taken a position on the bill, according to his spokesman, Evan Westrup.
Uber was encouraged by the energy committee's decision and opposes the insurance panel's approach, said Eva Behrend, a spokeswoman for the network.
The insurance committee's proposal sets requirements that are "higher than the vast majority of cars on the road, including almost every taxi, when a passenger isn't even in a vehicle and no commercial activity is taking place," she said in an e-mail.
The network's application is available in more than 130 cities spanning 38 countries. Colorado Governor John Hickenlooper signed into law a bill this month requiring the networks to do background checks on drivers and insure paid trips for $1 million, a level the company has said it already secured.
'Eagerly Embraced'
Uber praised the approval in a blog post, saying Colorado "eagerly embraced the ride-sharing revolution."
The Nevada Division of Insurance alerted consumers last week that people who transport passengers for a fee through the networks may not be properly protected. It was the 16th state to warn consumers of such risk, according to the Taxicab, Limousine & Paratransit Association.
Uber says on its website that it has coverage through James River Insurance Co., the carrier acquired in 2007 by a group of investors led by hedge fund manager D.E. Shaw & Co. The insurer has an A-financial strength rating from A.M. Best.
The family of Sofia Liu, who was killed in the San Francisco crash, said in the lawsuit that they believe the driver was logged on to the Uber app around the time of the accident and was viewing or interacting with an electronic device. In its response, Uber said he had no reason to be distracted.
The California Senate Insurance Committee's hearing is scheduled for 1:30 p.m. in Sacramento.
–With assistance from Michael B. Marois in Sacramento.