The National Oceanic and Atmospheric Administration (NOAA) is predicting a near-normal to below-normal 2014 Atlantic hurricane season.
"The main driver of this year's outlook is the anticipated development of El Niño this summer. El Niño causes stronger wind shear, which reduces the number and intensity of tropical storms and hurricanes," says NOAA in a statement after announcing its prediction this morning in New York. "El Niño can also strengthen the trade winds and increase the atmospheric stability across the tropical Atlantic, making it more difficult for cloud systems coming off of Africa to intensify into tropical storms."
In total, NOAA is calling for 8-13 tropical storms, compared to a 30-year average of 12; 3-6 hurricanes, compared to a 30-year average of six; and 1-2 major hurricanes, compared to a 30-year average of three. NOAA says there's a 70% likelihood of its prediction for 8-13 storms.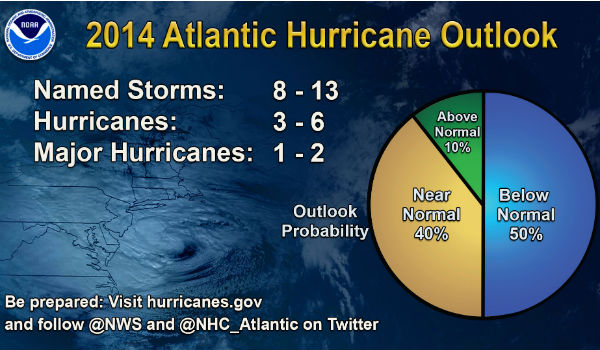 The Atlantic has been in an era of high activity for hurricanes since 1995, says Gerry Bell, lead seasonal hurricane forecaster with NOAA's Climate Prediction Center, in the statement. NOAA says 12 of the last 20 years have seen above-normal seasons. But the impacts of El Niño, and cooler Atlantic Ocean temperatures than what has been seen in recent years are expected to counter the trend.
Bell also says NOAA is "currently seeing strong trade winds and wind shear over the tropical Atlantic, and NOAA's climate models predict these conditions will persist, in part because of El Niño."
NOAA is releasing a new storm-surge map for the 2014 season that shows:
Geographical areas where inundation from storm surge could occur.
How high above ground the water could reach in those areas.
NOAA says the map will be issued for coastal areas when a hurricane or tropical storm watch is first issued, or approximately 48 hours before the anticipated onset of tropical storm force winds.
Last month, Colorado State University researchers predicted nine named storms, three hurricanes and one major hurricane.
In April 2013, CSU researchers predicted 18 named storms, nine hurricanes and four major hurricanes for last year's hurricane season. NOAA in May 2013 called for 13-20 named storms with 7-11 hurricanes and 3-6 major hurricanes.
The season ended up producing 13 named storms, two hurricanes and no major hurricanes, prompting Phil Klotzbach, part of the CSU team, to call it "one of the largest busts for our research team in the 30 years we've been issuing this report."