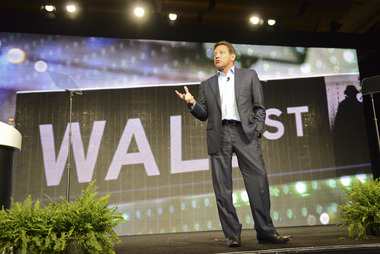 Speaking to risk managers and insurance professionals during a keynote address at the RIMS 2014 Annual Conference and Exhibition, Jordan Belfort, the real-life "Wolf of Wall Street," spoke briefly about his time in the mortgage industry.
He explained the first time he saw the rate for a subprime loan—just one point higher than the regular rate—he said to himself, "Wait a second, that doesn't really make sense. How can a person with perfect credit, equity in their home and a great job—how can that person only be one point less than this person? This person is a terrible risk."
His conclusion at the time: a smart person somewhere else must have it all figured out.
After the real-estate market blew up in 2007, Belfort said he asked a friend who used to work at Goldman Sachs, "What were you guys thinking?" The friend, too, said he thought someone else had it figured out.
"Everybody thought everyone else had it figured out," Belfort said, "when in fact, as a risk manager, you have to take a look at the whole thing."
For the mortgage industry, Belfort said it all came down to a "lack of common-sense underwriting," and an over-reliance on scores. It is not that the behavioral data that goes into these scores can't be useful in determining whether someone is a good risk, but rather the process can't rely solely on scores at the expense of a human touch.
"The point is," Belfort said, "the credit score means something so long as a human being who understands risk is looking at the credit report and seeing if the score is reflective of what's really going on."
The mortgage industry, he said, imploded due to a lack of risk management. "And it typically comes down to human beings not using common sense when they underwrite something. They rely too much on models they have rather than looking deeply at situations holistically."
As the insurance industry moves further into the age of Big Data and analytics, perhaps there is a lesson to be learned from Belfort's observations on the mortgage industry. Some insurance executives have begun making statements similar to Belfort's.
The unforeseeable event
During W.R. Berkley's Q1 results conference call, Chairman and CEO William R. Berkley warned about the "certainty" of analytics, stating that the "unforeseen event" will end up throwing a wrench into insurers' plans and expectations.
Berkley said, "The unforeseen event is what changes the pattern of behavior, and the advent of Big Data and all kinds of analytics—and people's belief in the certainly of such—is taking us down a particular path."
He added, "A lot of people have bet big amounts on the certainty of actuarial science and the mathematics of Big Data," but he noted, "I think what's going to surprise people is that unforeseen event when it comes."
The "unforeseen event," as Berkley calls it, is exactly why some industry experts believe insurers will not become too reliant on analytics at the expense of the human touch of underwriters.
Speaking to PC360 at RIMS, Corey Gooch, senior enterprise risk management consultant at Towers Watson, said he does not see the human factor fully going away in insurance underwriting in part because of recent events that have fallen outside of models' results. "We've seen instances where we've had catastrophes that have occurred that never really happened before. The models were wrong," he said. For property, he mentioned Superstorm Sandy. On the financial side, he pointed to the issues surrounding credit default swaps.
Gooch also said because of over-reliance on models in the financial services industry, and the problems that resulted from that, people are now less likely to allow computers to make all of the decisions. "I think now people are more potentially hyper-sensitive to models being wrong," he said. "We know what failed was people relied too heavily on models, and that caused the financial catastrophe we had six years ago."
He added, "Now people do want to take a step back and put a human touch on things."
A relationship business
The nature of insurance also does not lend itself to a fully automated underwriting process. "It's still a relationship business, and it's always going to be a relationship business on the insurance side to some degree," Gooch said.
Jonathan Hall, executive vice president of FM Global, echoed the same sentiment: "Such a big part of this is relationships and understanding people," he told PC360, adding that businesses are ever-changing, and a model can't necessarily say what a business' risks will be for the year.
"Analytics provides very powerful opportunities," said Hall, "but to be managed by a person."
The degree to which analytics will be used in underwriting will also likely vary by line, both Hall and Ronald Kozlowski, director at Towers Watson, said.
For personal lines, Hall said analytics will be a much bigger factor. With the volume of clients, he said insurers maybe do not develop a personal relationship with each one, and insurers could build predictive models to be more efficient.
In commercial lines, by contrast, Hall says analytics will help insurers understand risk more and allow carriers and clients to react to the gained knowledge.
"We're looking at Big Data and analytics and we're saying, 'This will allow us to very deeply understand risk.'" He said when speaking with a client about 10 risk factors facing his/her business, analytics will allow for a better understanding of which of those risks the client should prioritize.
Kozlowski likewise said pricing for personal lines, and even some smaller commercial risks, is more actuarially driven. "But for larger risks, it's definitely more underwriter driven," he said.
Actuarial work assists in the process of assessing risks, he said, "but underwriters at the end of the day make the decision on what the price is going to be, and I don't think that will change anytime soon."
Ultimately, Kozlowski said the role of analytics will be to provide another tool to underwriters to allow for more-refined pricing. And leveraging technology to achieve that end is something insurers have been doing for a while. "There's definitely been a number of insurance companies that have used technology to their advantage," Kozlowski said. "Those who used credit first had a better predictor than others. You're always finding that companies are trying to find additional information that makes them more predictive than others. I think that's going to continue."
Useful data vs. a lot of data
He said the real trick will be leveraging all of the new data insurers have at their disposal into something they can actually use: Useful data versus just a lot of data. "How do you interpret that data?" he asked. "You have to build the right tools to store, condense and pull out the information you need."
Kozlowski noted companies like Towers Watson are looking at how best to create algorithms to store and pull out that useful information.
How revolutionary, in the end, will Big Data and analytics be to the underwriting process? Kozlowski said he does not see it leading to the end of the traditional underwriting cycle. "I don't think so," he said. "We've been talking about how to decrease the underwriting cycle time for years."
He noted much of the cycle is a result of new capacity in markets and too much capital.
"I think data analytics are another tool to help refine the pricing," he said. "But I do not believe it is going to significantly impact the underwriting cycle."