Expectations to deliver profitable and sustainable growth are greater than ever following last year's low catastrophes and growing global economies. Yet challenges remain, ranging from profitability, cost optimization, competitive pressure, regulatory uncertainty and ever-changing customer preferences in a rapidly changing technology environment.
Tansformation will help carriers effectively, pragmatically and rapidly handle these challenges impacting their businesses. Transformation is a continuous process and strategic execution is the key to success.
Prioritize the transformational changes most relevant to your organization as it typically takes two to three years to see the results while consuming key resources. The P&C insurance industry is witnessing three categories of transformations today:
Internal
Customer engagement
Business intelligence (BI)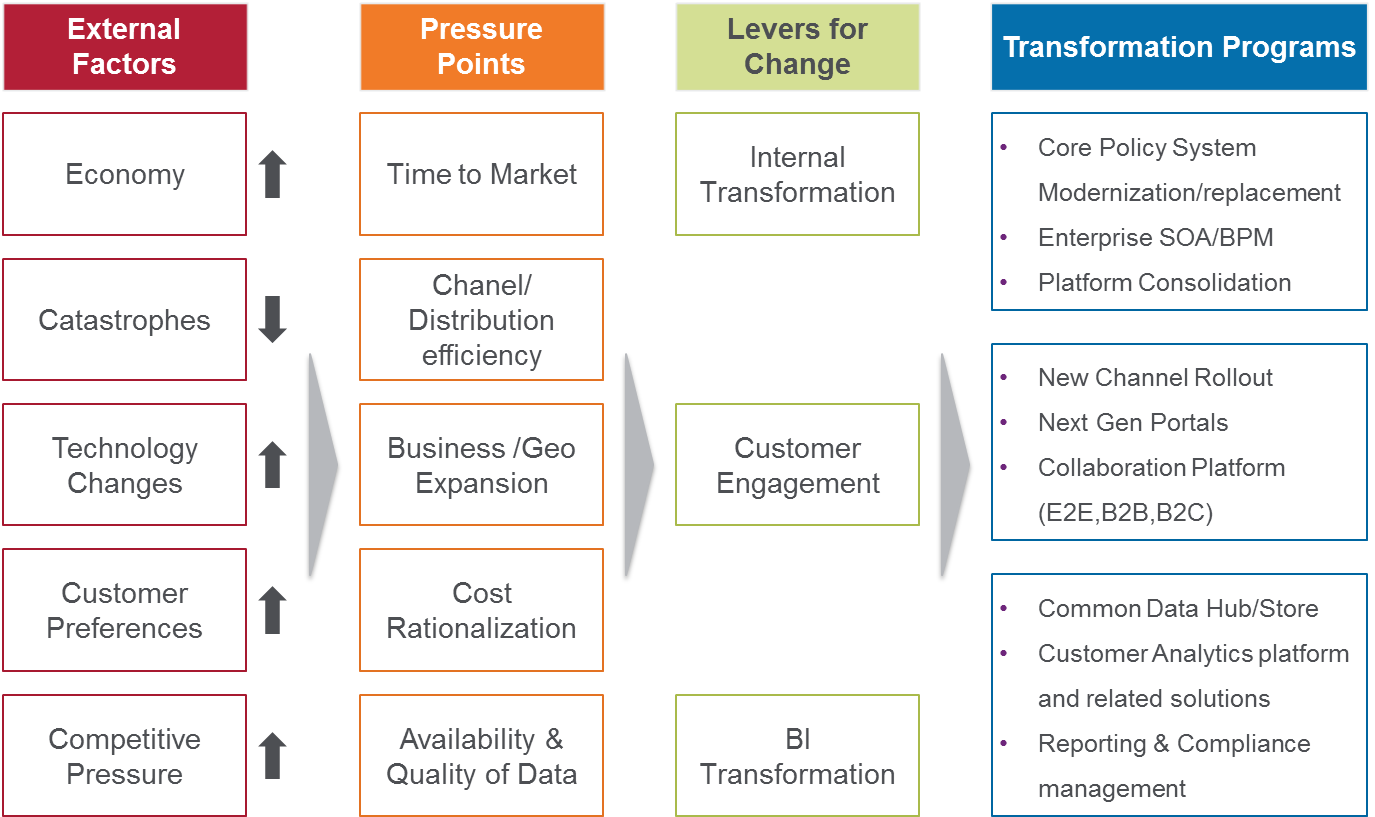 Internal transformations are primarily centered on internal systems and applications related to either the modernization of core systems or replacement of core systems with vendor solutions. Existing legacy policy and underwriting systems are hampering insurers' abilities to control operational costs, business demands and customer requirements. Transformation of policy/underwriting systems is a top priority.
There are many vendor solutions such as commercial off-the-shelf (COTS) packages that help implement internal transformation. These solutions offer flexibility to roll out new products; manage end-to-end business processes; and deliver time to market, straight-through processing and consistent process experience within the enterprise. However, these are complex and cost-intensive transformations that need a strong change management capability. The shortage of skills specific to these vendor/packaged solutions makes them vulnerable to failure, which is why most COTS vendors outsource their offerings to external partners for implementation.
An alternative is to renovate core systems using business process management tools. These modernized systems give insurers an edge in maintaining differentiation and better control of change management. Carriers not only need to be careful in choosing between modernization and packaged solutions, but must keep in mind that internal transformation requires consensus amongst key business, IT and senior management stakeholders.
Customer engagement centric transformation addresses the digital disruption within the insurance industry where the customer is the focus. The industry is at a crossroads of understanding the best approach due to varied digital maturity levels and organizational alignment in adopting digital technologies. Although the expectations of digital technologies to increase revenue, cut costs, expand business and drive innovation are immense, many companies still struggle to solve their internal problems. Such moves are not truly customer centric. A customer-centric transformation should focus solely on the customer and address the needs of each customer segment (B2C, B2B, E2E) with a tailored value proposition. Successful customer engagement strategies are all about being simple and efficient around process, channel, organization, product and services.
Insurers are executing initiatives such as new channel rollout, Omni channel management, next-gen portal development or expansion, and unified collaboration platform development for brokers, consumers and employees. But customer engagement-based transformation demands ongoing customer focus, process and people excellence, channel optimization, product-service innovation, agility and organizational alignment. The good news is that unlike internal transformation, which demands big bang implementation, this transformation can be executed in parallel with a company's need to reassess its business model. It forces leaders to address customer needs holistically, not merely financial targets, which generates demand and delivers competitive advantages.
BI transformation has been in the limelight for the past three years. It focuses on leveraging data for improving business decisions. But while data is a key asset, it needs to be used appropriately. There are dozens of technologies in the market for managing data and delivering associated data services. Even with these technologies, insurance companies have struggled not with how they use these technologies but how to address business objectives and end-consumer requirements appropriately. Insurance companies have spent millions of dollars building data warehouses, marts and operational stores in the past, but now senior leaders are hesitant to spend big bucks on large BI programs.
BI transformation needs a serious rethinking. It cannot be executed in isolation as core systems, customer engagement methods, customer preferences, and channel and distribution networks change, making traditional BI platforms obsolete. There is a need to link other transformational initiatives with BI initiatives in order to deliver real value to carriers. Going forward, this means BI transformations will be incremental in nature.
For an effective BI transformation, companies need to build a common scalable data hub or platform that offers flexibility to interface with any business unit. Senior leaders also need to define common data standards, governance processes, ownership rules and common integration gateways. Many companies are moving to a subscription based BI where each business unit is the sole sponsor of their data requirements that is serviced from a common/shared service platform or private cloud-based infrastructure. The downstream consumers of such data also subscribe to this common platform and sponsor their own business needs. This brings us closer to true collaborative BI where business and IT stakeholders agree on a common data exchange and governance framework and the SLAs and sponsorship lie with the chief data officer.
Transformational forces need to be addressed carefully across the entire industry. Start building foundation layers for transformation based on business models, resources and internal parameters. With no standard recipe to implement these transformations, execution is the most important element for delivering success. Insurers should build or repair their execution engines before making heavy investment in these areas. Phased execution is recommended for delivering transformations, but companies must take a customer centric approach and assess value proposition before getting started.