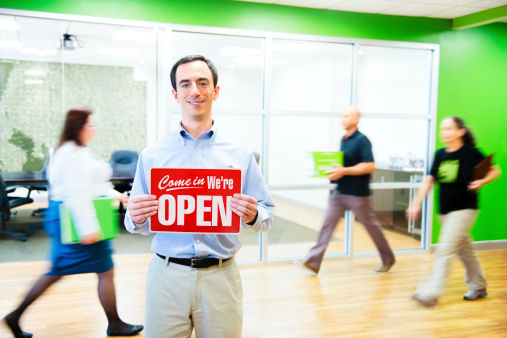 In a sign that the U.S. economy is finally on the (gradual) upswing, the entrepreneurial rate in the U.S. is now higher than it was at the height of the dot.com bubble of 15 years ago, according to the Kaufman Index of Entrepreneurial Activity (KIEA)—which currently lists more than 20 million non-employer businesses, with more starting every day.
As defined by the U.S. Census Bureau, non-employer businesses have no paid employees, have annual receipts of at least $1,000 and are subject to federal income taxes. These new businesses can range from part-time consultants to billion-dollar startups backed by big private-equity money.
But no matter the size of the business, the journey to successful entrepreneurship can be treacherous. According to the Census Bureau, 16% of companies fail their first year of operation, and 32% fail within their first three years. Most of those failures are due to incompetence and lack of experience, according to a January 2014 study in Entrepreneur Weekly by the Small Business Development Center at Bradley University and University of Tennessee Research.
Based on a series of national symposia for agents and insureds hosted by the Travelers Institute, the public policy division of Travelers Insurance, small businesses' top issues are regulatory concerns, licensing and OSHA compliance, health care, access to capital, and disaster and business continuity planning.
"Small businesses are hard to run and insurance products can be life or death for them," says Joan Woodward, president of the Travelers Institute and executive vice president of public policy at Travelers. "Our agents are trying to raise their awareness of that."
But although most start-up business owners understand the need for basic coverage, they also underestimate how just one cyber breach, natural disaster, or nuisance employment lawsuit could decimate their business.
"Most small business owners think insurance is something they can put off until they get bigger," says Tom Hammond, EVP of Farmington, Conn.-based Bolt Insurance Agency, which targets home-based businesses with 25 employees or fewer. "What becomes valuable is when you can explain coverage and match it with a price point that makes sense to them. We're selling policies for between $300 and $700 all the time. When you tell someone what the coverage provides, most owners know it makes sense to buy if they have the exposure."
Spotting the indicators
Although government initiatives like Startup America and the 2012 JOBS Act provide small businesses with additional support and easier access to capital, most insurance experts working with start-ups have not seen a correlation between the programs and new companies seeking insurance.
Rather, market supply and demand is the biggest driver of new business ventures, which are directly tied to the economic activity in a particular area—whether it's a town, city, state or region, says Mike Berry, CEO of Specialty Insurance Managers, an Austin, Texas-based managing general agency. In his region, that means big growth in the oil and gas industry: These businesses attract new employees, around whom spring up supporting businesses like new hotels, restaurants, convenience stores and health clinics—which in turn spur new venture business.
Start-up businesses have always been a staple in the excess/surplus insurance market because standard insurers prefer insureds with a minimum of three years in business, says Roger Ware, CEO of Genesee General, an MGA/wholesaler based in Alpharetta, Ga. Although 40% of Genesee's business is start-ups, he says, "we didn't target it; it's always been there. We've just taken advantage of it."
Ware has seen an increase in start-ups beginning in about 2011, along with growing sales and payrolls of existing accounts, especially in construction—all of which points to a rebounding economy. "From 2007 from 2010, this was nonexistent," he says. Ware he spotted the recession as far back as 2007 in shifts in the trucking industry, which he calls the "biggest indicator on the economy." Transportation insurance requires filings on the number of units (trucks) a business operates, so when Ware began seeing trucking accounts going from 30 units to three, he knew trouble was coming.
Today, the pendulum is swinging in the other direction. Case in point: Genesee had an industrial painting firm client with 30 years in business and $100 million in sales that went out of business during the recession, taking a number of subcontractors along with it. Today, that same industrial painting firm is relaunching as a new business.
Average premiums for start-ups are 25% to 30% higher than the standard market, which translates into higher premiums for agents, Ware notes. The downside is lower retention rates when those businesses either leave for the standard market or simply don't survive
The educational hurdle
Small start-ups need more than just insurance. Because the owners wear many hats and can't afford internal risk managers, they need a hands-on insurance agent who can act a resource to help establish formal safety programs and other risk management tools, says Linc Trimble, executive vice president, Torus eCommerce, at Torus Insurance. The needs are different for midsized and larger start-ups, which require customized solutions and more detailed evaluations, he notes. Basic coverage for a small start-up can be as simple as a BOP policy, or stand-alone general liability and property coverages, commercial auto and workers' compensation.
However, insurance requirements for new businesses can vary by state or class of business, so agents should know the laws and regulations for the type of business being underwritten, says Kenneth LaBelle, broker at Burns & Wilcox. States and municipalities often require health care or recreation businesses to have proof of insurance before they are issued a permit to operate, he adds.
New businesses of any size face exposures that aren't covered under the basics, including environmental liability, professional liability, D&O, employment practices liability, fiduciary liability, cyber liability, employee dishonesty, media liability and international travel, says Maura Verrone, vice president/underwriting for ACE Commercial Risk Services. Some of these policies may offer overlapping or limited coverage, which can cause more problems for small-business owners.
But educating small start-up owners about the importance of this coverage can be frustrating. "We sell and recommend E&O, EPLI and cyber liability, but they don't buy it," Ware says. "Many have gone from the private sector to consulting and are now independent contractors, such as construction managers. They have huge professional liability exposures, but they're not asking for that. Agents explain it, but it doesn't sink in. There's never an issue until there's a claim."
Particularly for new small businesses, such losses can be catastrophic. "Start-ups face similar risks as established businesses, but the potential impact of any claim is much more devastating for a start-up that hasn't generated much revenue yet," LaBelle says. "The defense costs for one frivolous employment practice liability claim could potentially wipe out a new business' cash reserve, which is crucial to its survival. So it's important to work with a retail agent to ensure adequate and comprehensive coverage for all risk exposures."
The independent agent advantage
Like most lines of business, direct writers have made inroads into the start-up specialty, although they currently only control about 4% of the market, says Hammond at Bolt. Part of the reason why independent agents own this segment of the business market is because of the wide variance in types of businesses insured. "No direct writer has a product that can span from a management consultant down to a contractor or carpenter," he points out. "The product needs to be diverse."
Read related: "Small Business Entrepreneurs Eager to Buy Insurance Direct, Online."
Bolt actually partners with direct writers to underwrite start-up businesses. "We've seen partnerships with direct writers as being very valuable to us because we're able to take any business they can't write and fill that gap and maintain their brand," Hammond says.
On the whole, however, independent agents deliver more bang for the buck, including access to multiple carriers in various industry groups in both the standard and wholesale marketplace; a grasp of the complex nature of insurance as applied to each individual business; and understanding of regulatory requirements, Trimble says.
"Independent agents and small business have a long history of doing business with each other," says Woodward at Travelers. "Agents offer 'concierge services' that are critically important with for small businesses, and bring years of experience; they have seen it all, every type of claim. Small businesses need that expertise and understanding of problems before they happen."
There are big benefits for agents, too: a portfolio of smaller risks lessens the notion of only working with one or a handful of larger accounts, says Trimble. Smaller businesses are also less subject to market volatility, and their need to use an agent for risk management functions adds to the strength of the relationship.
Knowing your client's business is essential for any agent, but it's especially resonant for those who want to specialize in start-up businesses, because in many cases you'll be acting as that business' risk manager, disaster planner and main mitigation advisor, Ware says. "Know your risks and coverages," he advises.
It's also important to protect yourself. "Get it in writing if they choose not to buy something you're recommending," adds Ware. "Retail agents must understand their business and act as their consultant, but if they choose not to buy what you recommend, for God's sake, get it signed off on."