Fast, expensive vehicles top the list of the 20 most expensive cars to insure for the 2014 model year, according to a new report from Insure.com. Drawn by the luxurious accommodations and high speeds, wealthy clients often purchase these types of vehicles without considering how they are often tricky to drive and very expensive to insure, Edmunds.com Editor Mark Takahashi tells Insure.com.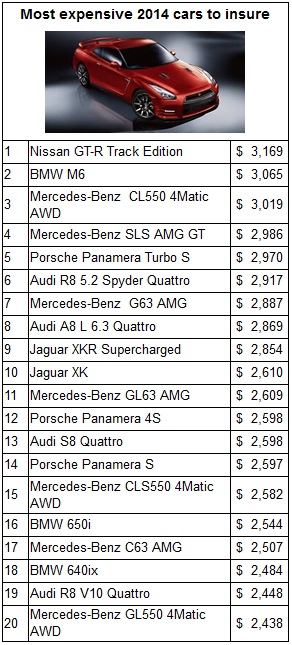 Insure.com worked with Quadrant Information Services to find the average auto insurance rates for 2014 model vehicles using data from Allstate, Farmers, GEICO, Nationwide, Progressive, and State Farm. Averages are based on full coverage for a single 40-year-old male with a clean record and good credit who commutes 12 miles to work each day, with policy limits of 100/300/50 and a $500 deductible on collision and comprehensive coverage.
Of over 850 ranked vehicles, Insure.com revealed the top 20 most expensive models to insure (see chart). High-end vehicles from BMW, Mercedes-Benz, Audi, Porsche, and Jaguar appear on the list multiple times. However, the number one most expensive car to insure is from Nissan, who only appears on the top 20 list once.
The Nissan GT-R Track Edition is nicknamed "Godzilla" for its over-the-top features, including all-wheel-drive, twin turbochargers that help its V-6 engine develop 545 horsepower, and a trick dual-clutch automated manual transmission. The $115,000 car, which was designed for drivers who may be interested in taking it for a spin on a racetrack every now and then, has an average annual insurance premium of $3,169.
And while many vehicles on the list like the GT-R come equipped with a lot of driving aids such as electronic stability control and traction control, an overconfident driver may turn off these features and cause a lot of problems, Takahasi tells Insure.com. These cars are very fast, "and performance cars on the whole are designed to be a little twitchy and very responsive."
Aside from causing more accidents, Insure.com notes that high-performance vehicles can also be expensive to repair, if they can be repaired at all. For example, carbon fiber is often used in some of the cars' exotic body panels. The material is designed to shatter on impact, and can only be replaced, not repaired, Takahashi tells the site. "Even a minor accident could easily cost tens of thousands to repair," Ron Henderson, a GT-R owner, tells Insure.com.
"(These cars) are for wealthy people who like to go fast," says Takahashi. This gets drivers into trouble very quickly, putting these vehicles at the top of the most expensive cars to insure.