Near-record snowfall and prolonged extreme cold throughout much of the U.S. have caused more than $1.5 billion in insured losses so far this year, according to the Insurance Information Institute.
The $1.5 billion figure covers events from Jan. 1 through Feb. 21, and only includes two of the four winter storms so far in 2014.
Over 175,000 claims have been paid to policyholders so far, according to PCS, a division of Verisk Analytics. Insured losses include roof collapses, downed tree limbs and power lines, burst pipes from freezing and auto accidents, says I.I.I. Companies have also sustained business interruption and supply-chain losses due to severe travel and transportation delays and closings.
Despite the severity of this winter, losses are well within the magnitude planned for by insurers, says Robert Hartwig, president of I.I.I.
In the chart below, I.I.I. lists the top 10 winter storm and winter damage events in the U.S. and Canada from 1980 to 2013. The cost of these events in insured losses have been adjusted to 2013 inflation.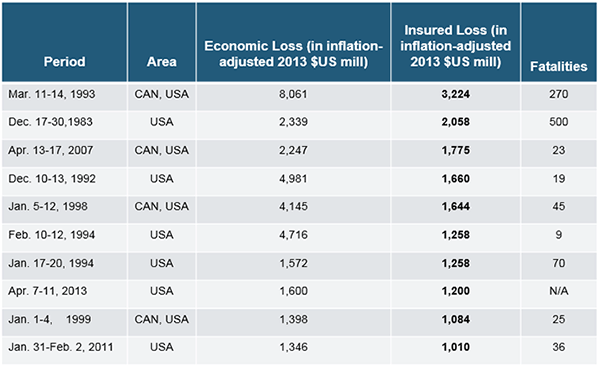 The costliest event was "The Storm of the Century" from Mar. 11-14, 1993. In today's figures, the insurance industry sustained over $3.2 billion in insured losses with that storm, which dumped feet of snow from Canada down to the southern U.S., with even the Florida panhandle reporting four inches of snow, says Hartwig.