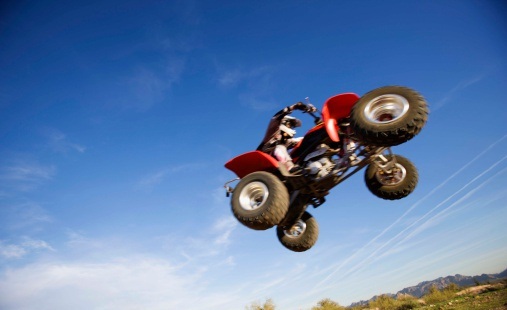 A recent Institute for Highway Safety (IHS) report on all-terrain vehicle (ATV) fatalities levels a strong challenge to the motorsports industry and consumer products safety advocates: What is the tipping point that will spur action to reduce the mortality/morbidity numbers that are troubling for families, legislators, insurers, and the powersports industry?
Between 2007 and 2011, 90 percent of the ATV drivers killed on public roads were male; 87 percent of them rode helmet-free; and 43 percent had blood-alcohol levels greater than 0.08 percent. That combustible mixture resulted in 1,701 deaths, according to the National Highway Traffic Safety Administration's (NHTSA) Fatality Analysis Reporting System (FARS). Indeed, 90 percent of the ATV fatalities in the FARS database were males aged 16 years and older.
Beyond the fatalities, hundreds of thousands of riders visited trauma centers for their injuries in that interval. The U.S. Consumer Product Safety Commission reports 132,000 emergency room visits in 2009 attributable to all-terrain vehicles; 25 percent involved children younger than 16.
With upwards of 11 million trail-eaters in the United States, males comprise 82 percent of the riding population. More than three quarters of those vehicles are used recreationally, while the rest are reserved for agricultural and industrial work, according to the ATV Safety Institute. In sheer numbers, the 16+ year-old male with a taste for the outdoors is both the most prominent and susceptible demographic.
Public Thrills…and Ills
There are two factors in conflict here: a thrill-seeking male and a vehicle designed for off-road use traveling public roads. Both present distinct challenges to accident-reducing efforts, although the human factor is the more complicated element requiring multi-faceted solutions as described in our previous PropertyCasualty360 article, Trail Busters: Deconstructing ATV Accidents.
Enforcing helmet use and imposing safety-training requirements through licensing, akin to the legal framework developed for motorcyclists, could significantly enhance ATV driver safety and reduce mishaps and injury. As yet, off-road vehicle buyers are not falling into line behind ATV-safety advocates in sufficient numbers to galvanize significant movement on that front.
Local and state-level efforts have focused on enacting laws to restrict off-road vehicles to designated trails; however, the need to allow limited travel on roadways when accessing those trails complicates matters. The prohibitions against using off-road vehicles on public roads address significant safety issues for ATV riders. Features such as low-pressure tires, high centers of gravity, and short wheelbases—which make off-roading a thrilling and trail-blazing ride—are incompatible for use on paved roads and contribute to rollover accidents. Current laws are one aspect of the safety effort; the real enforcement challenge comes at the local level. With riders far outnumbering park rangers in recreational areas, ATV traffic on public roads is heavier than warranted.
At the motorsports industry level, manufacturers respond to consumer demand with new and better models keyed to customer end-usage. Growth in the side-by-side or utility terrain vehicles (UTV), the latest member of the powersports family, is swiftly overtaking ATV sales. UTVs offer the fun of off-roading to a driver and passenger as well as expanded accessories for specialized use. In states like Arizona where recreational opportunities abound, UTV and ATV purchases are 50/50.
A growing trend for both vehicle types is street-legal models for use in gated communities and rural areas. That new reality presents a significant safety challenge because the "street-legal-kit" industry is unregulated. Powersports dealers typically do not stock these after-market conversion kits so purchasers ply online outlets where quality and suitability are not guaranteed. Most kit installations are done by amateurs and the components do not address the off-roading vehicles' lack of safety features. Adding mirrors, lights, and turn signals is a far cry from the rollover, side-impact, and frontal-crush protection afforded by today's cars.
Even as the motorsports industry is racing to meet evolving consumer demands, safety organizations are lagging in their efforts to push for the safety training and licensing requirements that are commonplace for motorcycle riders. Additionally, registration for new and used units, another means to oversee owner compliance to manufacturer and regulatory standards, is not even on the horizon.
ATVs and side-by-side vehicles offer exhilarating recreational experiences to growing numbers of riders, but the accident numbers are troubling, especially for the predominant buying demographic of males who enjoy active outdoor recreation. Unlike the more stringently regulated motorcycle industry which offers clearly defined street and off-road models, all-terrain vehicle riders take the "all-terrain" moniker literally as they risk their well-being on roadways designed for bigger, badder, and better-protected vehicles as they pursue "no dune to steep or stream too deep" adventures.
Timothy A. Logsdon, P.E., is an associate at Peter R. Thom and Associates, a national firm of consulting automotive engineers. He is a 30-year veteran of the automotive and powersports industries. He may be reached at 800-874-1664; www.prtassoc.com.