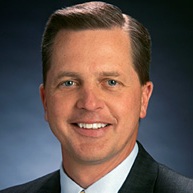 Weather played a part in Nationwide's big turnaround in fourth-quarter property and casualty operating income, but CFO Mark Thresher takes more pride in the company's active initiatives to improve results.
Nationwide, he says, has focused on improving efficiencies by reducing expenses so the insurer can offer better prices to customers, and also on centralizing more of the claims organization under one individual. "We want to provide the best customer service," Thresher says, but also accomplish that in an effective and efficient manner.
The insurer reports 2013 fourth-quarter net income of $499 million, up from $176 million in 2012's fourth quarter. Total net operating income climbed to $347 million compared to $18 million over that same period, and P&C operating income swung to $181 million compared to a $90 million net operating loss in 2012's fourth quarter.
While stressing that Nationwide's core fundamental business performance was stronger, Thresher notes that the absence of a major weather-loss event like Superstorm Sandy "clearly" benefitted fourth-quarter results.
For the year, Nationwide reports net income of $1.9 billion, compared to $940 million in 2012. Net operating income was $1.3 billion, compared to $741 million, and P&C operating income rose to $707 million from $117 million.
Thresher points to specific areas of business where he feels Nationwide had success in 2013. For example, the insurer wrote $1 billion in direct written premium in farm and agriculture, he notes, a line of business Nationwide has been involved in since its origins as Farm Bureau Mutual in 1926.
Thresher notes that Nationwide does not write crop insurance, but does insure farms, farm equipment and large commercial co-ops. He says the insurer has relationships with a number of farm bureaus, and "has a great reputation for understanding loss control."
Speaking to the rate environment in 2013 and into this year, Thresher says that on the commercial side, "I think rate was available in 2013. We'll see where that goes in 2014." For specialty risks, Thresher notes there is flexibility in pricing for business written through Scottsdale.
For personal lines, he says rate in homeowners was "necessary and available," but says auto remains one of the most competitive lines, driven in part by the pricing from some monoline auto insurers.
For this year, Thresher says he wants to continue to expand Nationwide's direct capabilities in personal lines, and to continue to pursue a variety of distribution strategies for commercial risks — utilizing independent and exclusive agents, and even direct capabilities.
Thresher points out that agents have been fine with the company's direct capabilities, as the direct channel has actually acted as a potential source of leads for agents. Some customers come to Nationwide through the direct channel, but then decide they want an agent later in the process.