At first glance, it would appear the world is not quite as risky compared to a year ago, according to Aon's annual Terrorism and Political Risk Map, which shows that 34 countries saw their risk scores reduced while four countries received increased scores.
But risks remain as the Middle East continues to deal with fallout from the Arab Spring, Sub-Saharan Africa remaining a continent with high political violence and the retail and transportation sectors dealing with increased incidents of terrorism.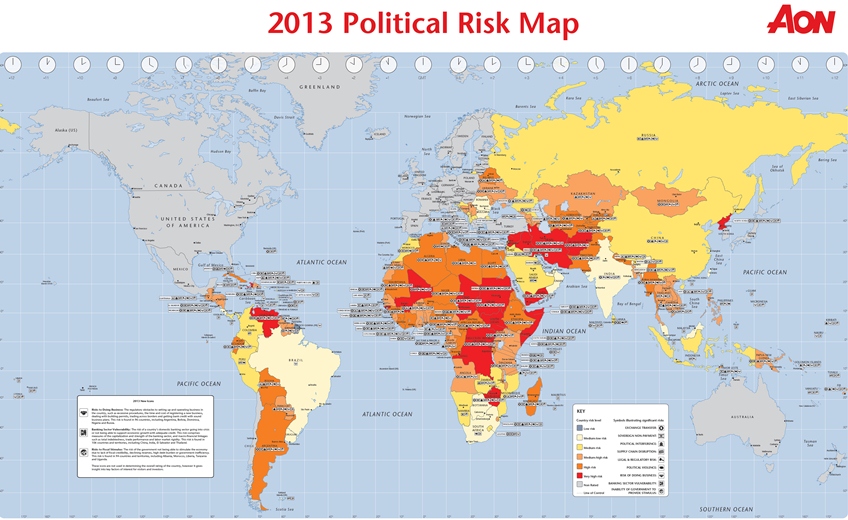 Aon's map measures political violence and terrorism in 200 countries and territories, using color-coded ratings as a gauge for the overall level of risk and icons to indicate whether businesses could experience risks from terrorism and sabotage; strikes, riots civil commotion and malicious damage to property; and/or insurrection, revolution, rebellion, mutiny, coup d'état, war and civil war.
Aon says Europe saw the notable improvement in this year's map with 11 countries having civil commotion perils removed.
Brazil, Japan, Mozambique and Bangladesh received increased risk scores. Aon notes that Bangladesh is "witnessing civil unrest with over 70 days of strikes and accompanying protests, particularly against low wages and poor working conditions in the garments industry…."
Increased military spending and geopolitical tensions in Japan raised that country's rating. Overall, though, Aon says country scores for the Asia-Pacific and Oceania region "remain broadly stable with only four changes out of 29 countries and territories."
Brazil has seen "widespread and large-scale violent anti-government protests throughout 2013," and Aon expects the unrest to continue this year "particularly ahead of the FIFA World Cup and the October general elections."
Terrorism risk, while down in the West, "remains a variable threat in the Eurasia region, with Russia and Turkey the most affected by the threat through 2013," Aon says. Russia remains a potential target in 2014, says Aon, particularly with the Winter Olympics being held there.
The Middle East is the region most afflicted by terrorism, with a 28% share of all terrorist attacks recorded worldwide in 2013, says Aon. "A new strain of Salafi Jihadism has emerged in the Middle East and North Africa (MENA) region as evidenced by increased levels of terrorism," Aon says. "This is a cause and effect of the limited political recovery of post Arab Spring countries, and has contributed to widespread high-to-severe risk ratings across the region."
By business sector, Aon says the retail and transportation sectors were "significantly affected" by terrorism in 2013, "with 33 percent of terrorism attacks affecting the retail sector, and 18 percent of attacks taking place on the transportation sector."
Check out the map here.