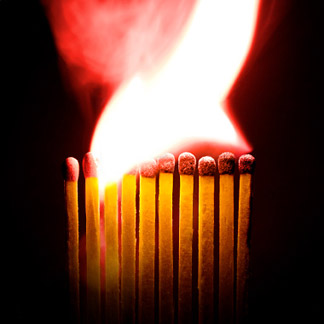 A hefty insurance payout is a common motive for arson, as claims investigators well know. But sometimes other factors are at play. In fact, a serious compulsion may have led to a suspicious fire at a Florida gas station on Jan. 26.
That day, a local fire department responded to a commercial structure fire at Gate Fuel in Lake Wales, Florida. The Florida Division of the State Fire Marshal's Bureau of Fire and Arson Investigations joined the case to determine the cause and origin of the blaze.
Their work quickly confirmed the fire was started in a trash can inside the men's bathroom. Later, surveillance video helped authorities identify the potential arsonist as David Glenn Giles.
Police then arrested the 41-year-old on Tues., Jan 28 at his home without incident. Giles, who has several previous arson, attempted arson and criminal mischief charges on his record, was already on probation for a string of fires that occurred between 2008 and 2010. According to Ashley Carr, deputy communications director for the Florida Department of Financial Services, Giles is also known to have been involved in multiple fires dating back to 1994.
As this story illustrates, regardless of motive, arson is a serious crime, and one that results in substantial insured losses.
"Arson is an inexcusable act that endangers lives, and it will not be tolerated," said CFO Jeff Atwater. "I'm proud of the combined effort of all of the investigators to bring this man to justice for his repeated offenses."
While awaiting trial, Giles is being held at the Polk County Jail without bail. If convicted, he could spend as many as 30 years in prison.