On January 17, 1994, 20 years ago today, a Magnitude 6.7 earthquake occurred 20 miles northwest of downtown Los Angeles, producing the largest ground motions ever recorded in an urban environment in the U.S., according to modeling firm AIR Worldwide.
Modeling firm RMS points out that the California temblor, known as the Northridge Earthquake, caused the largest U.S. earthquake insurance loss to date.
AIR says more than 40,000 structures across several counties were heavily damaged, resulting in $12.5 billion in insurance payouts.
Click next to see damage from the 1994 quake and to see the highs and lows of coverage and preparedness for earthquakes since then.
All photos provided by AP Images.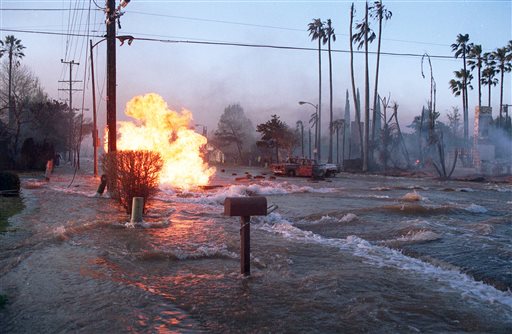 Above, a ruptured supply line burns as water from broken water main floods Balboa Boulevard in the Granada Hills area of Los Angeles on Jan. 17, 1994 following the Northridge Earthquake.
RMS says a similar 6.7 earthquake today would cause total insured losses of $16 – $24 billion and up to $155 billion in total economic loss. By contrast, RMS says, 2005's Hurricane Katrina reportedly caused $148 billion in economic loss.
AIR says, "While the insurance industry is much better prepared to handle high losses than it was in 1994, its current stake in the game is insufficient to protect home and business owners from disastrous financial consequences."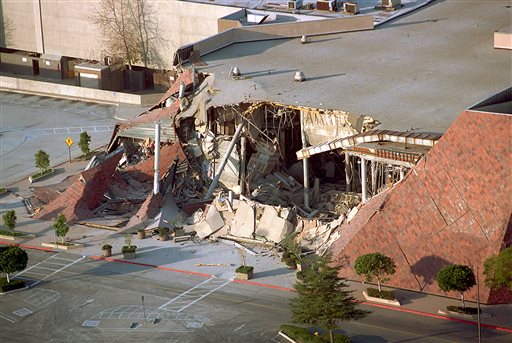 In the above photo, a portion of the Bullock's department store in the Northridge Fashion Center that collapsed after the Northridge earthquake struck Southern California.
In September 1996, says AIR, California passed legislation to create the California Earthquake Authority (CEA), a privately funded, publicly managed entity designed to be a permanent solution to the state's earthquake insurance-cover issues. However, AIR points out that only about 12% of California homeowners have earthquake coverage, with the CEA accounting for a little over two-thirds of the risk.
AIR adds that residential insurers can either write policies on behalf of the CEA at predetermined rates, or they can choose to offer private earthquake coverage that adheres to minimum state requirements. "In addition," says AIR, "specialized companies offer standalone earthquake coverage."
Unlike flood insurance, though, which is required in order to obtain mortgages for properties in flood-prone areas, lenders do not require homeowners to buy earthquake insurance, AIR notes.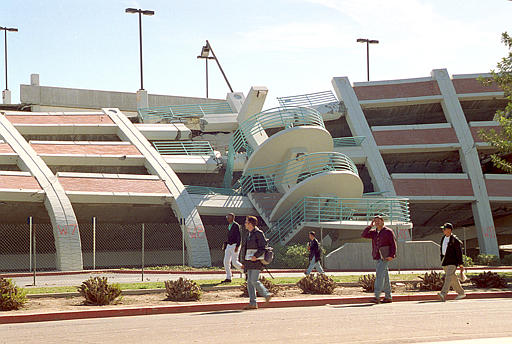 University of California, Northridge, students walk by a parking structure that was heavily damaged on the CSUN campus in the earthquake.
RMS says the population of California is up 12% since 1994, "so theoretically 12% of the population has never experienced a significant shaking event and would be completely unprepared."
AIR expands on that thought, noting that many homeowners assume that they will not experience a major home-damaging earthquake, and many others take their chances due to the high deductibles for coverage, which AIR says is 15% on the value of the structure.
"Some assume that the Federal Emergency Management Agency will step in to provide post-disaster assistance, and still others may simply walk away from their mortgages if their properties sustain enough damage, shifting the financial burden to the lending institutions," AIR says.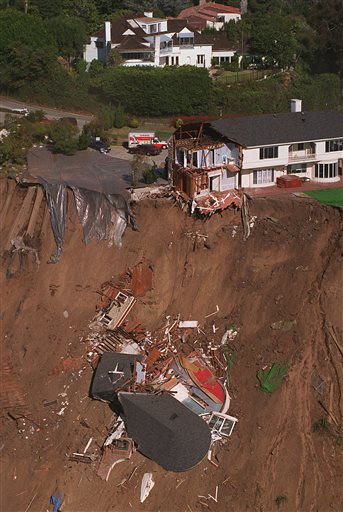 In the photo to the left, a multimillion-dollar mansion overlooking the ocean that was destroyed in the Northridge earthquake, in the Pacific Palisades area of Los Angeles.
AIR says the understanding of earthquakes—seismicity, ground motion, and engineering—has "improved greatly since the Northridge event. Stakeholders are thus better equipped than ever to test alternate policy conditions, underwriting guidelines, and the impact of mitigation features to develop viable insurance products, and to make better portfolio optimization and reinsurance purchasing decisions."
AIR adds that earthquake models have evolved since Northridge as well, and can now provide insight into improving the "value proposition of insurance while keeping short- and long-term financial objectives in mind.
Ultimately, says AIR, "The next big earthquake would not only put stresses on the uninsured, but would test the resiliency of lending institutions, local and state governments, and the final backstop—the federal budget."