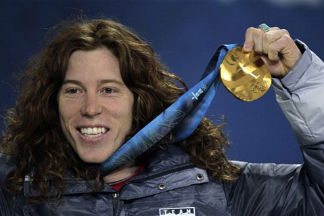 An Olympic medal is treasured, kept under lock-and-key and irreplaceable–to most Olympians. But some U.S. athletes have misplaced or have had their medals stolen.
Snowboarder Shaun White once found one of his gold medals in a seat pocket of his mother's car. White also lost an Olympic medal when his mother had taken it to the dry cleaners and had forgotten about it.
Swimmer Brendan Hansen left his gold medal on a Southwest Airlines plane.
2002 Skeleton gold medalist Triatan Gale had her gold medal stolen by burglars. The police recovered the medal after a week.
All of those medals were found and returned to their owners. If the medal could not be found, these athletes would have to personally pay for a medal replacement through the U.S. Olympic Committee.
At the 2014 Sochi and 2016 Rio Olympic Games, Liberty Mutual, the official Property & Casualty and Life Insurance Partner of the 2014 and 2016 U.S. Olympic and Paralympic Teams, will insure each gold, silver or bronze medal won by U.S. athletes.
"For Team USA athletes who have dedicated their lives to their sport so they can someday rise to the podium, a medal is the ultimate reward for their hard work and training," said Paul G. Alexander, Liberty Mutual Insurance chief communications officer. "Every medal is meaningful to our country and the athlete who earned the right to wear it."
In the Vancouver 2010 Olympic and Paralympic Winter Games and the London 2012 Olympic and Paralympic Games, a combined 498 medals were awarded to Team USA athletes, more than any other country. At present, the process to replace a lost or stolen Olympic or Paralympic medal requires the athlete to file a request through the U.S. Olympic Committee. Through this new insurance policy with the U.S. Olympic Committee, Liberty Mutual Insurance will ensure our 2014 and 2016 U.S. Olympic and Paralympic athletes are not financially responsible to replace their treasured prizes.
Liberty Mutual also supports Team Liberty Mutual, the insurer's roster of 13 U.S. Olympic and Paralympic athletes bound by stories of setbacks and comebacks. Team Liberty Mutual includes: Max Aaron (figure skating); J.R. Celski (short track speedskating); Jazmine Fenlator (bobsled); Jen Hudak (freestyle skiing); Jessica Jerome (ski jumping); Chris Klug (snowboarding legend); Jocelyne and Monique Lamoureux (ice hockey); Rico Roman (sled hockey); Andy Soule (Paralympic nordic skiing/biathlon); Picabo Street (alpine skiing legend); Katie Uhlaender (skeleton); and Seth Wescott (snowboardcross).