Peter B. Lewis, the man behind massive growth and innovation at Progressive Corp., died Nov. 23 at the age of 80.
As the CEO for 35 years, Lewis guided Progressive during the implementation of many industry firsts: concierge claims service; the auto insurance industry's first website with rate comparisons; selling policies directly online; using consumers' credit histories in underwriting; and development of a telematics program.
According to reports, Lewis died of a heart attack at his home in Coconut Grove, Fla. Lewis was CEO of the insurer, co-founded by his father, until his retirement in 2000 but remained chairman of the board.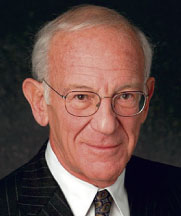 Progressive Corp. says CEO Glenn M. Renwick will become chairman of the board of directors. He will continue to serve as the insurer's president and CEO.
In 2012, National Underwriter Property & Casualty named Lewis to a list of 25 "Living Legends of Insurance."
READ: #2 Peter Lewis: Progressive Thinker
Lewis told NU that during his first big industry speech 45 years ago, he "predicted the end of the independent-agent business and all the reasons why it was going to happen."
"I was right," he said. "The only problem is my time horizon. It won't happen in my lifetime.
"The independent agent today has something to offer and still produces over half our business. They are more efficient in certain circumstances than a direct writer can be, and there is something about auto insurance that makes people like having an agent in between them and [their carrier]. But it's irrational to think they can survive forever. I wouldn't invest in an independent agency."
Lewis said auto insurance customers hated their insurers, who relied on agents to handle interactions. He thought quality customer service could give the Mayfield Village, Ohio-based insurer a competitive edge. He said he became "committed to the customer at an increasingly psychopathic level—and boy, has that approach paid off."
READ: Top 25 Living Legends of Insurance — Slideshow
Lewis was additionally known for his philanthropy, having signed on to the Giving Pledge—made famous by billionaires Warren Buffet and Bill Gates—with a promise to give at least half his wealth to charity. He has donated more than $200 million to Princeton University, where he graduated in 1955.
Lewis has also donated millions to organizations such as the Marijuana Policy Project, the Guggenheim Museum and the American Civil Liberties Union.