For eight consecutive years, Florida has escaped hurricane damage. As Floridians thank their lucky stars for the eight-year reprieve, it is important to recognize that the absence of recent catastrophic windstorms is a lucky break, not a rewrite of Florida's hurricane history.
The Insurance Information Institute (I.I.I.) and the Florida Insurance Council (FIC) took a look at historical storms impacting Florida and determined the costs of history repeating itself.
When Hurricane Andrew hit Homestead, Florida, in 1992, it caused more than $16 billion in insured losses at that time. If Andrew were to hit today, estimated losses would be more than three times higher: $50 billion.
"It's not merely inflation that drives up the costs," said Sam Miller, FIC's executive vice president. "Florida has seen continued population growth in the two decades since Andrew hit, along with increased construction. There are simply more people and more property at risk," Miller explained.
Insurance companies review historical losses to prepare for what may lie ahead—they must have the financial resources available in advance to pay anticipated claims, and past losses dictate their decisions. Storm-free years allow insurers to build up the financial resources to handle future natural disasters.
The biggest storm to hit Florida was the Miami Hurricane of 1926. It was a Category 4 storm that brought an abrupt end to Florida's first real estate boom and ushered in an early launch of the Great Depression for the region. Few buildings were left standing after the storm struck. If a repeat of the 1926 storm occurred now, insured losses would be in excess of $125 billion.
"The history of Florida hurricanes functions as an early warning system and is the biggest factor affecting insurance premiums," said Lynne McChristian, Florida representative for the I.I.I.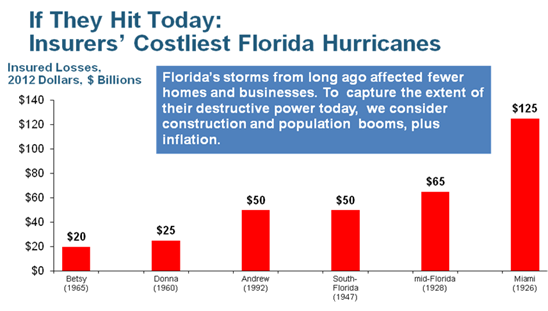 Although the last hurricane to hit Florida was Hurricane Wilma in 2005, the state still has a lock on the #1 slot for insurance dollars paid out for claims related to catastrophes. Over a 30-year period, property losses for Florida represent 15.3 percent of all catastrophe claims paid out in the U.S. Texas is ranked second with 10.8 percent, while Louisiana is third with 9.3 percent.
Another hurricane will come, and it is hard to predict exactly where and when it will strike, and how powerful it will be. However, insurers are already taking lessons from history in order to be financially prepared to pay claims and be able to deal with any future storms.