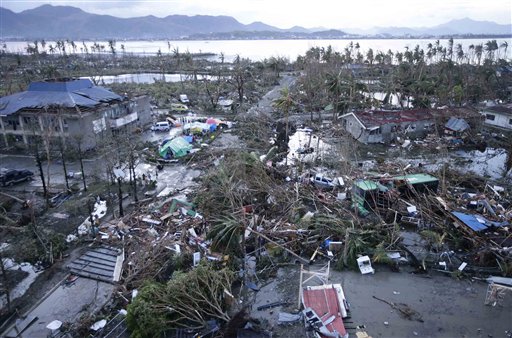 Catastrophe modeler AIR Worldwide estimates insured losses from Typhoon Haiyan at between $300 million and $700 million.
The estimate differs from that of rival modeler Eqecat, who said insured losses from the typhoon are likely not to exceed $100 million.
AIR says its estimate reflects physical damage to property and contents; the modeler's assumed take-up rates for insurance in the affected areas; and current industry exposure.
Total damage to residential, commercial and agricultural properties from the super typhoon will be between $6.5 billion and $14.6 billion.
The Boston-based firm says many inland residential and commercial buildings were destroyed in addition to properties along the coast. The islands of Leyte, Samar and Cebu were among the most affected areas. Every coastal home in the Leyte capital city of Tacloban was destroyed. The airport was leveled and every tree was flattened.
AIR says assessing the exact strength of the storm at landfall is difficult since no know anemometers—used to measure wind speed—survived in the vicinity of landfall.
Infrastructure, storm surge, crops auto, hazardous waste cleanup demand surge, business interruption and other losses are not part of the insured loss estimate.