Years at company: 4 years
College: University of Texas at Dallas, '02
Organizations: Soroptimist International of Rockwall, Helping Hands Community Circle, Relay for Life of Rockwall County, Community Heart of Mesquite, Promenade Harbor, HOA
How does technology fit into your work strategy?
I cannot imagine doing my job effectively or efficiently without technology. Each of our workstations are set up with dual monitors so we are able to view multiple companies and clients. We use AMS360 to manage our clients and carriers. We also get a lot of leads from our multiple websites and social media outlets.
What are your main priorities as a young agent (work/life balance, charity support, legislative issues, etc.)?
Community outreach and empowering other women are two things I am very passionate about. I am involved in community programs. I love that I have chosen a career that allows me to support charities and be active in my community.
How do you balance work and personal life?
Personal life? Work/life balance has been the most difficult area for me to conquer. I love to travel so I try to take off two weeks a year–one in the winter and one in the summer to refresh. I also enjoy long weekends and road trips. I am thankful for my amazing team. I know when I am away from the office they have things under control.
How does your office reflect how you work?
My Mesquite office is the oldest insurance agency in Mesquite, Texas. When you walk in the door you see a lot of our agency's history on the walls. I am proud to be the owner of a piece of history and we work hard to uphold our agency's reputation.
What do you see Gen Y/Millennials struggle with in a professional environment? What advice do you have?
Lack of work ethic. So many of my peers don't understand why I work long hours and I am always working. Hard work pays off. I see it every month in my agency. My advice is to stop complaining about work and just get out there and do your best.
Where do you hope to take your career? What direction would you like your career to go?
I plan to continue to grow my business and hire more staff. I would also like to mentor other young agents and help them succeed.
Many young agents enter this industry because other family members work in insurance. What advice do you have when working with family?
Working with family was my biggest fear when I joined Agents Alliance. My cousins own Ramey King Insurance and Agents Alliance. I think having a mutual respect for your family members and learning from them, what has worked for them and what has not, is very important. My cousins have played a significant role in my success. I am forever grateful for the things they have taught me.
What skills do you think young agents will need next year?
I think we will continue to see social media as a viable marketing tool. More and more people look to Facebook, websites and online reviews as a way to vet companies. I believe that any agency without an online presence is missing out on a large part of the market.
What do you see young agents struggle with in their first years in this industry? What advice do you have?
The biggest struggle I had when I started my agency was building a client base. I had already been in the industry nearly 10 years. However, people wanted to see how I was going to make it on my own and how I would structure my business. Another challenge I faced was learning to market myself and my agency.
What sales strategies worked for you this past year?
The last year I have focused a lot on networking–social networking, networking groups and networking activities.
What is your biggest weakness? How have you addressed that weakness?
Over-committing. I am working on saying no and scheduling my time so I don't get too overloaded.
What are some of your career highlights?
Opening my agency, purchasing the Hanby Insurance and getting a shout out from Progressive's Flo on Facebook last year.
How does social marketing make you a more productive employee?
Social networking is a great way for clients to contact me and connect with me and the agency. People do business with those they know, like and trust. I believe social marketing helps make this connection.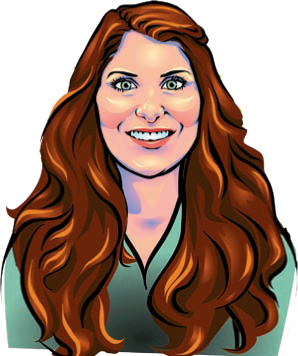 Erin Atkins was featured in the July 2013 Issue of AA&B. She is the principal agent at Hanby Ramey King Insurance.