Commercial insurance rate increases moderated a bit in the second quarter of this year slightly off the pace of the previous two quarters, according to the Council of Insurance Agents & Brokers.
The association's quarterly survey of insurance rates shows while prices continue to climb, the rate of increase fell a little more than a full point on average from the first quarter to 4.3 percent. Small and medium size accounts had the sharpest increases in Q2 at 4.6 and 4.7 percent respectively, but even there the increases were off slightly by 0.6 points from the Q1 survey. Large accounts were not immune to increases, but the rate of increase fell 1.1 percentage points compared to Q1 to 3.8 percent.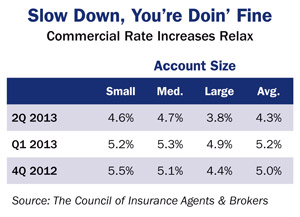 "There weren't any great surprises in the second quarter," says CIAB President and CEO Ken A. Crerar. "Prices inched up, underwriting tightened and insurers looked to reduce exposure in some critical areas. However, the market hardening appears to have moderated in the last quarter."
The CIAB says property and workers' compensation remain critical areas for pricing and placement.
Insurers are still feeling "the sting of Superstorm Sandy" from late last year and are carefully examining catastrophe prone property exposures along the coast or inland. Brokers across the country say insurers are using more wind and hail deductibles. There is pull back on terms and conditions along with lower limits and cover for exposures such as storm surge, flood and off-site power.
The survey indicates 65 percent of those surveyed say commercial property rates increased 1-10 percent, while 14 percent say the increase was as high as 10-20 percent for their accounts. Only 12 percent say there was no change.
On workers' comp, the CIAB says it remains a "tough sell especially where loss experience was poor." Brokers say it was the line with the strongest of rate increases and non-renewals. According to the survey, 57 percent of brokers say rates were up 1-10 percent and 25 percent say rates climbed 10-20 percent. Five percent report rate increases of 20-30 percent. Only 10 percent report no rate change.
Brokers say the demand for insurance held steady in the second quarter, an indication of slow economic recovery.
The survey is another indicator that commercial insurance pricing continues to increase, but there are signs that the increases are far from entering a true hard market of double-digit increases.
MarketScout's market barometer for June indicates commercial rates are up 5 percent for two consecutive months, but there are signs some lines may be off the previous months of increase.
Increased capacity is also tampering down price increases despite the fact insurers continue to push for rate increases. A mid-year report from insurance broker Marsh says carriers continue to get increases, but in the low-single digits.