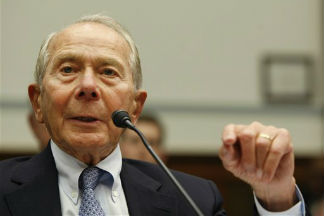 New York's top court has cleared the way for a civil trial of former AIG CEO Maurice "Hank" Greenberg and the company's chief financial officer over allegations that they engineered a sham transaction more than a decade ago in order to make its financial statement look better.
The fraudulent reinsurance transactions date to 1999 and 200,0 and involved General Re Corp., a Berkshire Hathaway company.
Greenberg argued in court papers that there was no admissible evidence that he orchestrated a $500 million transaction with reinsurer GenRe that misled AIG shareholders, and that the case should have ended in April when the state dropped a claim for as much as $6 billion in damages.
New York Attorney General Eric Schneiderman has pursued the case even though two state governors asked him in May to drop it.
If Greenberg and Howard Smith, the former CFO, are found guilty, they may be barring from participating in the securities industry and from serving as officers and directors of public companies.
That was stated specifically in the 7-0 decision handed down today by the New York Court of Appeals, the state's highest court.
"There is no doubt room for argument about whether the lifetime bans that the attorney general proposes would be a justifiable exercise of a court's discretion; but that question, as well as the availability of any other equitable relief that the attorney general may seek, must be decided by lower courts, in the first instance," the decision says.
"We have no difficulty in concluding that, in this civil case, there is evidence sufficient for trial that both Greenberg and Smith participated in a fraud. The credibility of their denials is for a fact finder to decide."
Greenberg is now 88 and heads Starr International, which he regained control over in a settlement several years ago with AIG.
David Boies, a partner in Boies, Schiller & Flexner, which represents Greenberg in this case and also in a suit seeking damages from the government stemming its takeover of AIG in 2008, issued a statement following release of the court decision.
"We are pleased that the Attorney General's claim for damages, which throughout the eight years of this litigation has been the focus of the case, has now been dismissed," Boies said.
"We are disappointed that the Court of Appeals did not dismiss the Attorney General's recently raised claims for injunctive relief, but we are confident that the action will be dismissed by the lower courts because the state cannot demonstrate that it is entitled to injunctive or disgorgement remedies against Greenberg and Smith," Boies said.
In an opinion piece in the Wall Street Journal May 13, former governors Mario Cuomo and George Pataki voiced concern that misuse of the Martin Act, the 1921 law under which Greenberg and Smith are being charged, sends the wrong message to the business community, putting New York at risk of losing jobs and damaging its economy."
The case centers on two transactions in which AIG was accused of misleading its shareholders. One, with General Re Corp raised AIG's loss reserves by $500 million without transferring risk. Another, with Capco Reinsurance Co, hid a $210 million underwriting loss in an auto-warranty program.
In court papers, the state has said Greenberg "initiated, negotiated and approved" the transaction with Gen Re "with knowledge of its fraudulent terms." CFO Howard Smith helped implement the deal and also knew of the sham, the state says.
The AIG-Gen Re transaction was the subject of a federal criminal case in which Greenberg and Smith were named as alleged co-conspirators, but not defendants.
In the criminal case, four former Gen Re executives and a former AIG executive were found guilty in 2008 of engineering the reinsurance deal. In 2011, however, a federal appeals court threw out the convictions and ordered a new trial, citing errors by the judge. Last year, the former executives admitted to conducting the fraudulent transaction and cut deals to end the criminal case against them.