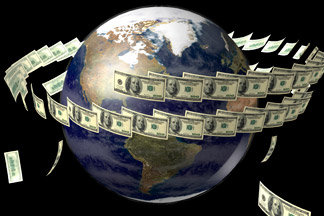 Acquisitions make life difficult for the people working within the company doing the acquiring, particularly for a global company that deals with different languages and currencies. Cunningham Lindsey is just such a firm.
Operating in more than 50 countries, Cunningham Lindsey is a loss adjusting and claims management firm and many of the different entities came together as part of a series of acquisitions.
One of the issues was cash management—which Cunningham Lindsey was doing via Excel—and some cash forecasting from various entities that didn't have any balance reporting on a regular basis, explains Elizabeth Ecsy, director of treasury for Cunningham Lindsey.
"It was important that we get a handle on cash balances," says Ecsy.
The first step was to expand the spreadsheets as the business grew. Cunningham Lindsey consolidated all 50-plus cash forecasts on Excel on a weekly basis, according to Ecsy, which meant a lot of copy and pasting going on and less than timely information.
"We were getting information from Excel, but some of the information was a week old when we got is, which meant some of the forecasts were outdated," she says.
At the same time, the company also put together working capital agreements and set up a manual pooling arrangement in London with a half-dozen different currencies.
"We had to get to the point where we had weekly funding and more of a consistent push of cash," says Ecsy.
Cunningham found the software provider Kyriba offered the easiest solution to implement. There were other options, but Ecsy felt Kyriba was a better fit because it is a web-based service and the solution provider houses the solution in the cloud.
"We don't have a lot of IT infrastructure in place," says Ecsy. "Also, we couldn't have an installed solution in 50 countries. Having everyone log in and loading information from our different banks was something that definitely was a high point for Kyriba and our future together.
Operating in the cloud has worked well, adds Ecsy.
"We already did some cloud services, so our IT director felt this was a safe way to go and the way of the future," she says. "The biggest part was making sure that everyone was able to access the information. Using a cloud solution wasn't too much of a concern. We don't have to save all the information on our servers; it's saved on the Kyriba servers with a disaster recovery plan."
Cunningham Lindsey went online with the Kyriba solution shortly before its second group of acquisitions. The first and largest acquisition happened in 2009 and Ecsy explains there was quite a bit of time for Cunningham Lindsey to establish a new corporate culture.
"We had communication with everyone and where we were headed," she says. "It took the CEOs getting together for budget meetings and they sat in our office in Tampa and learned how the strategy worked, where our businesses overlap, and where we can help each other. Realizing we are part of one corporate culture and not our own silo has been a huge help in achieving our goals. 2011 and 2012 were good years for us from a cash management perspective as we were able to meet some debt goal that we were otherwise not expected to meet."
The companies that were part of the first set of acquisitions operated under a stricter cash management perspective than Cunningham Lindsey did, explains Ecsy. Since those companies moved cash in a different way, Ecsy adds that it was difficult to convince them to change the way they operated.
"It took a push from our global CEO and CFO to get the idea across that we are using a program management system and they had to comply with it," she says. "They also had to get their banks reporting. If they were not with a bank doing reporting via Swift then they had to change banks. Honestly, that was the most difficult part for us because we needed to have global cash visibility."
Today, about 85 percent of Cunningham Lindsey's cash is being reporting directly from the banks, according to Ecsy.
There was some grumbling among the different entities, points out Ecsy.
"Nobody likes change," she says. "I don't like it either. They were going from the Excel environment—and people really like Excel—where they can work on their laptop. There's more work involved with the Kyriba solution, but we spent a lot of time consolidating the forecasts from Excel—eight to 10 hours a week putting these forecasts together. Now we're able to use that time to analyze the results and see what people are doing and where we can move money. I think that has made things better all the way around."
Having a global company, Cunningham Lindsey trained its people via WebEx. The company also had to pull in different people to train people in various languages—including Chinese.
"It was a lot of work, but it was great to connect with everyone," says Ecsy. "We worked with their forecasts and showed them how to pull their information. It worked for us."
The Kyriba system has produced great results, explains Ecsy.
"I can see what the receivables are in Malaysia today and what they did yesterday and whatever else is going on," says Ecsy. "We have a much better touch and feel with what is going on within the companies. I don't have to send an email to find out information; I can find it myself."
Cunningham Lindsey also has been able to produce better cash forecasts.
"We've been able to extrapolate information from the prior year, pull it into this year and see if it is fairly consistent or we can change it by percentages to make it accurate for this year's forecasts," says Ecsy. "We are able to see our cash requirements on a day-to-day basis. People are updating things daily. We have much more success and Kyriba has been a big part of that. There are some great things that have come about from this. We're developing a global GL and having the banks reporting means it will be easier to flip the switch on the entities when we go live."