It took less than a week for the first storm to be named, starting the 2013 Atlantic hurricane season.
Tropical Storm Andrea is spinning in the Gulf of Mexico, about 140 miles off the coast of Florida, with sustained winds as of early June 6 of 60 mph.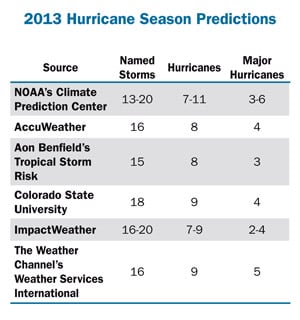 The storm isn't expected to strengthen to hurricane status but it is predicted to make landfall in North Florida, at the bend of the panhandle, late June 6.
ALSO READ: NOAA: More and Stronger Atlantic Hurricanes in 2013
CSU, TSR Continue to Call for Above-Average Hurricane Season
Andrea could dump as much as 8 inches of rain from Northeast Florida at the Georgia border, diagonally to the Tampa Bay area, according to AccuWeather.com
Forecasters do not think Andrea will pose a major threat to property or life, but she could cause some sporadic damage and power outages, as well as travel disruptions.
Additionally, tornado warnings have been issued for various counties in Florida.
The National Hurricane Center says Andrea is likely at her peak in terms of strength, as wind shear should prevent further intensification.
After Florida, forecasters say Andrea will travel through Georgia, South Carolina, North Carolina and Virginia before making her way back out into the Atlantic Ocean off the coast of New Jersey as a post-tropical depression, says NHC.