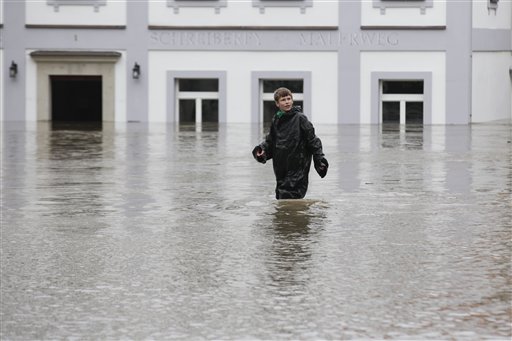 Catastrophe modeler Eqecat says floods in Central Europe are the most damaging since 2002, when insured losses nearly reached US$3.9 billion.
The firm says no catastrophe bonds are yet exposed to the worst widespread flooding the region has seen in more than 70 years–affecting major cities in Germany, Austria, the Czech Republic, Switzerland, Hungary, Slovakia and Poland.
The economic damage from the floods in 2002 was estimated to be about $24.2 billion, with Germany, Austria and the Czech Republic bearing most of this damage.
"Given low insurance penetration, insured flood damage did not form part of standard insurance covers in many of the affected regions," Eqecat says of the flooding 11 years ago. The modeler says most of the claims in 2002 were the result of reinsurance contracts written in Germany, Austria and the Czech Republic.
Water heights in Germany have reached the highest levels in the country's history, said modeler AIR Worldwide. Water levels in Passau, a city at the intersection of three rivers including the Danube, are unprecedented since records began in 1501. Electricity is shut off and tens of thousands have been evacuated, some in boats.
Germany's Spiegel Online reported an initial financial loss estimate of about $3.9 billion in Austria.
Forty Czech Republic cities are on flood watch, with a state of emergency declared in Prague, Usti, and South and Central Bohemia, and other areas as the Moldau River and two others overflow.
Prague's central sewage plant was shut down, and the system has been temporarily rerouted from the capital into the Vlata River. City officials closed the famous Charles Bridge and shut down the subway system for the first time in over a decade. Animals in the Prague Zoo were moved to higher ground as portions of the attraction were submerged.
Eqecat reports widespread damage to thousands of homes and subsequent landslides have caused the closure of railway lines, schools, roads and bridges.
Austria's meteorological service reported that an average of two months' worth of rain fell in just two days in Prague.
The Wall Street Journal reports that the floods have caused least 16 deaths and billions of euros in damage. Several major manufacturers in the regions, including the Porsche unit of Volkswagen AG and the art-supply company Faber-Castell, have temporarily suspended operations.
Flooding has also occurred in Hungary, Slovakia, and is shifting to Poland as the storm system moves south.
Overall flooding reached its peak on June 4, says Allianz, but is still expected to worsen as water clears into river basins and poses a risk of landslides on water-saturated ground. The insurer has sent claims handlers into affected cities to begin evaluating water-logged property.
"Business at Allianz has continued without interruption," said Bruce Bowers, CEO of Allianz in central and Eastern Europe. "Now that the rivers have reached their peak, we can start to assess the damage."
AIR writes that 90 percent of single-family homes in the affected portions of Europe one-story buildings made of masonry and wood. This means that floods can damage a large amount of the building and its assets at once. But because the hardest-hit areas are urban centers, many buildings are multi-story with flood-reinforced shops on the first floor with residences housed above.