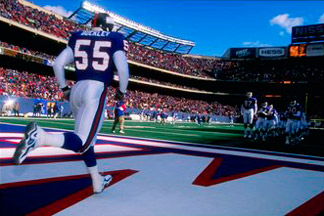 Marcus Buckley hasn't played for the National Football League (NFL) since 1999 but is reportedly still cashing in on the game that made him a star. Authorities have charged the former New York Giants linebacker with wire fraud and money laundering in connection with a scheme that may have defrauded a Sacramento, Calif. insurer out of more than a million dollars.
Buckley, who played seven seasons for the New York Giants, allegedly filed false workers' compensation claims with Gallagher Bassett Services Inc. for football-related stress injuries. The insurer paid the 42-year-old resident of Weatherford, Texas over $1.5 million in benefits to which he was not entitled.
But Buckley did not act alone. Authorities believe he conspired with Kimberly Jones, a claims adjuster at Gallagher Bassett. Consequently, Jones has also been charged.
According to the U.S. attorney's office, Buckley is expected to appear in U.S. District Court in Texas within a couple of weeks. Stay tuned for updates.
Source: The Associated Press