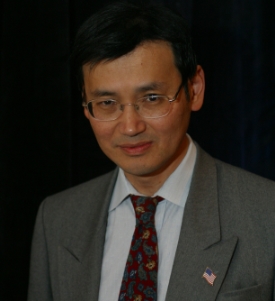 The bombing at the Boston Marathon—the first successful, high-profile terrorist attack in the U.S. since 9/11—could impact the terrorism insurance marketplace, specifically event cancellation coverage.
Gordon Woo, catastrophist specializing in the mathematical aspects of catastrophe insurance risk modeling for Risk Management Solutions, tells PC360 the bombing is "bound to have an impact on event cancellation."
"The threat has always been there since 9/11; this is part of the risk everyone faces in the modern day," says Woo (pictured at left).
However, yesterday's Boston bombing, which killed at least three people and injured more than 140 others, some critically, proves theories that it does not take a large-scale bomb to create a major disturbance. It also is the first-ever attack at a major sporting event since 9/11—a fact Woo believes will make insurers very wary.
"The insurance of sports events is likely to be impacted by the Boston Marathon bombs," he says.
To support his conclusion, Woo summons his experience with the FIFA World Cup in 2003. Following the terrorist attacks on Sept. 11, 2001 the World Cup in 2002, held in Japan and Korea, had its event cancellation insurance pulled by Axa, says Woo. Billionaire Warren Buffet stepped in to take the risk, he says.
In 2003, fearing it again would be faced with a shortage of event cancellation coverage for the 2006 FIFA World Cup in Germany, the federation enlisted Woo to perform a terror risk assessment. The risk analysis was rated, and FIFA was able to issue $260 million in bonds to cover the risk, says Woo.
"It will be interesting to see what occurs in the marketplace following this event, especially since it is the first sports attack [since 9/11]," says Woo. While property damage may be small, past experiences leads Woo to think the Boston Marathon bombing "may well have a significant influence on the terrorism insurance market."
Some events in Boston have already been cancelled: a professional hockey game the night of the race and a professional basketball game April 16.
"It doesn't take a truck bomb to cancel an event and cause terror," says Woo, who adds events like the Boston Marathon are "inherently vulnerable" due to their scale. Determined terrorists will always "seek a weakness in security."
"There is also a difference in Boston—it wasn't one of the top-tier cities in terms of public perception and awareness [of terrorist attacks]," Woo explains. Not to say the city did not do what it could to try and make sure spectators and athletes were safe, but the point is Boston—unlike New York and London—had yet to be a target. Fortunately or unfortunately, a terrorism mindset had yet to be ingrained as part of the city's culture.
New Yorkers are constantly reminded to, "See something—say something." At the last Olympics in London, even a visit to a public park could be preempted by an airport-style screening, says Woo.
But the key to a secure event is not in the security on the street or at the stadium—it is in arresting plotters beforehand, says Woo, who is the chief architect of RMS' terrorism model, which is based on what Woo has called a "law of human existence"—networking.
About 90 percent of terrorist plots since 9-11 have been stopped by authorities, Woo says. The more people involved in a plot, the better chance communication is intercepted, which leads to an informant or a tip-off. Social networks within a terrorist cell give intelligence agencies a better chance of interdiction.
"However, even in Western countries with the most effective and well-resourced counterterrorism services, catching lone-wolf terrorists is difficult and haphazard," Woo has said. "With a minimal social network of plotters, the chance of interdiction may only be 1 in 4."
RELATED STORIES:
Lone-Wolf Attacks Pose Biggest Terror Threat For Western Societies, Underwriters
Social Network Monitoring Key to Calculating Terrorism Risk