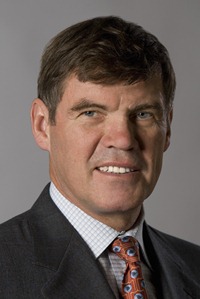 Edmund "Ted" Kelly is cutting his last tie to Liberty Mutual Insurance after more than 20 years with the company.
Liberty Mutual says its board has elected President and CEO David H. Long chairman of the insurer.
Long will succeed Kelly, who is retiring at the end of June. Long succeeded Kelly as Liberty Mutual's president in 2010 and CEO in 2011.
"All of us at Liberty Mutual Insurance owe Ted Kelly a tremendous debt of gratitude for his leadership and vision in transforming Liberty Mutual Insurance into the fifth largest global property and casualty insurer," says Long, in a statement. "On behalf of our 50,000 employees worldwide, I wish Ted and his family the very best in the years ahead."
Kelly started with Liberty Mutual in 1992 as president and COO before being named CEO in 1998 and chairman in April 2000.
His tenure at Liberty Mutual is marked by tremendous growth. Net premiums written after 1998 were $6.52 billion compared to $21.48 billion at the end of 2010. Policyholder surplus grew to more than $16 billion at 2010 year-end from just more than $7 billion at the same time in 1998.
Under Kelly's leadership Liberty Mutual bought Safeco in a move that gave the insurer a presence on the West Coast. The company also embarked on a plan to spread its global footprint, expanding to places such as Latin America, Ireland, and China.
Long has been with Liberty Mutual longer than Kelly, working his way up the ranks from his role as a financial analysts in 1985. He then served as division finance manager in corporate finance with responsibilities in commercial, personal, and life business in the group's New England division.
Prior to becoming president of Liberty Mutual Group, Long was president of Liberty International and president of Liberty Mutual commercial markets. He is a founding member of Liberty Mutual Agency Corp., a unit created to broaden the insurer's distribution channels to include independent agents.