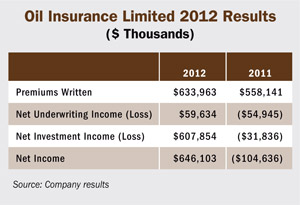 Oil Insurance Ltd. (OIL) says it posted net income of $646 million for 2012 in a year where the energy sector suffered no severe weather-related losses and the mutual insurer's investment portfolio posted solid returns.
The Hamilton, Bermuda-based insurer for the energy-business sector says the company produced underwriting income of $60 million on written premiums of $634 million.
The results also included $608 million in net investment income.
Last year's results were an improvement over 2011, when the company reported a net loss of $104 million, $558 million in written premiums, and an underwriting loss of $55 million.
President and CEO of OIL, Robert Stauffer, says 2012 was a good year in general for the company with losses, reported at $613 million, coming in close to expected.
OIL's members are medium to large sized public and private energy companies with at least $1 billion in physical property assets and an investment grade rating or equivalent.
OIL says two new members joined the company in 2012: Canadian Oil Sands Ltd. and Energy Transfer Partners L.P. One company, El Paso, departed after its acquisition by Kinder Morgan.