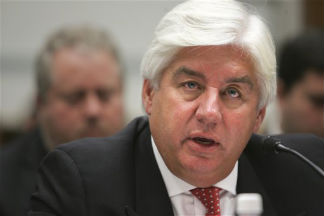 Martin Sullivan, the deputy chairman of Willis Group Holdings and chairman and CEO of the Willis Global Solutions unit, will leave the firm in May, the broker said today.
Sullivan, who headed American International Group through a turbulent period after the departure of longtime Chief Executive Hank Greenberg, is leaving Willis to pursue other interests, the firm says.
"Martin joined Willis as our deputy chairman at a time when we were determined to establish a deeper penetration among the world's largest accounts," says Willis Group CEO Dominic Casserley in a statement. "We are grateful for Martin's service to our firm and the success that he and his team have enjoyed, and we intend to carry it forward."
Willis says Deputy CEO Steve Hearn, in his role as CEO of Willis Global, will lead the Global Solutions unit.
Casserley, who took over after former Chief Executive Joe Plumeri retired at the end of 2012, announced Wednesday that the company planned to eliminate 200 full-time positions.
Sullivan joined Willis in 2010 heading up what was then a new business unit, Global Solutions, after leaving AIG in 2008.
He began his insurance career at AIG, taking over the reins of the company in 2005 after the departure of Greenberg in the midst of an accounting scandal. Sullivan left AIG shortly after AIG reported $15.3 billion in writedowns, and a 2008 first-quarter loss of $7.8 billion stemming from the company's backing of credit-default swaps. The losses eventually forced AIG to obtain a government bailout of more than $180 billion. AIG paid off its obligation last year.