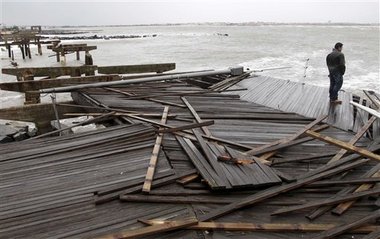 The president of Travelers says the increased severity of weather events is forcing the company to increase rate over the long term, regardless of whether or not the climate is changing.
Speaking yesterday during the Bank of America Merrill Lynch Insurance Conference in New York, Travelers' President and Chief Financial Officer Brian W. MacLean said the company is pushing for rate increases across its commercial, personal and financial-professional books of business.
MacLean said the company has been successful in its quest for rate, but Travelers' catastrophe experience continues to worsen in the commercial and homeowners lines.
He underscored the need for rate saying that industry data shows the insurance industry had a 30-year period, beginning in 1950, of about 1 percent of premium catastrophe loss. During a 20-year period beginning in the 1980s, the figure rose to roughly 3.5 percent.Over the last three years, it has jumped to 7.3 percent, MacLean says.
"You may be, and some of you people probably are, [saying], 'This is just the normal volatility of Mother Nature,'" said MacLean. "We don't know. We're not meteorologists. We don't ascribe to that belief though. In the business we are in, we have to believe that this is a pattern and it will have some sustainability to it. So we have to take action."
The fourth quarter for Travelers was the strongest month for rate gain in the past few years, and "we are encouraged that 2013 is off to a good start," he said.
MacLean says Travelers will not say how much it believes rates need to increase, nor will the company set targets.
"We know market conditions can change," he said.
But he said homeowners has been a challenge for the company because of weather severity. Since 2007, MacLean said the company pushed rate increases of 6 to 8 percent, driven by wind, hail and catastrophe losses.
On the commercial side, which accounts for 54 percent of Travelers total book of business, MacLean said rate "reached dangerously low levels" by 2010 and the company felt the "need to move the needle."
"They have been rising ever since," said MacLean.
Travelers is not satisfied with its auto-insurance returns, due to higher severity losses driven by bodily injury.
MacLean said rate increases jumped from the low-single percentile two years ago to around 9 points of price change in the fourth quarter in this line.
"That's a fairly significant increase, and we think the product warrants it," he said.