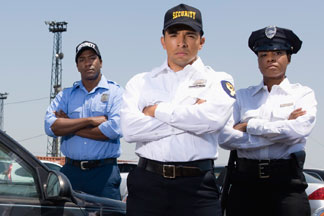 By Tory Brownyard, president, Brownyard Group
The Great Recession has reconfigured many industries, including the public sector. Local governments are cutting back across the board, including their police departments. A 2011 survey by the Fraternal Order of Police estimates that the U.S. lost between 12,000 and 15,000 sworn officer positions since the beginning of the recession; the International Association of Chiefs of Police estimates that 10,000 positions have been lost.
While police forces shrink—and governments respond to tragedies like December's elementary school shooting in Newtown, Ct.— the demand for private security guards has grown. For example, in Detroit, some private security companies have seen an 80 percent increase in business since the beginning of the recession. This strong demand has further bolstered an industry that had been growing at a rate of between 7 percent and 12 percent per year for some time.
Read related: "Addressing Risks in Public Spaces After Newtown."
As the private security industry grows, we continue to see a competitive insurance market for security guard firms, which need to protect themselves for liability in incidents that occur under their watch. For agents and brokers eyeing this growing industry, it's important to understand the risks involved, as well as the many factors that affect the availability and pricing of liability coverage.
Specialties affect risks
Security guard firms can be hired to protect many different types of clients, from a sleepy gated community to rowdy sports events. Each type of client has very different risks, which means the availability and price of coverage varies.
For example, guards working in retail stores experience frequent claims, though not always severe ones. They are likely to see false arrest, false detainment or invasion of privacy claims stemming from suspected shoplifting. Store owners expect the security guards to absorb all the risk, from both a safety and insurance perspective.
Guards protecting low-income housing see some of the most severe claims. These properties are more likely to exist in high-crime areas, which puts guards in danger more often. These guards are likely to be sued for failing to provide adequate security in the case of violent crime—the types of claims that threaten policy limits.
In both cases, an agent may find it difficult to find coverage at a reasonable price for their client. However, you can talk to your client about mitigating the risks characteristic of their industry. For example, guards working in retail environments can limit their role to observing and reporting suspicious activities to managers or police.
A lack of specialization can also be a problem, as any start-up or younger security guard firm will find. Insurers often view them as risky because they cannot demonstrate in-depth industry knowledge that helps prevent claims. You can encourage your start-up clients to focus on their strengths for a better chance of securing coverage.
Better training lowers risks
Ideally, security guards receive specialized training for the industries they serve, but even basic training standards sometimes are lacking. Different states have different training requirements, and some do not have any. Though national training standards for fundamentals are lacking, agents can encourage firms to examine their internal training standards and look for areas of improvement.
Situational training prepares guards for the risks involved in a specific industry. Using the above examples, guards working in retail settings need to be prepared for very different incidents than those working in low-income housing. Guards should also be instilled with an understanding of proper use of force in the environment they serve. And when incidents do arise, guards can help mitigate claims with proper handling. For that reason, more firms are offering training in documentation and litigation awareness.
Read related: "Looters and Loss: Securing Property in the Wake of Sandy."
Why should agents be worried about training? Proper training can help manage a security firm's risk, as well-trained guards make fewer mistakes and handle incidents better. Be aware of any guard firm's training programs when placing their business, and encourage them to institute high-quality training.
To arm or not to arm
Since guards who carry firearms are at a greater risk for high-severity claims, some insurers will not provide coverage for armed guards. This is something to take note of in the aftermath of the Newtown tragedy, with politicians and observers calling for armed guards in schools. As it stands, security firms that provide guards with firearms may have to pay significantly more for coverage, or settle for non-admitted markets.
In light of the recent rash of mass shootings, businesses and public places have many questions about keeping their customers and visitors safe. More often, private security guards are becoming a common answer. Agents looking to become a part of this growing niche should do their homework in order to evaluate potential clients and find the specialty coverage they need.