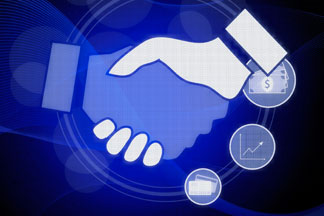 By Rick Dennen, President and CEO, Oak Street Funding
If you apply the notion of a chain being only as strong as its weakest link to an insurance agency, companies embarking on mergers or acquisitions would be wise to invest time and money to uncover weak links before a sale is finalized. Although many agency owners start an M&A process focused on financials, overlooking or minimizing hidden vulnerabilities can be a costly mistake.
The need for buyers to carefully evaluate financials, preferably with the help of an accounting professional, is a given. A thorough review and analysis of budgets, commission statements, retention reports, audited financials and tax returns give buyers a good picture of an agency's financial viability. Buyers also must determine how much capital will be needed to continue agency operations during and after the acquisition.
Read related: "Lush Landscape, Changed Environment."
Trouble often arises after an acquisition is complete because buyers didn't consider "intangibles." To avoid second-guessing an acquisition, buyers should ask two simple questions: Do we have the right people? Can we retain and grow the existing level of business?
Do we have the right people?
People make all the difference in the success of an acquisition. In addition to financials, buyers need to determine if they are purchasing an agency run by people with good business philosophies and practices or one with a poor reputation. Although sellers may have professional personas and nice explanations for wanting to sell, there could be more beneath the surface. To know the full truth, buyers need to invest time in getting to know the key players and how they are perceived by stakeholders.
Due diligence with human capital must be thorough. Buyers also need to determine which leaders, producers or key employees should remain with the business and are likely to stay planted. To do this, buyers should assess each person's employment track record, character and professional strengths. They should talk with employees about their desired role after the acquisition and how they envision the business functioning and progressing.
While no one denies the importance of speaking to as many senior staff members as possible, it's also important to learn from middle management and office personnel. Spending time with these groups will help determine if senior management's depiction of the company aligns with employee perspectives, and help buyers understand how the agency might look. By asking questions and observing staff at work within their areas of responsibility, buyers can understand each employee's strengths and weaknesses and decide if and how each can contribute after the acquisition.
Can we retain and grow the existing level of business?
Retention comes down to three key factors: contracts, customers and service. In addition to carefully reviewing all significant contracts, buyers should contact carriers to ensure contracts and rates will remain intact and to determine if they can be merged with existing contracts for the same or better rates. Attorneys can provide critical expertise in evaluating and determining enforceability of all employee-related contracts, non-compete and non-solicitation agreements, leases, vendor relationships and any other contracts.
To guard against customer flight following an acquisition or attrition later on, it's best to become acquainted with the customer base. Identify key customers based on revenue, product purchases, producer, and length of time with the agency. Meet with as many as possible to gauge what their experience has been as a customer, the strength of the relationship and what their likelihood of loyalty is. One of the easiest ways to approach this step is by accompanying agents on calls. It's also wise to conduct online research of the agency, competition, and region to increase the chances of finding existing or potential hidden issues.
Read related: "Ascending Through Acquisition."
Keeping happy customers requires a strong transition plan. Because the right people are integral to a successful transition, getting agreement from the selling agency on who will be part of the plan and how long they will help should be accomplished before the acquisition. Not doing so typically results in making poor first impressions with customers and the need to salvage relationships.
To continue high levels of customer service that, hopefully, have been the legacy of the selling agency, buyers should have a grasp of how the agency functions, including how it interacts with carriers. By visiting the agency's offices, buyers can get a feel for procedures, workflows, software, accounting systems and customer service. They can see how relationships with carriers affect daily operations. This is the only way buyers can discover inefficiencies or other issues that will have to be addressed.
While this isn't an exhaustive list of what to consider before an acquisition, keeping a focus on these two key questions will significantly increase your chances of success.